Reflections and Advice:
1.) What do you think makes your school unique relative to other boarding schools?
The Shattuck-St. Mary's School experience was unique in that the class sizes and pedagogy allowed students to discover how we each learn best as individuals, and then are empowered to grow our individual academic skills to be independent learners, with a strong support system.
2.) What was the best thing that happened to you in boarding school?
The people are what made my experience great, and every time I am on campus I feel the same excitement that I did when I was young.
3.) What might you have done differently during your boarding school experience?
I would have spent more time in the library!
4.) What did you like most about your school?
The people. The faculty, staff, and student body truly cared about one another. That is all you need in order to have a wonderful community.
5.) Do you have any final words of wisdom for visiting or incoming students to your school?
Visit Jan is the school store, and get a jar of peanut butter!
Academics:
1.) Describe the academics at your school - what did you like most about it?
The academic programming at Shattuck-St. Mary's School allowed me to develop the skills I needed to be successful academically in my early years, and then challenged me to grow as an independent learner and to discover my academic passions in my later years. The class sizes were small enough, and the learning styles were open enough, for each student to get the focus from their teachers that they each needed. My areas of focus were identified, and then a plan was put in place for me to grow. Once I became more confident in my ability, real academic growth was able to take place with the opportunity to dive deeper into topics I grew fond of.
Athletics:
1.) Describe the athletics at your school - what did you like most about it?
Being able to participate in the hockey program at Shattuck-St. Mary's School allowed me the opportunity to develop, and also gave the exposure to all levels. I also had the opportunity to participate int he theater program, and the love of the arts was, and still is, vibrant in the school community. The community itself embraces all of the various student passions, and allowed us to see the similarities that we all have, rather than the differences. We all worked extremely hard at our various crafts, and that work did not go unnoticed by our peers. That allowed the sense of community, and collective effort for growth momentum. It was fun to be around.
Art, Music, and Theatre:
1.) Describe the arts program at your school - what did you like most about it?
The arts programs at Shattuck-St. Mary's School have always been strong, and they have gotten even stronger in recent years. There are three theater productions a year, but also a drama group that meets daily to work at their craft. The school has two music programs for aspiring young singers and musicians, and each of these programs are fueling student passion and allowing a curriculum that creates opportunity for students to pursue music at the collegiate and professional levels. There is also a successful choir, orchestra, and band program for students who enjoy singing and playing an instrument, but who may not want to study music or pursue it professionally. The school also has a dance program that meets daily to work towards a number of student performances throughout the year.
Extracurricular Opportunities:
1.) Describe the extracurriculars offered at your school - what did you like most about it?
There are a number of clubs and interscholastic sports for kids to get involved in. Student government, and an equity/diversity club have seemed to generate the most student interest. The school offers opportunity for kids to compete in debate, a mathletes team, and a quiz bowl team against other schools. Then interscholastic sports offerings have seemed to change from year to year based on student interest, but I have heard a mountain biking team as started and is gaining popularity.
Dorm Life:
1.) Describe the dorm life in your school - what did you like most about it?
I was a day student, but never felt like I missed out on anything. My friends who lived in the dorms seemed to love the sense of community that dorm life allowed them, while being able to spend time with peers from different walks of life in our community.
Dining:
1.) Describe the dining arrangements at your school.
The choice was amazing. I know that the school jsut put money into a new servery, and it rivals most small colleges in quality of food, and offerings available at each meal. They even make their own baked goods daily. There is also an area for students and staff with allergies to get their food prepped and delivered away from the rest of the food being made, so it sounds like the school is being sensitive to student choice and need. The dining hall hours of operation allow for students to have ample time to get food regardless of extra curricular activity.
Social and Town Life:
1.) Describe the school's town and surrounding area.
The local community and the Shattuck-St. Mary's School have a strong relationship. Students volunteer at local elementary schools, and there is a large volunteer day where alumni, faculty/staff, and students go out into the local community and provide services that are needed. These services range from general cleanup of parks and walking paths, to going to retirement communities to play games and music together. The relationship between the school and the community has been tremendous both during my time as a student and now.
2.) Describe the social life at your school - what did you like most about it?
There were activities that everyone could participate in, and there have always been multiple offerings both on and off-campus each weekend. The school has done a great job of allowing students to help drive the activities being offered, so we can have a large amount of student participation.
I had initially looked into SSM because of the school's ability to combine their strong athletic programs with challenging academics courses. After my first visit to campus, I was in awe of the environment and. . .
The Shattuck-St. Mary's School experience was unique in that the class sizes and pedagogy allowed students to discover how we each learn best as individuals, and then are empowered to grow our individual academic skills. . .
The underclassmen 6th-9th graders lived at the middle school (very convenient for class) and we were required to do volunteer work throughout the summer. . .
Show more reviews (

4 reviews

)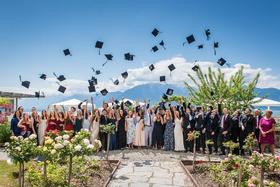 Nurturing Futures: A Journey through Boarding at Haut-Lac School in Switzerland
Nestled in the hills overlooking Lake Geneva in the French-speaking part of Switzerland lies an educational gem that embodies a unique blend of academic excellence, cultural richness and a profound sense of community. Founded over 30 years ago, Haut-Lac International Bilingual Day and Boarding School is now home to both 600 day students and a maximum of 30 boarders from around the world.
What To Wear at Your Job Interview
Navigating job interviews can be stressful, but knowing what to wear shouldn't be. Our comprehensive guide covers the essential dress code tips for men and women interviewing at boarding schools. Make your first impression count with style and professionalism.
Navigating the Modern Maze: Emerging Challenges for Boarding Schools
Explore the pressing challenges facing boarding schools, from marketing difficulties and rising insurance costs to facility maintenance and recruitment of competent trustees and teachers. This article delves into these complex issues and proposes innovative strategies to overcome them.