Reflections and Advice:
1.) What do you think makes your school unique relative to other boarding schools?
One unique aspect of a boarding school could be its integration of technology and innovative teaching methods. The school might have a strong focus on incorporating technology into the learning process, using interactive educational tools, virtual simulations, and online resources to enhance student engagement and understanding. Additionally, the school might adopt progressive teaching methods, such as project-based learning, flipped classrooms, or interdisciplinary approaches, to encourage critical thinking, collaboration, and creativity among students.
2.) What was the best thing that happened to you in boarding school?
Academic Achievements: Boarding schools often provide a rigorous academic environment that challenges and motivates students to excel. Achieving academic milestones such as earning top grades, receiving academic awards, or gaining admission to prestigious universities are common accomplishments for boarding school students.
3.) What might you have done differently during your boarding school experience?
Take Care of Yourself: Boarding school life can be demanding, so it's important to prioritize self-care. Pay attention to your physical and mental well-being. Get enough sleep, eat nutritious meals, engage in regular exercise, and practice stress-management techniques. Taking care of yourself will help you stay balanced, focused, and ready to make the most of your boarding school experience.
4.) What did you like most about your school?
Rich Extracurricular Opportunities: The availability of a wide range of extracurricular activities, clubs, and sports allows students to explore their interests, develop new skills, and find a sense of passion and purpose beyond academics.
5.) Do you have any final words of wisdom for visiting or incoming students to your school?
Be Open-Minded: Approach your visit or transition to a new school with an open mind. Embrace the opportunity to explore new experiences, meet new people, and learn about the school's unique culture and community.
Academics:
1.) Describe the academics at your school - what did you like most about it?
Boarding schools often have smaller class sizes compared to traditional schools. This allows for more personalized attention from teachers, fostering meaningful student-teacher relationships and creating a conducive learning environment. Students may have more opportunities to actively participate in class discussions, ask questions, and receive individualized feedback
Athletics:
1.) Describe the athletics at your school - what did you like most about it?
Many boarding schools invest in well-maintained sports facilities and equipment. This can include well-equipped gymnasiums, outdoor sports fields, swimming pools, tennis courts, and tracks. Access to top-notch facilities enhances the overall athletic experience for students and allows them to train and compete in a professional and safe environment.
Art, Music, and Theatre:
1.) Describe the arts program at your school - what did you like most about it?
Theatre programs often stage productions, including plays, musicals, and improvisational performances. Students have the chance to audition for roles, work with directors, and showcase their acting abilities in front of an audience. Schools may offer workshops or classes focused on acting techniques, voice training, improvisation, scriptwriting, or stagecraft. These opportunities allow students to develop their skills, gain confidence, and explore different aspects of theatrical production.
Extracurricular Opportunities:
1.) Describe the extracurriculars offered at your school - what did you like most about it?
Student Organizations and Clubs. Personal Development and Well-roundedness: Participating in extracurricular activities encourages students to explore new interests, develop new skills, and pursue a well-rounded education. It helps them discover their strengths, develop a sense of identity, and build character outside the classroom. Engaging in diverse activities can enhance time-management skills, foster creativity, and promote personal growth.
Dorm Life:
1.) Describe the dorm life in your school - what did you like most about it?
Supportive Environment: Dorms often have residential staff, such as dorm parents or resident advisors, who are there to provide guidance, support, and ensure the well-being of students. These staff members can offer academic assistance, emotional support, and help students navigate any challenges they may face while living away from home. Students often appreciate the presence of supportive adults who are dedicated to their well-being.
Dining:
1.) Describe the dining arrangements at your school.
Meal Options and Variety: Boarding schools often offer a wide range of meal options to accommodate different dietary preferences and restrictions. This can include vegetarian or vegan options, gluten-free alternatives, and culturally diverse cuisine. Having a variety of choices allows students to find meals that suit their individual tastes and preferences.
Social and Town Life:
1.) Describe the school's town and surrounding area.
Proximity to Urban Centers: Some boarding schools are located near urban centers or cities, offering students access to a range of cultural, recreational, and educational opportunities. This proximity may provide students with the chance to visit museums, attend concerts, explore diverse dining options, or engage in community events.Natural Beauty and Outdoor Recreation: Boarding schools situated in scenic locations, such as near mountains, forests, lakes, or beaches, provide students with opportunities for outdoor exploration and recreational activities. Students may have access to hiking trails, skiing or snowboarding slopes, water sports, or camping areas. The presence of natural beauty can foster a love for the outdoors and promote a healthy lifestyle.
2.) Describe the social life at your school - what did you like most about it?
Life Skills and Independence: Boarding schools provide students with opportunities to develop important life skills and foster independence. Living away from home in a residential setting teaches students to manage their time, establish routines, collaborate with roommates, and take responsibility for their personal well-being. These skills contribute to personal growth and readiness for future endeavors.
During my three years at Berkshire, I was able to take advantage of many unique opportunities that other boarding schools just did not offer. For example, I was able to attend The Island School during. . .
One unique aspect of a boarding school could be its integration of technology and innovative teaching methods. The school might have a strong focus on incorporating technology into the learning process, using interactive educational tools. . .
Every year at Berkshire School, the school holds a Pro Vita week. During this week, students get to take classes that vary from their typical classes. These classes span from learning how to cook sustainability. . .
Show more reviews (

15 reviews

)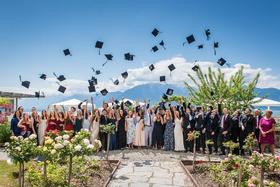 Nurturing Futures: A Journey through Boarding at Haut-Lac School in Switzerland
Nestled in the hills overlooking Lake Geneva in the French-speaking part of Switzerland lies an educational gem that embodies a unique blend of academic excellence, cultural richness and a profound sense of community. Founded over 30 years ago, Haut-Lac International Bilingual Day and Boarding School is now home to both 600 day students and a maximum of 30 boarders from around the world.
Navigating the Modern Maze: Emerging Challenges for Boarding Schools
Explore the pressing challenges facing boarding schools, from marketing difficulties and rising insurance costs to facility maintenance and recruitment of competent trustees and teachers. This article delves into these complex issues and proposes innovative strategies to overcome them.
What To Wear at Your Job Interview
Navigating job interviews can be stressful, but knowing what to wear shouldn't be. Our comprehensive guide covers the essential dress code tips for men and women interviewing at boarding schools. Make your first impression count with style and professionalism.