Reflections and Advice:
1.) What do you think makes your school unique relative to other boarding schools?
One of the best things about suffield is the teachers. I had never been to a school where they care so much. I got really close with my advisor and they helped me a great deal throughout my time there. Most of the faculty live on campus and are available to help you very frequently. All of the teachers truly care about their students and want to help them academically and in any other way they can. The other aspect that makes Suffield special is the room they allow you to grow. There are activities and classes that range large and wide. I was able to get involved in sports that I had never tried before and by the end of my time there, I was a captain. There is always room for beginners and everyone is encouraged to try new things.
2.) What was the best thing that happened to you in boarding school?
Suffield pushed me to become someone who is well rounded in my studies and morals. I met friends from around the world and became more cultured through both friends and classes. They gave me opportunities that I simply would not have found anywhere else. The environment nurtures as well as pushes. I am grateful to have been able to attend somewhere that shaped me so much. I was taught a great deal of perseverance, leadership, social, academic, and physical skills.
3.) What might you have done differently during your boarding school experience?
Looking back, I would have chosen a different group of friends. It's important to look for people who support similar values as you opposed to becoming something to fit in with another group. Take your time making friends, find the right ones. Another piece of advice would be to try something new. This is one of the last times in your life where so many opportunities are presented to you in one place. Try a new sport, take an elective that interests you, learn piano, try out for theatre, do anything. Its completely ok to fail there. The four years goes by faster than you think, so take advantage of as much as you can.
4.) What did you like most about your school?
My favorite thing about Suffield was my teachers. I had some amazing teachers who made subjects come to life. They were passionate about their subjects and eager for their students to succeed. Having a community of people who are really just there to learn and grow is an amazing experience.
5.) Do you have any final words of wisdom for visiting or incoming students to your school?
Make friends with the faculty and staff- they are really all great people and when you need help they're there for you. I don't just mean teachers either- the librarians, Mary at the snack bar, the kitchen staff, and everyone in between is kind and interesting. Talk to them. Make friends from all the different cliques too, you never know who you might bond with.
Academics:
1.) Describe the academics at your school - what did you like most about it?
The academics at Suffield are very diverse. There is always a class available to push a student in any field. The math department is especially great with advanced classes. There are many AP classes available and the teachers ensure that students are well prepared for the exams. The best part about being at Suffield was the availability of the teachers to help you outside of class. There are always office hours and teachers regularly post extra help hours after class. I was never turned away when asking for extra help. There is a sizable difference in the course work of the honors and regular classes. That being said, there are teachers who work to close this gap with individual students and it is possible to move from one level to the other. I felt I was between levels when it came to English three and elected to move down to the regular course, but the teacher met with me and agreed to push me extra and find ways to make the class suitable for my level. Overall, each individual teacher works hard to ensure that the student is met at whatever level they are at.
Athletics:
1.) Describe the athletics at your school - what did you like most about it?
The one noticeable thing about Suffields athletics are the prioritization of certain sports. Football, swimming, basketball, and baseball all receive more attention than other sports (notice almost all of these are exclusively male sports). The quality of the coaches varies widely as each coach is also required to serve some other position in the school. This means most were hired for another position and then told they had to coach in whatever sport they played in their youth. Some of them are great. Some of them not so much. Besides that, the athletics department is great. No matter what sport you choose there is room for you on a team and because everyone is required to play something- there are kids at all levels in almost every sport. You never have to worry about not fitting on a team as there is almost always a kid in the exact same situation as you. It may seem intimidating to try have to do something every afternoon every season but you do come to love it. Sports are required each season but luckily for less athletic people like me, there are options that require less physical activity such as art special and sports management.
Art, Music, and Theatre:
1.) Describe the arts program at your school - what did you like most about it?
The arts department is definitely one of Suffield's weak points. This said, during my four years there the program experienced a lot of growth. The art teachers are my favorite people on campus- simply the best. Everyone is required to take some form of art for one semester, and while most kids come in, take one semester, and leave, there is a community that sticks around. There are not many serious art students, but this means the more advanced classes tend to be smaller and the teachers are able to really focus and help each student and use their budget for these cases. Some students do graduate and move on to art school. The theatre program seems to be okay. They produce a few plays each year and they are always successful at the awards ceremonies. There are a number of talented performers, but the school definitely does not boast itself as an arts school.
Extracurricular Opportunities:
1.) Describe the extracurriculars offered at your school - what did you like most about it?
There are a million extra-curricular activities at Suffield that range from california club to an investing club. If you cannot find what you are looking for in the existing clubs, it is easy to make your own- all you need is a few signatures and a faculty member. The extra-curricular are also great because they work around your already busy schedule. They understand that you have school and sports everyday and work to create meetings and activities around your schedule.
Dorm Life:
1.) Describe the dorm life in your school - what did you like most about it?
I was a day student- the times I did go into the dorms they seemed good and i never heard a lot of complaints about them.
Dining:
1.) Describe the dining arrangements at your school.
I never thought i would miss Suffield's food, but man college food just can't compare. I was vegetarian during my time there and there were always multiple things for me to choose from. Each meal there is a hot meal, salad bar, cereal, and sandwich stuff. The hot meal is not always good but you can always bank on finding something to eat. The sit down meals seem awkward at first, but its only as bad as you make it. Some teachers leave puzzles or things out on the table or make a real effort to start conversation. You will make a lot of new friends at these sit down lunches so don't be afraid to start some conversation- even if its just about how bad the jambalaya is.
Social and Town Life:
1.) Describe the school's town and surrounding area.
The town is quiet. small. empty. In general, nothing exciting. There are a few townies who don't like the school but most have a good relationship with the academy as students end up doing a lot of volunteer work around town (your required to do some sort of volunteering for sophomore leadership class). Kids walk to the CVS, Dunkin, and local pizza shop during the week and there are trips to the local mall on the weekends.
2.) Describe the social life at your school - what did you like most about it?
Social life completely depends on what clique you align with. My friends were very academic minded and there was an attitude of competition when it came to grades and GPAs. There are a lot of cliques but there are kids who manage to bounce between them instead of committing to one. You spend a lot of time at school whether you are a boarder or not, so you make a lot of friends and spend A LOT of time with them. You can also definitely see the socioeconomic lines within the school. You have your nerds, the art kids, the computer people, the PGs, the water polo guys, the swimmers, the rich kids, the druggies, etc. and overlap in all of them. Its not great but not bad.
One of the best things about suffield is the teachers. I had never been to a school where they care so much. I got really close with my advisor and they helped me a great. . .
Suffield Academy is truly an exceptional place. I graduated in May of 2016 on a beautiful sunny day. As tradition stands, I rang the bell four times at graduation marking the amount of years I. . .
It's centralized location to a (sudo) urban city- Hartford while at the same time maintaining the quintessential large open landscape that boarding schools are known for. . .
Show more reviews (

9 reviews

)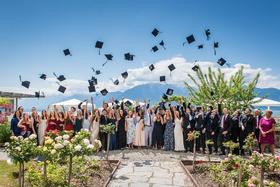 Nurturing Futures: A Journey through Boarding at Haut-Lac School in Switzerland
Nestled in the hills overlooking Lake Geneva in the French-speaking part of Switzerland lies an educational gem that embodies a unique blend of academic excellence, cultural richness and a profound sense of community. Founded over 30 years ago, Haut-Lac International Bilingual Day and Boarding School is now home to both 600 day students and a maximum of 30 boarders from around the world.
What To Wear at Your Job Interview
Navigating job interviews can be stressful, but knowing what to wear shouldn't be. Our comprehensive guide covers the essential dress code tips for men and women interviewing at boarding schools. Make your first impression count with style and professionalism.
Navigating the Modern Maze: Emerging Challenges for Boarding Schools
Explore the pressing challenges facing boarding schools, from marketing difficulties and rising insurance costs to facility maintenance and recruitment of competent trustees and teachers. This article delves into these complex issues and proposes innovative strategies to overcome them.