Reflections and Advice:
1.) What do you think makes your school unique relative to other boarding schools?
Suffield Academy is truly an exceptional place. I graduated in May of 2016 on a beautiful sunny day. As tradition stands, I rang the bell four times at graduation marking the amount of years I attended the school. There are so many things that come to me when I think of Suffield: home being one of them. The faculty to student ratio is apparent since there are about 420 students and about 100 faculty and staff. There are so many opportunities and it is a truly nurturing environment with the tailoring of advisory groups, sit down lunch, team sports, dorm life, and most importantly academic team work. It was a great place to learn and grow at such an impressionable time in my life.
2.) What was the best thing that happened to you in boarding school?
The best thing that happened to me in boarding school was the relationships I have built with faculty and friends. I still talk to my advisor today, and still hang out with my friends when they are in the city. In addition, I think Suffield made me a great learner, person, and friend. I think the college counseling process was great and they helped me find my best fit. I owe a lot of my character and my determination to Suffield and for that I will be forever grateful.
3.) What might you have done differently during your boarding school experience?
The advice I would give to kids going to boarding school is to try new things early on, even if they do not meet the status quo. I waited a couple years into my career to try out for the school musical and I shouldn't have. Do not let fear of outcome stop you from doing what you want. In addition, you will change so much during these years. Try to make good decisions mentally, socially, and academically to set you on a good trajectory for the future. Although we are adolescents it is important to take care of ourselves and our peers.
4.) What did you like most about your school?
I loved the nurturing environment, tight knit community feel, involved faculty, everyone knows your name(even of alumni), traditions like sit down lunch, ringing the bell after winning sports matches and at graduation, advisory programs, delicious meals, and lifelong friends. There Is no boarding school out there that has all of these intersections and that truly cultivates compassionate individuals.
5.) Do you have any final words of wisdom for visiting or incoming students to your school?
Please, go watch a bell hill sunset. You will have never seen such a pretty sight. In addition, go to scoops the local ice-cream shop and get the vanilla soft serve.
Academics:
1.) Describe the academics at your school - what did you like most about it?
The academics at my school were rigorous, but manageable. There are also half days on Wednesdays and Saturdays in order to make room for travel for sports games. In addition, teachers were always available for extra help at all hours of the day. I remember seeing my AP statistics teacher everyday during study hall one trimester, because I really needed the help. In addition, depending on your skill level, you can take the general level course or honors or AP status courses. There is something at Suffield for everyone. You are not pressed to take Advanced Placement courses, however they are encouraged in order to expand your knowledge and better prepare your for college courses. In addition, Suffield has a large emphasis on Leadership. Students are required to take Leadership courses for 3 years that are interwoven in their regular academic classes. Leadership is infused with a state of the art SOLO barn filled with high ropes, low ropes, and rock climbing for team building.
Athletics:
1.) Describe the athletics at your school - what did you like most about it?
The athletics program at Subfield really pushed me out of my shell. I never really considered myself an athletic person, but Suffield advises their students to try new things. Since there are 420 students, they require everyone to partake in a sport every season. Our football team won New England Class A/B championships for about 4 years in a row while I was a student there. In addition, swimming, basketball, squash, soccer, and softball are other strong sports as well. I played around 8 different sports while there because I was unsure as to what I liked. If sports aren't your thing, Suffield allows art and music specials during the athletic block to express your creativity. The facilities are very nice, as Tisch, is arguably one of the nicest buildings on campus. Although sports are competitive, they are not the only thing that Suffiled places their efforts in.
Art, Music, and Theatre:
1.) Describe the arts program at your school - what did you like most about it?
I have been in choirs since I was in 3rd grade. I have always enjoyed singing and so I joined the Women's choir group my freshman spring. It was a great experience and we sang both oldies and new songs. It was a great group of girls and many of them stayed in the group long after I graduated. I was also a part of the In the Heights production my junior year and It was a really fun and fulfilling experience. Rehearsals were always fun and there was time to do homework during show week. The director is very nice but also challenges you to try your best as well. The various groups I can think of that Subfield has are, Advanced Vocal techniques, Women's choir, sculpture, photography, woodworking, visual arts, chamber singers, a musical and play each year, a band, an orchestra, a winter dance option(and showcase), etc. The artistic community here is not large, but that is not to say that many of the talented students do not go off to wonderful arts schools like parsons, SCAD, RISD, NYU, and BU.
Extracurricular Opportunities:
1.) Describe the extracurriculars offered at your school - what did you like most about it?
There are various extracurricular activities available at Suffield. There are diversity clubs such as the Black Student Union, the Gay Straight Alliance, and Kaleidoscope. In addition, each year Suffield has a Telethon that raises money for a charity that is selected at the beginning of the spring term. It is a great way to get the community together and raise money for a good cause. In addition, there are other clubs such as Tree environmental club, class cabinets and boards, lunch leaders, tour guides, proctors, leadership class TAs.
Dorm Life:
1.) Describe the dorm life in your school - what did you like most about it?
Dorm life is wonderful at Suffield. As a first year, they do a great job of pairing you with someone who has similar interests and living styles as you. After the initial year, you are able to select your own roommate which can be a friend if desired. There are regular larger scale dorms, and then Suffield has smaller, cottage style dorms that house anywhere from 6-15 students in each house. There is always a dorm parent on duty, and there are proctors as well who are there to help students with both academic and personal needs. I absolutely loved the community of it, the dorm outings, the dorm movies, the dorm inside jokes, and relationships with dorm parents and their families(dogs and kids). The rooms are very spacious and up to date as Suffield has revamped their whole campus in the past 10 years. The dining hall closes at 7pm on weekdays, but food can be ordered to the dorm from the campus favorite asian cuisine Pacifica as well as others.
Dining:
1.) Describe the dining arrangements at your school.
The dining arrangements at Suffield are great. They have vegan, gluten free, and vegetarian options at every email, an equipped salad bar, fresh fruit in the morning(not canned, or preserved), soy milk for the dairy free, a frozen yogurt station, different desserts everyday, etc. However, there is sit down lunch that changes weekly which allows you to interact with new people every week. Sit down is only for the lunch meal at 12:15, and the other two meals are seat as you wish. The cafeteria is open from 7am-8am for breakfast, 12:15-1:50 for sit down lunch, and 5pm-7pm for dinner. However, students are allowed to go in during the day for a snack like fresh fruit or cereal. On Sundays, there is a Brunch served with cinnamon rolls, waffles, and smoothies. This runs from around 9am-1pm.
Social and Town Life:
1.) Describe the school's town and surrounding area.
The surrounding town has many places at walking distance. There is an ice-cream shop, a CVS, a Chinese restaurant, an Italian restaurant, a thrift store, a supermarket, and a pizza shop all at walking distance. The townspeople are nice and welcoming and overall it is a safe environment. In addition, since I live in NYC, I do not see much greenery anymore, and that is something Suffield has a lot of. There was always something to do outside.
2.) Describe the social life at your school - what did you like most about it?
Subfield has a state of the art student union that attracts many students to play ping pong, watch TV, sports games, eat snacks( at a snack bar), and just hang out on couches. In all honesty, everyone is friends with everyone and people are not out to get each other. Every fall, there is a tiger games tournament that pits each grade against each other in carnival style games which allows for friendships to be made and enhances community.
Daily Schedule:
Weekday
Weekend
8:00 PM
Open Mic/Show/ Movie/etc.
One of the best things about suffield is the teachers. I had never been to a school where they care so much. I got really close with my advisor and they helped me a great. . .
Suffield Academy is truly an exceptional place. I graduated in May of 2016 on a beautiful sunny day. As tradition stands, I rang the bell four times at graduation marking the amount of years I. . .
It's centralized location to a (sudo) urban city- Hartford while at the same time maintaining the quintessential large open landscape that boarding schools are known for. . .
Show more reviews (

9 reviews

)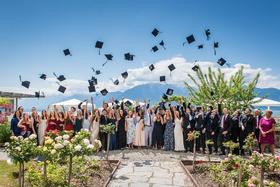 Nurturing Futures: A Journey through Boarding at Haut-Lac School in Switzerland
Nestled in the hills overlooking Lake Geneva in the French-speaking part of Switzerland lies an educational gem that embodies a unique blend of academic excellence, cultural richness and a profound sense of community. Founded over 30 years ago, Haut-Lac International Bilingual Day and Boarding School is now home to both 600 day students and a maximum of 30 boarders from around the world.
What To Wear at Your Job Interview
Navigating job interviews can be stressful, but knowing what to wear shouldn't be. Our comprehensive guide covers the essential dress code tips for men and women interviewing at boarding schools. Make your first impression count with style and professionalism.
Navigating the Modern Maze: Emerging Challenges for Boarding Schools
Explore the pressing challenges facing boarding schools, from marketing difficulties and rising insurance costs to facility maintenance and recruitment of competent trustees and teachers. This article delves into these complex issues and proposes innovative strategies to overcome them.