Reflections and Advice:
1.) What do you think makes your school unique relative to other boarding schools?
Every Wednesday all students and faculty were grouped into a 'crew' where we would help out around different parts of campus or in the community the school was apart of. It was like community service, where some groups would help out in the kitchen and cook lunch for the day, others would go to the local Montessori school and help the teachers there. I greatly appreciated the size of the classrooms which was a huge draw for me and my family. I really felt a connection with my teacher and comfortable to ask any clarifying questions.
2.) What was the best thing that happened to you in boarding school?
I feel that I can attribute understanding my learning style to boarding school. Particularly to my year at Darrow - the teachers helped me get to a point where I felt comfortable reaching out for help and advocating for what I needed to succeed in their class.
3.) What might you have done differently during your boarding school experience?
I don't think I would really change much in regards to my experience. Some advice I would give to future boarding school students would be to accept the help your teachers and peers are providing. Many times I saw friends just decline help from their teachers and regretted that decision. Also, to get the full experience of your time at whatever boarding school you choose - take full advantage while you can.
4.) What did you like most about your school?
I really liked the location - the views, especially from the soccer pitch, was jaw-dropping. Still one of my favorite places to play soccer.
5.) Do you have any final words of wisdom for visiting or incoming students to your school?
My favorite place of all time at Darrow was behind the art department (Joline Art Center) watching the sunset beyond the mountains.
Academics:
1.) Describe the academics at your school - what did you like most about it?
What I liked most about the academics at Darrow- was the class sizes. I needed a learning environment where I was not going to be easily distracted but also a teacher who would regularly check in on my progress. We did a lot of presentation/projects in our classes which I appreciated. The workload was doable as long as you were motives to do so. I did not have a problem with work completion, though I do know how easy it is to fall behind.
Athletics:
1.) Describe the athletics at your school - what did you like most about it?
I really liked that our dorm parents/teachers were also some of our coaches. Every season offered a competitive sport and a non-competitive option. For Fall, there were both girls and boys soccer and cross-country as the competitive options. Non - competitive options included theater, outdoor education (hiking trails) and yoga. For Winter, boys and girls' basketball as the competitive sport, downhill ski, and snowboarding, fitness and theater for the noncompetitive. Lastly, in Spring the school offered, lacrosse softball, tennis, and ultimate frisbee. The non-competitive was outdoor education and MMA fighting. The schools we competed against were all pretty on par with the competitive level which was always fun. Every season each team would have the opportunity to play at home against a team and away at that team's school.
Art, Music, and Theatre:
1.) Describe the arts program at your school - what did you like most about it?
The visual arts program at Darrow was absolutely amazing. We as students had the ability to explore all aspects of the department. We had a 2D design, 3D design, drawing, painting, printmaking, introduction to darkroom photography, advanced darkroom photography, digital photography, advanced digital photography, ceramics, and advanced ceramics and a furniture design class. Given all of these classes- and open hours during the weekends for the students to utilize the space was a great opportunity to explore our artistic side. Also, if you participated in art courses, there were shows throughout the year, we could submit work to. The performing arts program had classes and theater productions which included, The Darrow School chorus, singer/songwriting, scene study, introduction to video production, music theory and the language of film. At Darrow, students were also a part of the band if they played an instrument.
Extracurricular Opportunities:
1.) Describe the extracurriculars offered at your school - what did you like most about it?
Being a part of the chorus was something that students participated in- I was not a part of this. There was also the student government and a few clubs/ affinity groups on campus.
Dorm Life:
1.) Describe the dorm life in your school - what did you like most about it?
Darrow is unique in that it resides at an old Shaker Village. There is a lot of history to the buildings at Darrow, including the dorms. After being at Darrow and off to college, the rooms at Darrow were much bigger. The dorms themselves, on top of being spacious - had a bathroom on each floor with 2-3 shower stalls and 2-3 toilet stalls with sinks. The common room for each dorm was located in the basement which had cozy couches, a TV with DVD player and cable, 2-3 sets of washer and dryers (free of charge- not coin-operated). The common room also had a mini-fridge and a microwave. Students were allowed to bring their own mini-fridge is they would like to have the convenience of one being in their room. A Chinese restaurant and pizza restaurant would deliver to the school which was really convenient. Each dorm had 4 dorm parents with 1-2 having their own apartment within the dorm. Some had dogs or cats which was nice for the students to have an animal so close by.
Dining:
1.) Describe the dining arrangements at your school.
I loved the food at the school- if I wasn't in the mood for the hot food option I always had the salad bar and the sandwich bar with panini machines. There was no assigned seating other than the two times a week where we sat family-style and with our advisory groups and faculty members. The hot food option always had meat, grain, and a vegetable. Occasionally, we would have desserts. Rarely I would opt out of the main dish as it was always something appealing that tasted good.
Social and Town Life:
1.) Describe the school's town and surrounding area.
We were able on Sundays to take a trip to be dropped off in the town center to go to the local bakery, dollar store in the fall they had a little market of local goods. There was also a Stewarts where we would frequent for milkshakes.
2.) Describe the social life at your school - what did you like most about it?
I really liked that every weekend we had the opportunity to go off-campus or stay on campus for activities. Sometimes we would have dances and invite other schools or be invited to attend dances at other schools.
Darrow School gave me academic passion. I struggled as a freshman in a public high school and was in need of a change in academic setting to improve my overall experience. Darrow gave me that. . .
Darrow is a beautiful school set on a National Historic Landmark, that of the first Shaker settlement in the USA. It holds this history in the buildings still used as dorms and academic spaces, and. . .
Every Wednesday all students and faculty were grouped into a 'crew' where we would help out around different parts of campus or in the community the school was apart of. It was like community service. . .
Show more reviews (

2 reviews

)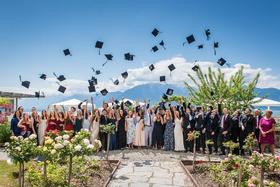 Nurturing Futures: A Journey through Boarding at Haut-Lac School in Switzerland
Nestled in the hills overlooking Lake Geneva in the French-speaking part of Switzerland lies an educational gem that embodies a unique blend of academic excellence, cultural richness and a profound sense of community. Founded over 30 years ago, Haut-Lac International Bilingual Day and Boarding School is now home to both 600 day students and a maximum of 30 boarders from around the world.
What To Wear at Your Job Interview
Navigating job interviews can be stressful, but knowing what to wear shouldn't be. Our comprehensive guide covers the essential dress code tips for men and women interviewing at boarding schools. Make your first impression count with style and professionalism.
Navigating the Modern Maze: Emerging Challenges for Boarding Schools
Explore the pressing challenges facing boarding schools, from marketing difficulties and rising insurance costs to facility maintenance and recruitment of competent trustees and teachers. This article delves into these complex issues and proposes innovative strategies to overcome them.