Reflections and Advice:
1.) What do you think makes your school unique relative to other boarding schools?
Concord Academy is an incredibly unique and diverse community of students and faculty. One of the most unique aspects of Concord Academy is, I believe, the pervasive concept of "Common Trust" that all students understand and follow. Under the principle of "Common Trust", students could leave their bags in the hallways and not have to worry about it being stolen or tampered with. Collectively as a student body, we trusted one another and I can honestly say that I never had an issue during my 4 years at CA with theft or dishonesty--something I believe would be difficult to avoid at any other high school. Another, more academic unique aspect of Concord Academy would have to be the diverse range of classes available for studnets. During my time at CA, I was able to take courses ranging from the History of the Muslim World, to independent studies in the science department. Our school's course catalog had to have been more comprehensive than some colleges.
2.) What was the best thing that happened to you in boarding school?
I would say that the best thing that happened to me was that I learned discipline and how to take care of myself both academically and personally. I went into a boarding school fairly immature, scared, and had no idea of what to expect. I had almost zero self-confidence in my ability to perform in school and socially. CA instantly proved to me that it was going to be okay. Four years later, I was a member of multiple clubs, a multi-sport varsity athlete, and a well-prepared student. I never would have expected to have accomplished any of that prior to coming to CA.
3.) What might you have done differently during your boarding school experience?
Just be yourself! On the first day, even. Don't be afraid of failure and definitely don't let that hold you back from trying new things. CA was an incredible experience for me, but if I were able to go back and do it again, I would have strayed out of my comfort zone earlier and joined that club or tried that sport out earlier rather than later. I had always let my nervousness or lack of confidence get in the way, and so I would definitely recommend to just go for it!
4.) What did you like most about your school?
The community, the people, and the faculty. CA had a population of friends, teachers, and classmates that I would never have met anywhere else. They were all unique, awesome, and friendly people that helped me every step of the way to becoming a better, more well-rounded student and individual.
5.) Do you have any final words of wisdom for visiting or incoming students to your school?
Use the deli and the salad bar to grab ingredients, then throw it on the stir-fry! The best-kept secret in the dining hall, for sure.
Academics:
1.) Describe the academics at your school - what did you like most about it?
The academics at CA were very different than the academics at, say, my local public school. There were no AP classes offered, as the school felt that teaching to a book was detrimental and didn't foster enough creativity. There are, however, advanced level courses that are equivalent to AP courses, and some can even prepare you for the AP exams. The academics at CA were also very competitive and rigorous, and I find myself having a significantly easier time with college academics. I believe that CA prepared me well for the stresses of college, and that was definitely what I liked most about our academics. They avoided a competitive atmosphere, and all students truly understood that the priority was to foster a love of learning rather than compete with your classmates.
Athletics:
1.) Describe the athletics at your school - what did you like most about it?
When I was at CA, athletics weren't that big of a part of the school's culture. Many of our teams weren't very competitive, with the exception of soccer. However, during my upperclass years, I remember the athletics all trending in an improving direction, and all of our programs were becoming more competitive. However, another side effect of our less competitive teams was that athletics were more accessible to everyone. I had never tried squash coming into CA, and by my senior year I was a key part of the varsity team. Everybody has a chance to try something new, which is definitely what I appreciated most about CA athletics.
Art, Music, and Theatre:
1.) Describe the arts program at your school - what did you like most about it?
I played in the jazz band, and I liked most that our program wasn't too big as compared to other local public schools. It felt more individualized, and our band director was able to have a much more significant impact on everyone than if we were to be a 100+ person band like at some other schools. In addition, we had an orchestra with chamber music groups as well as choral groups. All of these groups were accessible for those who had never played an instrument or sung in an organized group before, and yet they were all still competitive enough that, if you had talent, you could develop through the programs. The best part of our school's arts program, however, would have to be the theater program. They create self-directed and self-written plays from students and truly showcase the artistic talent of students at CA. They are the highlight of the arts program at CA. Visual arts as well are a significant factor at CA, and you can often see the student's artwork decorating the halls.
Extracurricular Opportunities:
1.) Describe the extracurriculars offered at your school - what did you like most about it?
I liked most, again, that most organizations and clubs were accessible. I was able to try a lot of new things at CA, one of which was Model UN. We attended conferences nationwide, even as a small delegation, and we had the help of an awesome and passionate faculty advisor. By my senior year, I was able to become an officer in the club and helped to run the conference hosted by CA. In addition, many student organizations were very active on campus, and there was an incredibly diverse range of clubs offered on campus that were showcased yearly at the Club Expo. The wide range of clubs available was what I appreciated most about the extracurricular opportunities at CA.
Dorm Life:
1.) Describe the dorm life in your school - what did you like most about it?
The dorms are in old colonial-style houses on campus. When I attended CA, some dorms were a little old, and some needed repair, but they were definitely cozier than your average cookie-cutter dorm. They were definitely unique in that you were living in a colonial-era home. In addition, CA has a faculty that live in the dorms as "house parents", and they help to make sure that everything is alright and provide an outlet for you to speak to if you ever feel the need. Also, they make house dinners for all the students sometimes and host events. I definitely enjoyed most of the community within each of the dorms (houses) on campus. We were all tight knit because of our small community.
Dining:
1.) Describe the dining arrangements at your school.
The dining hall had free seating in sections based on your class year. These were unofficial, but all students generally followed the seating arrangements. The food was usually pretty good and consisted of a main choice that varied daily for lunch, a deli, salad and soup bar, and a stir-fry/panini station. Dinner was usually self-serve all you can eat, with a rotating main choice option. I liked most that we were provided diversity in our food choices, and all the food was high quality.
Social and Town Life:
1.) Describe the school's town and surrounding area.
The surrounding town of Concord has the typical small, eastern New England town vibe and feel to it. CA is located right in Concord's historic town center, and so there are a few small shops and family-owned businesses and restaurants within walking distance of CA. It truly was a beautiful, small little quaint town, which is what I enjoyed most about it. The one downside was that there were no cheap stores in the area such as Target or Walmart, which students would really enjoy. CA, however, sponsored weekend trips to Target for students.
2.) Describe the social life at your school - what did you like most about it?
I really liked most that the social life at CA wasn't based in cliques. All students were a part of the CA community, and although I wasn't friends with every single person in my class, I at least respected and felt respected by everyone at school. I loved that you were free to be yourself without the fear of being judged or criticized, which is common at other schools. Even now in college, I do sometimes find myself missing that close-knit community of CA and all of my fellow classmates that I grew close with over my 4 years there.
Daily Schedule:
Weekday
Weekend
One of my favorite things about CA is the way people learn to work to be kind and open to people who aren't like them. There are people who think and work and act in. . .
The courses that I was able to take bordered on college-level courses. Since the course load consisted almost entirely of electives -- not just English, or Honors English, or AP English -- I was able. . .
There's a commitment around my school from students and faculty to social justice that fosters a very welcoming environment. There's so many resources and groups with the goal of making the community better for all. . .
Show more reviews (

6 reviews

)
Mastering the Boarding School Selection Process: A 5-Step Guide
Discover the ultimate 5-step guide to choosing the perfect boarding school for your child. Explore essential factors, such as academics, campus facilities, extracurricular activities, and more. Make an informed decision to provide your child with an enriching and transformative educational experience. Read now!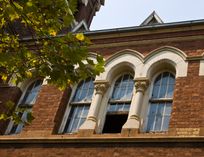 5 Founders and Their Boarding Schools
What prompts somebody to start a boarding school? The motives range from idealism to munificence right on through to capitalism. The common thread seems to be ample capital and a vision of what education can do.