Reflections and Advice:
1.) What do you think makes your school unique relative to other boarding schools?
There are many things that are especial at Lakefield College School (LCS), but the one thing that really separates it from other schools is the outdoors. Lakefield has lots of outdoor spaces and it utilizes those spaces for outdoor education, extra-curriculars, sports, etc. Outdoor spaces include green spaces, outdoor hockey rink, soccer fields, tennis courts, and the lake! It really offers anything outdoors you can think of. If you're looking for the outdoors to be a part of you as a person...lakefield is certainly the place. Personally, I wasn't into the outdoors and felt a bit skeptical about it at first as I grew up strictly in the city; but the outdoor education courses really help you settle in and find your place in the outdoor scene. It's most definitely something that can set you/or your kid(s) apart in the future.Another special thing that I found Lakefield has naturally is a sense of community. The school is not too big or too small, it's just the right size for people to know each other and build a collegiality sense between the faculty and students. I found this is especially true as I look back when I came in grade 9 (Age 14), the transition was very smooth because you feel comfortable with the faculty when you first meet and the students.
2.) What was the best thing that happened to you in boarding school?
Boarding school, especially Lakefield, has given me the chance to be independent yet feel supported. When I needed more support as I transitioned to grade 9 in my first year, my advisor and my head of house were there. Academically, coming from Saudi Arabia (where teaching is more traditional, where you're taught to memorize information) to Canada, especially in LCS (where teaching is much more open and free for students) was a challenge. However, with the support that I got in grade 9 and with the growth mindset my academic advisors gave me, I was able to push for a better performance as I received a couple of academic awards by the time of graduation. Lakefield challenges you at times, but never overwhelming enough to doubt yourself, but enough to know where you need to work more on.
3.) What might you have done differently during your boarding school experience?
I found the communication with Lakefield and the website helped me prepare for what to expect. LCS sent a PDF file enlisting everything you need for the school year, the list is very comprehensive in terms of what you would need.
4.) What did you like most about your school?
My favourite part about LCS is the balance between academics, social life, athletics and arts. The schedule is for the most part busy but there is time to enjoy the outdoor space in Lakefield with friends and colleagues. This is something I took after graduating, to live a balanced life where you give time for your mind and body in a realistic way.
5.) Do you have any final words of wisdom for visiting or incoming students to your school?
Take advantage of the outdoor basketball court in the fall and spring! One of the memories that I remember from Lakefield is playing outdoors.
Academics:
1.) Describe the academics at your school - what did you like most about it?
Briefly, the academics at Lakefield are a spectrum. It caters to students that want to get the most out of the academics to those who enjoy the academics that align with their interests. If you are aspiring to go into competitive programs, Lakefield will accommodate for that...there are AP courses as well as opportunities to showcase your work through different projects.It's very non-competitive in nature. Most people do what they can and academics at Lakefield isn't everything that Lakefield offers. It's simply an element, which is something I've taken away as I graduated. The schedule of academics is balanced where there is a chance to hang out with friends or travel for sports, etc. This work-life balance is highly empahsizd in the scheduling of Lakefield. There is study time from 8-9:45, where students are given the opportunity to do their work in their dorm in a quet scheudled way. You will always have that study time to finish your work. There is other times where you can also work on academics but that's up to the student!Another aspect of academics is the 'extra-help' sessions during lunch. Lunch time is an hour and a half, and during that time teachers offer time to students to come in and ask questions and get extra help. This was hugely valuable for learning and also to excel I found. As I wanted to enter a competitive program, marks were quite important and those extra-help sessions helped me achieve the standard I wanted to reach. These extra-help sessions cater to those that want to excel but also for those that need assistance.
Athletics:
1.) Describe the athletics at your school - what did you like most about it?
I enjoyed that athletics were open to everyone- even if you're not great or a beginner at the sport. I played soccer, rugby, beginner hockey (was called 'Slash' at the time I was there), and canoeing (in my first year at Lakefield). The soccer program is strong, we won the Division III championship at the time. Beginner Hockey was a chance to dive into Canadian culture in a safe environment. Everyone is a beginner there, some skating for the first time, and some having a very basic level of Hockey. Canoeing in my first year (grade 9) was a great experience, being in the lake for the first time and practicing another aspect of Canadian life was most definitely an experience!
Art, Music, and Theatre:
1.) Describe the arts program at your school - what did you like most about it?
In terms of the arts, there is something for everyone. I personally, took a visual arts course in grade 9 and 10. I was not in the arts programs there, but if you have an interest, the art programs such as the dance show cast, different plays with every term, and the debate team are great!
Extracurricular Opportunities:
1.) Describe the extracurriculars offered at your school - what did you like most about it?
In order to enter the medicine program in the UK, I need lots of volunteer experiences and Lakefield made it very easy to achieve that. There are volunteering activities on the weekend (at the time I visited the seniors' home) and there was an after-school program for kids in Lakefield (non-LCS students) where we played sports with younger kids. The Duke of Ed program is also fully supported by staff at the leadership team.
Dorm Life:
1.) Describe the dorm life in your school - what did you like most about it?
I was at Rashleigh House (Andrew Johnston was the head of house at the time) from grade 9 up to grade 12. The dorm life in Rashleigh was brotherly and everyone was friends with each other. We had house events every month or so, where we do recreational activities (cinema, sports, etc) together as a house. This was a really nice time to build the relationship even more with each other as students and with our head of the house. For my first year (grade 9) I didn't request a specific roommate as I didn't know anyone, but with grade 10, 11, and 12; we had the open to choose our roommates!
Dining:
1.) Describe the dining arrangements at your school.
The food is relatively healthy and balanced. There are different options for everyone (vegetarian, vegan, options for non-pork eaters) are all accomodated. The food is quite diverse throughout the year. There is a special day in Lakefield called international day, where food from different countries is served. A great opportunity to try different foods but also a chance to bring your home country's food to light!
Social and Town Life:
1.) Describe the school's town and surrounding area.
LCS is in a small town called Lakefield. Relatively small but it has most things students need (grocery store and Tim Hortons of course!). Peterborough is quite close (15 mins or so), a city with everything you can think of.
2.) Describe the social life at your school - what did you like most about it?
The social life is super friendly. Everyone eventually finds their niche and group of friends. The diversity in the school helps greatly to know different people from different places
There are many things that are especial at Lakefield College School (LCS), but the one thing that really separates it from other schools is the outdoors. Lakefield has lots of outdoor spaces and it utilizes. . .
Lakefield College School stands out in a way that compares to no other. One aspect that makes it unique is it's method of assessing a student's knowledge in English classes. In my final year, the. . .
The relationship between students and staff is truly what makes LCS different amongst any other boarding school. Between the regular activities that happen during the weekends to encourage student engagement and the ability to live. . .
Show more reviews (

1 review

)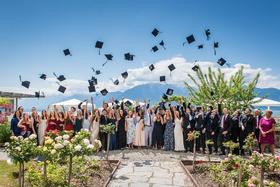 Nurturing Futures: A Journey through Boarding at Haut-Lac School in Switzerland
Nestled in the hills overlooking Lake Geneva in the French-speaking part of Switzerland lies an educational gem that embodies a unique blend of academic excellence, cultural richness and a profound sense of community. Founded over 30 years ago, Haut-Lac International Bilingual Day and Boarding School is now home to both 600 day students and a maximum of 30 boarders from around the world.
Navigating the Modern Maze: Emerging Challenges for Boarding Schools
Explore the pressing challenges facing boarding schools, from marketing difficulties and rising insurance costs to facility maintenance and recruitment of competent trustees and teachers. This article delves into these complex issues and proposes innovative strategies to overcome them.
What To Wear at Your Job Interview
Navigating job interviews can be stressful, but knowing what to wear shouldn't be. Our comprehensive guide covers the essential dress code tips for men and women interviewing at boarding schools. Make your first impression count with style and professionalism.