Browse Student Reviews
Review Excerpt:
What did you like best about your school's academics?
"The best part about the academics at Hebron Academy was that your teachers were not only the people who taught your classes. They were also your dorm parents, your coaches, your friends and your advisors. They would never let you slip through the cracks because they were so invested in you in every way...In addition to the spectacular teachers comes the added element that, at a place like Hebron, you get to have contact with your teachers because the class sizes are so small. You're not going to get lost in the crowd when your class only has ten people in it. I had a Latin class which only had three people. It was like I had a personal tutor. So the small class sizes are in part what make your contact with the professors so accessible."-Hebron Academy alumni, Class of 2000
May 03, 2018
The quality of a summer camp depends very much on the quality and experience of the folks running it. When you select a summer program run by a boarding school, you are getting a program with experienced, well-organized professionals at the helm. More here.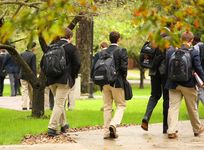 March 22, 2018
Some cynics think single-sex education is old-fashioned. The Kiski School shows how educating boys in a single-sex school is successful.
March 08, 2018
The wide range of fine academic, athletic, and other facilities found in boarding schools underscores the determination of schools to provide the very best for their students.