Review Excerpt:
What was the best thing that's happened to you in boarding school?
"The best thing that happened to me in boarding school was that I made really amazing friends. I hadn't had very good friends during my previous schooling experiences, and I went to MHS and made friends from the very first day that I know I will have for the rest of my life. I still talk to/write/email my good friends about once a week or more, and we are still very close, even though we are so far apart. Now that I am in college, I am finding skills I learned at MHS are coming in very handy. Here is a list of things that I learned/gained while in high school that I am applying in my everyday life: 1) I am more adventurous - at MHS you are required to do many things you don't think you can do, and it teaches you to try new things without fear of failure - consequently I am involved in many fun things here at school that I would have never even though of trying had I not gone to MHS. 2)..." - Miss Hall's School alumni, Class of 2002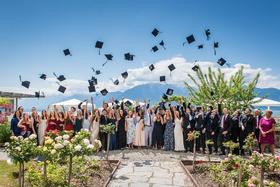 Nurturing Futures: A Journey through Boarding at Haut-Lac School in Switzerland
Nestled in the hills overlooking Lake Geneva in the French-speaking part of Switzerland lies an educational gem that embodies a unique blend of academic excellence, cultural richness and a profound sense of community. Founded over 30 years ago, Haut-Lac International Bilingual Day and Boarding School is now home to both 600 day students and a maximum of 30 boarders from around the world.
What To Wear at Your Job Interview
Navigating job interviews can be stressful, but knowing what to wear shouldn't be. Our comprehensive guide covers the essential dress code tips for men and women interviewing at boarding schools. Make your first impression count with style and professionalism.
Navigating the Modern Maze: Emerging Challenges for Boarding Schools
Explore the pressing challenges facing boarding schools, from marketing difficulties and rising insurance costs to facility maintenance and recruitment of competent trustees and teachers. This article delves into these complex issues and proposes innovative strategies to overcome them.