Browse Student Reviews
Review Excerpt:
What do you think makes your school unique relative to other boarding schools?
"Tabor's setting as the School by the Sea is not only an important part of its history, but also of its current image and experience. The unique opportunities provided by the water setting really set it apart. Sailing instruction, an excellent marine science program, rowing, and many other programs add to the diversity of the curricular and extracurricular experience. The school's tight relationship with the Naval Academy provides other great opportunities. The water setting also adds a serene aspect to campus life. I think being on the water makes campus life a little slower, makes you stop to appreciate where you are. And waking up in the morning and looking out to see the sun rising over the harbor is an experience that's hard to compare to anything else. "-Tabor Academy alumni, Class of 2000
April 20, 2018
Actually, there is no secret to getting your child into boarding school. Just a lot of hard work and a heavy commitment of time.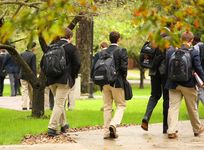 March 22, 2018
Some cynics think single-sex education is old-fashioned. The Kiski School shows how educating boys in a single-sex school is successful.
March 08, 2018
The wide range of fine academic, athletic, and other facilities found in boarding schools underscores the determination of schools to provide the very best for their students.