Review Excerpt:
What was the best thing that's happened to you in boarding school?
"The best thing that happened to me in boarding school was that I made really amazing friends. I hadn't had very good friends during my previous schooling experiences, and I went to MHS and made friends from the very first day that I know I will have for the rest of my life. I still talk to/write/email my good friends about once a week or more, and we are still very close, even though we are so far apart. Now that I am in college, I am finding skills I learned at MHS are coming in very handy. Here is a list of things that I learned/gained while in high school that I am applying in my everyday life: 1) I am more adventurous - at MHS you are required to do many things you don't think you can do, and it teaches you to try new things without fear of failure - consequently I am involved in many fun things here at school that I would have never even though of trying had I not gone to MHS. 2)..." - Miss Hall's School alumni, Class of 2002
Mastering the Boarding School Selection Process: A 5-Step Guide
Discover the ultimate 5-step guide to choosing the perfect boarding school for your child. Explore essential factors, such as academics, campus facilities, extracurricular activities, and more. Make an informed decision to provide your child with an enriching and transformative educational experience. Read now!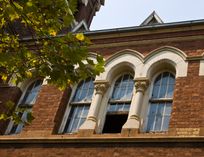 5 Founders and Their Boarding Schools
What prompts somebody to start a boarding school? The motives range from idealism to munificence right on through to capitalism. The common thread seems to be ample capital and a vision of what education can do.