Reflections and Advice:
1.) What do you think makes your school unique relative to other boarding schools?
When I first entered Groton, I had no idea what I was getting myself into. My initial reaction was, "I'm away from home. I'm on my own." But I quickly realized that parents still played a major role in being away. After I got past the extreme homesickness, I learned to appreciate Groton and to participate in school life as much as I could. Because Groton is one of the smaller boarding schools where the teachers lived on campus, we were always able to get help when needed. The classroom atmosphere was an intimate one and the teachers were able to give students the undivided attention they sometimes needed. I often wondered why we were learning certain material in classes, but now that I am in college, I have realized why, and am now grateful for it. The material learned and the work done at Groton does far more than prepare for college life-- it places you amongst the top!Though there is no mandatory volunteer work, the Groton School Community Service Group (GCS) is a big part of the community. Students are able to tutor children, feed and clothe the homeless and needy, work with mentally disabled children, and volunteer in nursing homes, among numerous other activities. The dorms are wonderful. Eighth and ninth grade students are placed in an intimate setting, allowing them to get to know one another and to establish connections and long-lasting friendships. The upper-school dorms are equally as intimate - everyone shares a common room area where they meet nightly for check-in and to discuss the day's happenings.Overall, Groton is a great place to be, especially if you are looking for a tightly knit and trusting community that will allow you to grow into a well-rounded person ready for college and the active work of life.
2.) What was the best thing that happened to you in boarding school?
The best thing that has happened to me in boarding school is that I have learned to use my time effectively when doing school work and other things. My organizational skills have greatly improved. I have learned to be much more accepting of others and their cultures. The competitiveness of the community has allowed me to grow academically as well as mentally and it has shown me that though I may have been the best at my junior high school, there are many out there who are better so I must strive that much harder to become a great achiever.
3.) What might you have done differently during your boarding school experience?
I would have tried to enjoy myself more instead of dwelling on not being home. I wish I could have taken part in the revisit program, where accepted students are invited back to the school for an overnight stay. This is a major deciding factor in whether or not one should want to attend the school.
4.) What would you never want to change about your school?
I would never want to change the closeness of the community and the intensity with which the teachers teach.
5.) What things could be improved about your school?
I understand that while we are on campus the teachers are essentially our parents, but they could treat us more like responsible young adults in preparing us for life in the real world.
6.) Do you have any final words of wisdom for visiting or incoming students to your school?
If you decide to come to Groton, make sure you request to be in BEAMS' dorm. Mr. Beams is the best dormhead and a great cook. He's not only a teacher and a dean, he's a friend. Also, when you run out of food or when you are not exactly fond of what the dining hall may be serving, check out Scudder's, the student-run fast food joint.
Academics:
1.) What did you like best about your school's academics?
The teachers at Groton really seemed to put much thought and time into each day's lesson. We were taught in an efficient manner - adequately-paced with regards to the different levels of learning present in the class. Teachers made themselves readily available outside of class, allowing students to phone them or to stop by their houses, which were mostly located on campus. After the core requirement is fulfilled, students are able to choose from a vast variety of courses that will give you a sense of what you want to pursue in college. The Groton environment is an extremely competitive one, but it pushes the student to achieve only the best and to want only the best for themselves. It will not allow them to settle for less.
2.) What did you like least about the academics in your school?
Sometimes the workload proved to be too much, though not impossible. I looked at it this way - this is what college will be like and Groton is only preparing me for it, placing me steps ahead of other college students.
Athletics:
1.) What did you like best about your school's athletics?
I liked that Groton allowed you to choose from a number of sports and the community came together to support all teams. Groton school teams have good sportsmanship and will not let a loss get them down, nor will they let a win go to their heads. Also Groton invested much into providing students with a state-of-the-art gym, proving how much sports are appreciated.
2.) What did you like least about the athletics in your school?
I liked least that as a lower schooler (8th and 9th), students have to participate in a sport rather than following their own fitness regiment.
Art, Music, and Theatre:
1.) What did you like best about your school's art program?
There is a school art requirement and I believe it to be necessary as a part of mkaing a student a well-rounded individual. Students were able to choose from music, choir, painting, drawing, photography, theatre, dance, etc. The art program was not only limited to what the school provided. If a student makes an art proposal, it is likely that it will be passed.
2.) What did you like least about your school's art program?
There is nothing I disliked about the art program. I rather enjoyed going to the shows and performances.
Extracurricular Opportunities:
1.) What did you like most about the extracurricular activities offered at your school?
I most liked that there was a wide variety of activities offered. When a student entered an activity, that student put a lot of time and effort into it. All of Groton's activities were as such. As with the art program, if a student wants to start a new club or activity, there has to be adequate interest and meaningful purpose, but it can be done and is done every year.
2.) What did you like least about the extracurricular activities offered at your school?
I liked least that I could not participate in more activities due to the time slots.
Dorm Life:
1.) What was the best thing about dorm life in your school?
The best thing about dorm life was the closeness of the residents. Everyone is warm and welcoming, including the dormheads. I enjoyed the dorm bonding and the family atmosphere established every year between groups of very diverse students.
2.) What did you like least about dorm life?
The worst thing about dorm life is the occasional rowdiness and noise one gets from one's neighbors enjoying themselves.
Dining:
1.) What was the best thing about your dining arrangements?
The best thing about the dining hall is that it is located at the center of the campus. It isn't a far walk from any of the dorms. Though the kitchen itself is not always open, one can always go to the dining hall for a snack, whehter it be fruit, cereal, or a peanut-butter and jelly sandwich. Groton students will never go hungry.
2.) What did you like least about your dining arrangements?
The worst thing about the dining arrangements are the hours during which the students have to eat breakfast and dinner. They could be longer.
Social and Town Life:
1.) How welcome did you feel by the other students when you first arrived at the school
Groton set up a system where seniors volunteer to greet the newcomers. These seniors are warm and welcoming and make one feel at home right away. Students are understanding of each other's various needs and do their best to adapt to the new living situations. When I first arrived at school, I didn't think I would exactly fit in, but there were many ready to befriend, leaving no one out.
2.) Describe the level of diversity and integration of students in your school:
During my four years at Groton, it was not as diverse as it could have been. It was only during my last year that Groton began to present itself as a more diverse campus. Though not the most diverse boarding school, students were made to feel welcomed and there weren't major culture shocks.
3.) Describe typical fun activities you did on a weekend:
There are always activities on the weekends. There is a dance every Saturday night. Before the dances, there are usually school-run activities such as a spelling bee, a hypnotist show, visiting bands, student bands, etc. One year we had two guys from Bring in the Noise, Bring in the Funk tap for us. The Student Activities Committee really puts time and effort into making sure weekends are fun-filled.
4.) What was the town like?
Most students venture into town after classes or after they have completed their commitments for the day. Because Groton is a small town, it was just as trusting as the school. Students are able to go ride in on bikes or walk on foot to the local pizzeria or supermarket. Also, because it is a small town, there isn't much to do besides going for walks and having a meal in the pizzeria.
Daily Schedule:
Weekday
7:00 AM
Wake Up and Breakfast
8:30 AM
Work Program and Roll Call
10:15 AM
English - Expository Writing
12:45 PM
Catch Up on sleep or Do Homework
5:30 PM
Shower and Dress for Dinner
6:15 PM
Sit-Down Dinner - formal dress
7:00 PM
Extracurricular Activity, Watch Television, Visit Friends, or Do Homework
10:15 PM
More Homework and Studying
Weekend
7:00 AM
Wake Up and Breakfast
8:00 AM
English - Expository Writing
9:00 PM
Saturday Night Dance
I think the most influential part of Groton is it's emphasis on community. As an effect of the small size and commitment to inclusion, Groton skillfully combines the independence that comes with attending a boarding. . .
Groton is unique in its campus set-up. It is centered around the "Circle" a large expanse of grass that is used as a soccer field in the fall and for lawn games in the spring. . .
Groton is a small school in the countryside with immense resources and an extremely demanding academic atmosphere; the first word most students associate with the School is "intense." The School's long history and honored traditions. . .
Show more reviews (

16 reviews

)
Mastering the Boarding School Selection Process: A 5-Step Guide
Discover the ultimate 5-step guide to choosing the perfect boarding school for your child. Explore essential factors, such as academics, campus facilities, extracurricular activities, and more. Make an informed decision to provide your child with an enriching and transformative educational experience. Read now!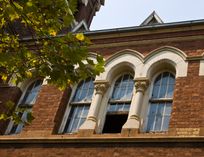 5 Founders and Their Boarding Schools
What prompts somebody to start a boarding school? The motives range from idealism to munificence right on through to capitalism. The common thread seems to be ample capital and a vision of what education can do.