Reflections and Advice:
1.) What do you think makes your school unique relative to other boarding schools?
The best thing about Hebron is the family-like feeling that surrounds everything. The teachers are also your coaches, your advisors, your dorm parents, your friends and your mentors. They almost all live right on campus, and they open their homes and apartments up to all the students all the time. We see them with their families, and Hebron is their home. Because of this, all the students have a really high respect level for the campus. Also, to see that their teachers are allowing all of us to see into their personal lives makes us feel really welcome there, and we in part feel like a part of their family. After 4 years at Hebron, I feel like I have 12 second homes. It's an amazing feeling.
2.) What was the best thing that happened to you in boarding school?
There are so many things that I value so much from m time at Hebron. I'd start by talking about the relationships with all the people there, students and faculty alike. Hebron is a place I can see myself returning to for a job, because of the people that are there. The kids I went to school with are really good friends, and some feel like siblings. The teachers feel like mentors, or second parents to me. Second great thing that I've gotten from Hebron is a better understanding of me as a student and as a person. I was really able to take some tough classes, and from them I pushed myself to the limits. I worked through them, and never gave up because I didn't want to let myself or others down. I had never been in a class that I found tough, or had to work at, so to be able to really be given a toughie, I was able to see where my own limits were, as to how much I could take and how tough something could be. And because I didn't give up, i have pushed those limits further back. Lastly, the independance that I had at Hebron makes me feel so much more confidant for college because I've learned to manage my time, both free and scheduled. I've already had a taste of freedom, so I will be more ready for that when I got to college. Also, the classes themselves have really taken my academics to an advanced level so the expectations of college won't be a shock to me, either.
3.) What might you have done differently during your boarding school experience?
If I could do anything differently from when I started, I would be more involved with things (groups, honors classes) sooner. When I entered as a freshman, I didn't want to overload myself, but in hindsight, it would have been fine. Also, if I could go back, I would take part in more of the weekend events; the hypnotists, the comedians that came to campus, the winter carn. events, more of the casino nights, more of the superbowl parties in the bowl.
4.) What would you never want to change about your school?
The high expectation which is expected from all students who go there. Students are expected to meet certain goals, and the teachers do everything they can to help you reach those things and places.
5.) What things could be improved about your school?
That's a toughie. I guess I'd just have to say some of the spaces avalible for different things- the art spaces, and the gym, although I know there is a plan in progress for a new gym building. Just the space available for different things which go on.
6.) Do you have any final words of wisdom for visiting or incoming students to your school?
Be sure to look at a few different places. Ask lots of questions. On the surface schools can all seem the same, but check it out and don't be shy to experience things while you are visiting different schools if you get the chance. Once you begin to compare all visits to one school, you know you've got a match.
Academics:
1.) What did you like best about your school's academics?
What I liked most about the academics was the attention that I got from the teachers of my classes, and even those that weren't my teachers. The classes are small, so they get to know you really quickly. They learn what you are good at, and what you could work more on. Then they push you in those areas which could be stronger to really make you a better student. Also, they are always around for any questions, or to give extra help. I had some problems with a couple of math classes my last two years, and so I went to my teacher, and then also to a math teacher I'd had earlier. Also, I went to the headmaster! I went to him about once a week, and we'd sit down and he'd go over the math with me. To have all thos people willing to sit down, even though that wasn't "their job" really impressed me, and I still thank those people to this day.
2.) What did you like least about the academics in your school?
The one thing I didn't like so much was that there weren't tons of courses offered in a different variety of topics. Rather than just a general psychology class, I would have loved to have 2-3 classes which might focus on different areas of psychology. Most of the classes offered at Hebron are general topics: english, language, math, history and science. I was able to do many different things within those subjects, but some electives would be nice.
Athletics:
1.) What did you like best about your school's athletics?
What I like is that everyone is accepted onto any team they would like to be a part of. There is no fear of being rejected or cut from the team, and it allows a willingness to try new sports.
2.) What did you like least about the athletics in your school?
Because the sports are more centered around learning the skills and improving the techniques, there are certain sports which don't produce as positive a record for the season as the effort and desire should reflect. It gets discouraging sometimes to lose game after game.
Art, Music, and Theatre:
1.) What did you like best about your school's art program?
I loved that it was what the students made it. Certainly, the art teachers came to the school year with ideas for the students, but mostly the projects and the ideas were generated by the students. My sophomore year, the art class was taken to an art show, and we were to pick a sculpture that was on exhibit and mimic it for our final project. What I chose was a 3-D Wall sculpture. At most schools where stapling things into the walls would be frowned upon, I was given the green light to go ahead and work my magic with the wall. It turned out really well, and that was because they let me do it.
2.) What did you like least about your school's art program?
That there is not a large enough art department to accomodate all the interest that there is in the programs. Often, during a photo class, we'd have to split the period because there weren't enough enlargers for the size of the class. Time that could have been spent in the darkroom was spent in the classroom doing less important things. It would work out okay because students would use the room during a free period, but it would have been nice to have more equiptment and larger spaces.
Extracurricular Opportunities:
1.) What did you like most about the extracurricular activities offered at your school?
I loved that the school was committed to offering different options. The school that our students mentored at through the BBBS program moved down the road, so we weren't able to simply walk to the classroom to meet our little brothers and sisters anymore. Rather than just end the program, a lot of people sat down and figured out all the logistics and the little details that would allow the program to continue. That really meant a lot because much was put into juggling times and transportation to accomodate that program. Also, it's SO easy to start something if it's not already offered. I have a great passion for debate, and there wasn't a group for that. I talked with Mr. Leyden and a few other people, and after I said something about it in morning meeting, there was a debate group. We had meetings, and even put on a few debates for the school which was a great highlight for me!
2.) What did you like least about the extracurricular activities offered at your school?
Often, because the school day is so long, there isn't enough time in the day to do all the things that you really want to do.
Dorm Life:
1.) What was the best thing about dorm life in your school?
I was a day student, I can't comment on this one
2.) What did you like least about dorm life?
see above
Dining:
1.) What was the best thing about your dining arrangements?
The casual set up of the dining room allowed for a free exchange between students and teachers. At lunch I might sit with my French teacher and talk about an upcoming project, and then at dinner I might sit with her again and talk with her about what it would be like if we were eating dinner at her home, back in France. To have the opportunity to share experiences on so many levels was great.
2.) What did you like least about your dining arrangements?
Sometimes when all the kids were getting out of classes for lunch the set up of the dining room would be a problem. The line for the hot food would block the salad bar, or you'd have to cross the "sea of people" in line in order to get soup or dessert.
Social and Town Life:
1.) How welcome did you feel by the other students when you first arrived at the school
The first thing that we did when I got to campus was to have an all school meeting. We met in the chapel, and then we broke into smaller groups of about 20 to do get-to-know-you games. Things which make you look like a fool, things which need you to have other people to help you with, and just silly things. It was a great ice breaker. You'd travel around in the group and you'd play against other groups. After that was done, there was an all school picnic. Then next day the school had arranged trips for the individual grades to go on. So with that I got to know my classmates. Once classes started the next day, I didn't feel like a new kid in a new school. I knew a lot of the people, and all the nervous tension was gone. Everyone was super friendly, and willing to help if I did get lost going from class to class, but it was a great transition.
2.) Describe the level of diversity and integration of students in your school:
We have a very good group of kids from all over at Hebron. There is a good core of kids from points in Maine, and then a good number of kids from New England. Canada is a good departure point, and we always have a good mix of kids from Korea and Japan as well. The Assist program brings some kids from Germany, and we also get more students from other states and areas. In the long run it really doesn't matter where each person comes from, because we are all unique and diverse. We each bring something to the school with our past experiences and customs. We all learn from each other and we all get along really well with each other.
3.) Describe typical fun activities you did on a weekend:
The things that we did on a weekend vary. The faculty really like to mix it up. But we'd always go to a comedy connection in Portland, and there always seemed to be some arts-related trip- either to a museum or to a foreign film. The Bethel Big Adventure Center was a popular destination for laser tag, rock climbing and mini golf. Then there were always movie and mall trips, and dances every so often.
4.) What was the town like?
Hebron is semi-secluded, so there is a lot of woods and wilderness and natural beauty all around campus. With a few ponds and miles of trails, there's a fair deal to do right in Hebron if you are very outdoorsy. The towns around Hebron (Norway, S. Paris, Oxford, Auburn) have more in the ways of movies and restaurants and things to do. In that respect it was great because you weren't too far away if you wanted to get off campus and do something, but there was a whole other extreme of possiblities right there on campus. It's like the best of both worlds.
Daily Schedule:
Weekday
6:00 AM
Get up & get ready
7:45 AM
Morning Meeting ( all school gathers for announcments)
10:00 AM
BREAK!! go to union- grab a Snapple
11:30 AM
Free Period... go to early lunch
12:30 PM
Hang out at lunch to see friends who just got out of class
3:00 PM
Get ready for practice
5:45 PM
Meet at dinner to talk with other clas officers
8:00 PM
Do homework... aka talk on AIM & play minesweeper
10:00 PM
Decide that i really NEED to do homework
11:00 PM
Go to bed knowing I'll finish my french homework first period tomorrow
Weekend
8:00 AM
Get up to get ready for game
10:00 AM
Team breakfast in the dining room
4:00 PM
Stop at McDonalds on way home for lunch
7:00 PM
Go back to Hebron to attend Casino Night/Dance/watch a movie
11:00 PM
Read some English homework so I don't have it all for Sunday
Hebron's location is a great setting to enjoy the outdoors. There are a variety of outdoor activities to take part in. The campus also has its own hiking trails, and in the fall and winter. . .
Hebron encouraged us to serve the surrounding community with designated community service days throughout the school year, as well as celebrating the diversity of our school by themed dinners and cultural events. . .
Hebron was so transformative for me. The main things that I can accredit this to are the the population of international students on campus and the community among women. In the upper school (the high. . .
Show more reviews (

6 reviews

)
Mastering the Boarding School Selection Process: A 5-Step Guide
Discover the ultimate 5-step guide to choosing the perfect boarding school for your child. Explore essential factors, such as academics, campus facilities, extracurricular activities, and more. Make an informed decision to provide your child with an enriching and transformative educational experience. Read now!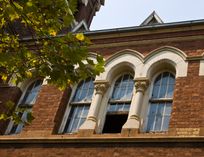 5 Founders and Their Boarding Schools
What prompts somebody to start a boarding school? The motives range from idealism to munificence right on through to capitalism. The common thread seems to be ample capital and a vision of what education can do.