Reflections and Advice:
1.) What do you think makes your school unique relative to other boarding schools?
Groton's small size, intensely devoted faculty, and great students made it an environment unique in several ways. All students enjoy unparalleled attention from teachers and administrators, but that attention does not stop outside of the classrooms--in their roles as coaches, advisors, and even friends, the faculty dedicate themselves wholly to making the students better people. The size (roughly 350 students) ensures that virtually everyone on campus knows each other by name and creates a place that is friendlier and closer than any comparable school.
2.) What was the best thing that happened to you in boarding school?
Students usually leave Groton having made friends for life, and that is certainly one of the best things that happens to most students--virtually every student makes great friends. In addition, the education I received was absolutely second-to-none. The only downside to a Groton education is the sense of something missing in everything following it, including college. The teachers were incredibly dedicated and put all of their energy into supporting and helping the students. I left Groton knowing that I was a better person in so many ways than when I entered four years before and I made great friends along the way. Groton is an incredible place because of the people who make it up and they are virtually without exception the kind of people who I would want to spend four years with.
3.) What might you have done differently during your boarding school experience?
The only thing I would have done differently is to try more of what Groton offered--the only fault is that there is so much to do and so many ways to grow at Groton.
4.) What did you like most about your school?
Again, the people, both students and teachers. You'll never find so many great people in one place and the experience is truly unforgettable. Ask any student, whether it's on your tour or just walking around campus, and you're likely to get the same response.
5.) Do you have any final words of wisdom for visiting or incoming students to your school?
Explore all the possibilities, embrace the challenge, and use your friends as a support system.
Academics:
1.) Describe the academics at your school - what did you like most about it?
The teachers in all departments are highly qualified and superbly dedicated to their professions; academics are certainly at the center of life at Groton, and each student's academic experience is greatly influenced by his course selection. In the III form (9th grade) most students will take six academic classes (two languages, English, science, math, history) and an art. This helps to create a sense of cohesion amongst these students and ensures a broad exposure to different subjects. After III form, each student's experience will become more personalized; courses will be chosen more on the basis of interest and difficulty, and students that have struggled in certain areas will choose easier classes in that area. Extra help is always available from both teachers and fellow students, all of whom are more than happy to give assistance. Although students are all academically motivated, there is absolutely no sense of cut-throat competition; they genuinely care about their peers and are willing to give up their time to help others. Classes are all small (about 10-12 students on average) and mostly discussion driven with a lot of participation from students. Although it varies by subject, class time is usually for the exploration of new ideas and teachers promote free academic inquiry amongst their pupils. The workload varies greatly and depends on the courses chosen by a student (always with help from his advisor). Students are taught to work efficiently in III form with mandatory study halls during the schoolday and at night from 8-9:45. Any student struggling with his work will receive help from a large network of prefects, peers, and teachers, all of whom honestly want to help him succeed. Students form good study habits early on and, although there are certainly times when the work is challenging, a well-managed course load is not overwhelming and there is always a safety net for students.
Athletics:
1.) Describe the athletics at your school - what did you like most about it?
Participation in athletics is mostly mandatory--some students avoid playing sports during certain terms due to participation in the theater program--but most will play sports for the majority of their careers at Groton. Because of this level of participation, most sports will field JV and Thirds teams so that all students have a team to play on. The facilities for sports are wonderful and ensure that everyone has a place to go each afternoon. The athletic center is one of the newest buildings on campus and has two hockey rinks (converted into eight tennis courts in the spring), two basketball courts, twelve squash courts, a work out room, locker rooms, an indoor and outdoor pool and more. While Groton doesn't have some of the more esoteric sports like swimming or wrestling, students who are particularly interested in these have the option of an FSA--a faculty sponsored activity--which allows them to form their own athletic program during their V or VI form years (11th and 12th grades.)
Art, Music, and Theatre:
1.) Describe the arts program at your school - what did you like most about it?
The final part of a Groton education is the arts, and students are required to participate in this to a certain degree. Again, all III form students take an art class all year, whether it be studio art or woodshop, and after that students must take a full year of art during their remaining three years. Options range greatly, from the aforementioned woodshop (which turns out incredible and authentic pieces of antique-style furniture, all made by students with the help of the shop teacher) to photography, painting, ceramics, etc. Students with an interest in music also have the option of taking music classes as courses or in their free time as extra-curriculars. In addition, they can participate in a number of musical groups from a capella to church music, bands and more. The theater program is open to all students and generally takes the place of a sport for a term. The school puts out three major performances a year as well as a number of smaller ones. The performing arts center is brand new and has a number of incredibly state of the art technologies.
Extracurricular Opportunities:
1.) Describe the extracurriculars offered at your school - what did you like most about it?
Groton offers the usual extra-curricular activities as well as a number of more unusual ones. Many students participate in GCS--Groton Community Service--and there is a great number of other groups for more specific interests. The Circle Voice, the campus newspaper, is popular with many students, and the other possible extra-curriculars are too many to mention, from literary publications and student government to groups for sailing and watching movies.
Dorm Life:
1.) Describe the dorm life in your school - what did you like most about it?
Dorm life was one of the best aspects of Groton. All II and III formers (8th and 9th graders) live in one area of campus amongst several dorms that feature cubes--a semi-open living arrangement that ensures that students interact with and get to know each other quickly. In these cubes the walls only go about 3/4 of the way to the ceiling and each room is more or less connected with all the others. Because all students in these forms are in the same buildings friendships are made quickly and everyone gets to know each other very well. After III form students live in more college-style dorms with IV, V, and VI formers. All dorms have VI formers who are prefects--they make sure that everything is going as it should and ensure that every student is having a good experience. They also run check-in, a roughly 15 minute meeting every night at the end of the day (10:00) at which announcements are made, stories are told, and even games are played. Check-in concludes with all students shaking the hand of the dorm head, who lives in an attached apartment. In upper school, students live in singles, doubles, or triples and every student is guaranteed the roommate(s) that he wants. Students list dorms by their preference and generally get one of their top selections. After check-in the dorms are always quiet but students have the option of hanging out with friends or finishing up their work. Great friendships are made in the dorms and by the end of the year members of these dorms have a special rapport and cohesion. Living with other students is one of the best aspects of boarding school, and friendships formed in the dorms last a long time.
Dining:
1.) Describe the dining arrangements at your school.
The dining hall is where most students will eat three meals a day, so it has a great variety of food for all students. Hot breakfast is served every day before chapel (8:00) and includes eggs, potatoes etc. There is also fruit, cereal, yogurt, oatmeal etc. Students go to lunch during one of their daily free periods. At every lunch there is a main course which changes by day, but there is also a salad bar, PBJ, and a sandwich station with a man who will make any sandwich a student wants. Finally, dinner is served from 5-7:30 and always has a main course as well as alternatives like those at lunch. In the fall and spring Groton has sit-down dinners two or three times a week. At these, students put on formal-wear and sit at assigned tables, each of which has a teacher and a student waiter. This is a great opportunity to meet other students and teachers you wouldn't otherwise.
Social and Town Life:
1.) Describe the school's town and surrounding area.
Groton is fairly rural, and the center of town itself is about a mile from campus. There are several restaurants in the area that students will go to with parents or friends and buses are usually available on weekends to go into Boston or Cambridge for students that want a break from school life.
2.) Describe the social life at your school - what did you like most about it?
In a small school like Groton social life revolves around the student center, where there is a student-run grill and where weekly dances are held on Saturday nights. Many, but not all, students attend these dances but there are also alternatives for students who don't wish to. Often there will be buses to places like Boston or a local mall for students to shop or see a movie and student-run clubs often show movies on the weekends. Unlike at many other boarding schools, at Groton almost all students will stay on campus for the weekends rather than going home. This ensures that the campus isn't dead for two days a week and produces a closer social environment.
Daily Schedule:
Weekday
8:00 AM
Chapel and classes
10:00 AM
Recess (about 15 mins, then back to class)
12:30 AM
Lunch (40 mins, then back to class)
3:00 PM
Sports/afternoon activity
7:00 PM
Spend time with friends
Weekend
12:00 AM
Lunch, then spend time with friends or watch/participate in sports game
8:00 PM
Hang out in dorm or go to dance/other activity
I think the most influential part of Groton is it's emphasis on community. As an effect of the small size and commitment to inclusion, Groton skillfully combines the independence that comes with attending a boarding. . .
Groton is unique in its campus set-up. It is centered around the "Circle" a large expanse of grass that is used as a soccer field in the fall and for lawn games in the spring. . .
Groton is a small school in the countryside with immense resources and an extremely demanding academic atmosphere; the first word most students associate with the School is "intense." The School's long history and honored traditions. . .
Show more reviews (

16 reviews

)
Mastering the Boarding School Selection Process: A 5-Step Guide
Discover the ultimate 5-step guide to choosing the perfect boarding school for your child. Explore essential factors, such as academics, campus facilities, extracurricular activities, and more. Make an informed decision to provide your child with an enriching and transformative educational experience. Read now!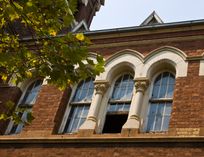 5 Founders and Their Boarding Schools
What prompts somebody to start a boarding school? The motives range from idealism to munificence right on through to capitalism. The common thread seems to be ample capital and a vision of what education can do.