Reflections and Advice:
1.) What do you think makes your school unique relative to other boarding schools?
Groton provides a unique environment for its students in many ways but the one that impacted my education most was way Groton cultivated relationships between faculty and students. Not only did small classes help forge close relationship between faculty and students but students also were exposed to their teachers in many other aspects of school including sports, dorm affiliates/heads, and at sit-down dinner. While other boarding schools incorporate their faculty into the rest of the campus, Groton's small size provides a wonderful opportunity for more casual interaction and personal relationships. These relationships were reinforced every day through the layout of campus and the cohesiveness that the Circle provided.
2.) What was the best thing that happened to you in boarding school?
Not only did I learn how to fail (which is an important skill) but I also learned how much potential I really had. I gained so much confidence by how much Groton pushed me. I also gained many wonderful relationships and learned how to live on my own earlier than most people.
3.) What might you have done differently during your boarding school experience?
Be very open to lots of different types of people and personalities. No one, no matter where you go, is what they seem and you can overlook many great potential friendships. Also, utilize every opportunity that Groton sends your way whether a trip, a great relationship with a friend or teacher, or just trying something new. There are so many doors waiting to be opened, do not be closed minded.
4.) What did you like most about your school?
I loved Groton for many reasons but the two that resonate most with me are the incredible friendships with teachers and other students that I forged because of the tight-knit community. I also loved the traditions that Groton has, even ones that to an outsider may look strange (how the headmaster wears a long fur coat on St. Mark's day...). These traditions are unique to Groton and help bond the community in a way that no other school can.
5.) Do you have any final words of wisdom for visiting or incoming students to your school?
If you are a girl, try to get Beams' dorm: although it's on the Lower School side of the Circle, Mr. Beam's is a wonderful, caring, and fun dorm head who also gives amazing feeds! Make the walk around the Circle: it may seem like a long way but if you have friends on the other side, visit them and make the effort. Filho's in Groton (a casual Italian restaurant) is a great place to go on the weekend and get a delicious bowl of pasta and Pastore's has the best gourmet pizza ever although they don't deliver. Don't bother bringing your cell phone to class: teachers will confiscate them if they ring and it's just not worth it. Take advantage of all movie/mall and surprise holiday opportunities (although do NOT not do your homework before a day you THINK is surprise holiday--it's not a good feeling if you predicted wrong), they're a great way to get off campus.
Academics:
1.) Describe the academics at your school - what did you like most about it?
Groton is known throughout the country for its academics and while they are a challenge, they are in no way impossible. I found almost all my teachers truly interested in their subject as well as helping their students. While the teachers challenged students in many ways, they were also always open to extra help, if you asked. I found that if I asked for help, my teachers were extremely receptive and appreciated hard working students. I found the academic environment refreshingly competitive. Students on campus appreciated and respected hard work and earning good grades was a point of pride. The workload combined with the strict schedule and extracurricular activities at times were very challenging but Groton truly prepared me not only for college but, I believe, the real world. Once I got to college, I already had good study habits, knew how to work hard for my grades, and developed relationships with my professors while many other kids were left flayling, not knowing how to survive. Not only are your teachers there to help you, however, but you are assigned an advisor who will have weekly meetings/advisee dinners at his/her house, and generally keep an I eye on you. I, personally, consider my advisor my second mother.
Athletics:
1.) Describe the athletics at your school - what did you like most about it?
The athletics program at Groton is improving every year. Athletes are dedicated, coaches are enthusiastic and the facilities are unbeatable.
Art, Music, and Theatre:
1.) Describe the arts program at your school - what did you like most about it?
The facilities for Visual Arts, Music, and Theatre programs were exemplary. There are at least 3 singing groups open to students, excluding private voice lessons and St. John's Chapel is a breathtaking place to practice for choir and madrigals. The visual arts center was up to date, clean, and airy with facilities for painting, drawing, ceramics, printmaking, etc. Many student artists had opportunities to exhibit their work for the entire school and professional artists frequently exhibited in the Brodigan and deMenil galleries. The theatre program offered many opportunities for many different levels of acting. The program put on a play each semester as well as a 1 act play festival in the spring.
Extracurricular Opportunities:
1.) Describe the extracurriculars offered at your school - what did you like most about it?
What I loved about the extracurricular activities at school was that it was possible to be as involved as you wanted to or could. Positions frequently opened in particular for upperclass students and there were many opportunities to get involved and lead. Some extracurricular activities unique to Groton include bell-ringing, the knitting club, the shooting club, the cooking club, amongst others. New opportunities arise every semester as students create organizations.
Dorm Life:
1.) Describe the dorm life in your school - what did you like most about it?
I enjoyed the closeness that each dorm provided within Groton. With each dorm under 30 people, it was possible to get to know everyone well and the small community provided a good learning experience for living with others in a close space although with the privacy of your own room (with a roommate usually). Groton layed out the dorms well depending on the grade. Eighth graders had their own cubicles however the walls did not go up to the ceiling thus offering lots of exposure to the other students and no facilitating isolation. Ninth graders received a little more privacy but with the addition of a partial roommate. Once in upperschool, students receive full rooms within the dorm as well as usually a roommate. Dorm heads and affiliates are always extremely involved in the dorm, providing homework help, structure, and "feeds" that helped bond the dorm.
Dining:
1.) Describe the dining arrangements at your school.
The quality of the food at Groton is exceptional. There are many great options including a sandwich station, salad bar, soup bar, and a hot meal. Eating college food after Groton food was a let-down and you will never have institutional food that tastes more like home cooking. While most of the meals at Groton are free-seating, a few days a week depending on the season, sit-down dinners occurred. At this time, a dress code was instituted and students had assigned seating to a table headed by a faculty member. This provided the students with another time to get to know other students and the faculty member in a more personal setting. Students are also occasionally asked to serve the table. In this case, students arrive early and bring the food to their table as well as clearing dishes. This was a great experience in the real world since we will not always be the ones being serve.
Social and Town Life:
1.) Describe the school's town and surrounding area.
The town of Groton is a small, quaint, typical New England town. Brick and colonial houses dot the small lanes around the school. The town consists of a small grocery store, a few intimate restaurants, and a few churches within a 20 minute walk of Groton School. The town is not a big part of a Groton student's life, however, except for the occasional dinner out or a grocery store run. I never found I had many opportunities to go into town however when I did, it was always an enjoyable experience and it was refreshing to get out of the Groton bubble into a beautiful town.
2.) Describe the social life at your school - what did you like most about it?
I have heard time and time again that the friends you make at Groton are friends for life and I have certainly found that to be true. Once one leaves Groton for college, one doesn't always keep in touch with everyone (as with every high school) however it is easy to see why the friends that one does keep are the closest that you will have. Groton's challenging and yet bonding environment facilitates strong relationships between students that are strengthened by group projects, sports, Groton traditions, hard work, long nights, and dorm life. You truly grow up at Groton and the friends that you grow up with all "speak the same language"--the language of "movie/mall", Evensong, sit-down dinner, Surprise Holiday, and St. Mark's Day to name a few. The friendships you will make at Groton will last forever.
Daily Schedule:
Weekday
9:00 AM
1st Period French 1
10:00 AM
2nd Period Geometry
10:45 AM
Recess--check email
11:15 AM
3 Period Sacred Texts
1:00 PM
Free Period--Study Hall
2:00 PM
6th Period--English
3:00 PM
7th Period--Biology
Weekend
8:00 AM
1st Period--Geometry
9:00 AM
2nd Period--French 1
3:00 PM
Finish Soccer Game, Go Watch Other Games
I think the most influential part of Groton is it's emphasis on community. As an effect of the small size and commitment to inclusion, Groton skillfully combines the independence that comes with attending a boarding. . .
Groton is unique in its campus set-up. It is centered around the "Circle" a large expanse of grass that is used as a soccer field in the fall and for lawn games in the spring. . .
Groton is a small school in the countryside with immense resources and an extremely demanding academic atmosphere; the first word most students associate with the School is "intense." The School's long history and honored traditions. . .
Show more reviews (

16 reviews

)
Mastering the Boarding School Selection Process: A 5-Step Guide
Discover the ultimate 5-step guide to choosing the perfect boarding school for your child. Explore essential factors, such as academics, campus facilities, extracurricular activities, and more. Make an informed decision to provide your child with an enriching and transformative educational experience. Read now!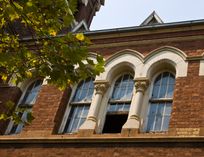 5 Founders and Their Boarding Schools
What prompts somebody to start a boarding school? The motives range from idealism to munificence right on through to capitalism. The common thread seems to be ample capital and a vision of what education can do.