Purnell School - Review #1
About the Author:

College Enrolled
Humboldt State University
Home Town, State (Country)
Austin, TX
Years Attended Boarding School
3
Activities During Boarding School
There are many things to do to keep you busy at Purnell. I was a Door Knocker, which is the student lead tour guides Big Sister, they help student's transition from home life to boarding school life Floor Leader, usually two per hall, those students help the dorm parents monitor the dorms and enforce rules and regulations (quiet hours, bed time) Secretary / Treasurer, Student council was one of my favorite activities, there's lots of games and activities held throughout the year that student council regulates Ad-libbers, this is Purnell's acting group, we would perform plays and skits throughout the school year at various performances Student Activities Committee, you work with the Director of Residential life to help plan weekend activities Shoots and Strawberries, school Choir But my favorite above all was Lacrosse; I was the Goalie for three years. Purnell has a no cut program so anyone who wants to join a sport is more then welcome.
Review

Description

Humboldt State University

Purnell has the perfect student body size to get a personal connection with staff and peers, you'll know every student, teacher, spouse, campus child & pet within the first month. Purnell is located close. . .
April 20, 2018
Actually, there is no secret to getting your child into boarding school. Just a lot of hard work and a heavy commitment of time.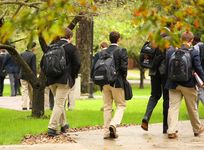 March 22, 2018
Some cynics think single-sex education is old-fashioned. The Kiski School shows how educating boys in a single-sex school is successful.
March 08, 2018
The wide range of fine academic, athletic, and other facilities found in boarding schools underscores the determination of schools to provide the very best for their students.