Reflections and Advice:
1.) What do you think makes your school unique relative to other boarding schools?
The outdoor experience offered at WMS is unique and awesome. This ranges from activities such as whitewater kayaking and climbing, to lacrosse, soccer, and even farm work. The trips taken with WMS are huge learning and leading opportunities for the students, plus there fun.The style of teaching at White Mountain is based on individual learning styles, and small group learning. No matter what your strengths and weaknesses are, the teachers at WMS do all they can to help you achieve.
2.) What was the best thing that happened to you in boarding school?
I think that the leadership experience that i had at WMS was incredible. It helped me discover who i truly was as a person.
3.) What might you have done differently during your boarding school experience?
Jump right into it. I was shy/pissed when i first went there but it only hurt me in the long run. There is so many great opportunities to be had that you would not get at a lot of other places, and definitely not in public school. Take advantage of it.
4.) What did you like most about your school?
The outdoor and sustainable focus. The Teachers. the relationships i made.
5.) Do you have any final words of wisdom for visiting or incoming students to your school?
Check out the farm and the gym. Don't fear living in Solar, its far but suites rule. Ask anything to the tour guides, i was one once and well answer anything, for the most part.
Academics:
1.) Describe the academics at your school - what did you like most about it?
In my experience i really enjoyed the academics at WMS. Like any school i found a lot of the courses there to be challenging, and some of them not. Workload was pretty standard across the board, but was generally manageable. When i did feel burdened by my work there was always support somewhere (advisor, teacher) that could help you work through it.Perhaps my favorite part of the academics at WMS was the fact that they where very open ended. If you wanted to do something with a specific class, or if you wanted to create your own learning experience you had the opportunity to do so. I always found teachers where willing for the most part to support me in whatever academic or personal ventures i had.The academic environment at WMS was not competitive between students.
Athletics:
1.) Describe the athletics at your school - what did you like most about it?
The athletics program was one of the favorite things about WMS. They offered traditional sports such as soccer and lacrosse, but the real fun stuff was in the other sports. These included Farm & Forest, Hiking & Fitness, WW Kayaking, Rock Climbing, Mountain Biking, XC Skiing, Recreational (downhill) skiing, back country skiing, etc.The sports programs did not assume students had previous knowledge of the sports and encouraged new and returning participants. No matter what your skill level is they could accommodate you, whether you climb (or do anything else) in your free time, or your a die hard.Mandatory participation is required in sports, but you do get a choice. All but the team sports are competitive.The facilities are great. Relatively new climbing and bouldering wall, new kayaks, new gym, 2 fields.Coaching in all aspects is great. Your teachers coach different sports.
Art, Music, and Theatre:
1.) Describe the arts program at your school - what did you like most about it?
While the arts program is small, in my time there i saw a lot of great stuff come from it. As far as visual arts go they offer photography, a full ceramics studio, and a printmaking/silkscreen studio. The Music room is in the process of being redone, and music lessons as well as music history, theory, and composition are offered. The theatre program acts as both a sport in the winter and as classes that fulfill art requirements.The people at WMS who i have seen who have a real commitment to the arts usually go above and beyond what they offer by working with art staff and doing independent projects and portfolios. These are certainly encouraged by all of the art staff, and generally have support of the administration.Arts in the community is important and is shown by having art displays of students that change throughout the year, as well as cultural events. Cultural events bring in artists from outside WMS that usually offer some kind of cultural education as well.
Extracurricular Opportunities:
1.) Describe the extracurriculars offered at your school - what did you like most about it?
The organizations that i witnessed at WMS included things like; sustainability club, Polar Bear Club, A cappella, Multicultural Diversity Club, and the National Honors Society. Students always have the opportunity to form new organizations.The student government organizations that are present at WMS include: Social Comity, Student Council (senate), Citizenship Comity (student court), and Academic Affairs Comity. These are all elected positions that students either have to be recommended, or run for.There was always volunteer opportunities that ranged from simply giving blood, to weekly volunteer commitments, to international trips to Peru, the Dominican, and Nicaragua. On top of that students are required to go to WMS Service Day (school wide community work).
Dorm Life:
1.) Describe the dorm life in your school - what did you like most about it?
Room selection for new students is done at random after filling out a roommate pairing sheet. Transferring rooms in the dorm was easy, but you needed permission from the dorm head. As a returning student you have the option to pick your room and roommate.Room set-ups are decent and there are singles and doubles offered. All of the dorms share a community bathroom except Solar (underclassmen boys) which is suite style. Generally speaking Freshman and Sophomores live in one dorm and Juniors and Seniors live in another for both guys and girls.You have freedom over what you do with your room to an extent. You can hang posters and tapestries, and i remember having a leather arm chair, a couch, a computer, and mini-fridge, and a rug. Most of this stuff i had passed down to me from students leaving.In the dorms faculty are always on duty, and always have a cell phone on. If they are not able to be reached the Admin of Duty is. All rooms have keys.
Dining:
1.) Describe the dining arrangements at your school.
Dining at WMS was decent. My favorite part about it was in the spring and fall when a lot of the vegetables where harvested from the organic school garden. This meant a fresh garden salad at lunch, or farm eggs for breakfast.I'm not going to say the rest of the food is incredible, because it isn't. The food is consistently good, but not great, but there is always plenty of options that look to please both vegetarians and meat eaters.
Social and Town Life:
1.) Describe the school's town and surrounding area.
The schools surrounding area is not by any means a busy area. It is rural northern NH, but Littleton offers basically anything you really need. There are super markets in the surrounding areas, good restaurants, a movie theater, book store, sports shop, worlds largest candy counter, etc.The best thing about the surrounding area is the proximity to skiing, kayaking, hiking, biking, climbing, etc. It is in the mountains which is sweet.For bigger towns there is St J. Vermont, 30-40 min north, Lincoln NH 30 min south, and Concord NH 1.5 hrs south.
2.) Describe the social life at your school - what did you like most about it?
The thing i like most about social life was the tight community. I knew everyone at WMS, which was great because i made a lot of awesome friends there. On weekends i would often take trips to mountains, concerts, or peoples homes with friends from school.I would also include many of the faculty/staff in my social life. I made many great connections, and often spent weekends with teachers doing various things. I would consider many of the faculty there still personal friends.
Daily Schedule:
Weekday
8:00 AM
Class till 1130, maybe a study hall
9:30 PM
Video Games, Hanging outside, Movies
Weekend
6:00 PM
Go to town or movie with friends
9:00 PM
Go get ice cream with friends
11:00 PM
In dorm watching movie
Apart from The White Mountain School being located in a very unique setting the thing that makes it stand out the most when compared to other boarding schools is the size of the student populations. . .
Very enthusiastic, young faculty who know a lot about the topics they teach. The same faculty also lead the sport programs, which builds a very strong, versatile teacher-student relationship, which I find to be rather. . .
The White Mountain School's sense of community and adventure attracts motivated and qualified faculty and a diverse student body. Through a combination of outdoor experiences, leadership opportunities and strong academics, the school consistently produces well. . .
Show more reviews (

2 reviews

)
Mastering the Boarding School Selection Process: A 5-Step Guide
Discover the ultimate 5-step guide to choosing the perfect boarding school for your child. Explore essential factors, such as academics, campus facilities, extracurricular activities, and more. Make an informed decision to provide your child with an enriching and transformative educational experience. Read now!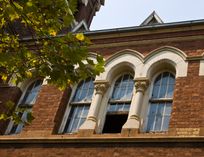 5 Founders and Their Boarding Schools
What prompts somebody to start a boarding school? The motives range from idealism to munificence right on through to capitalism. The common thread seems to be ample capital and a vision of what education can do.