Hebron Academy - Review #3
About the Author:

College Enrolled
Eckerd College
Home Town, State (Country)
Portland, ME
Years Attended Boarding School
4
Activities During Boarding School
While I was a student at Hebron, I was able to explore many different activities and sports. During my seven years at the school, I competed on soccer and downhill ski teams, played saxophone, acted and managed over four musicals and small plays, learned to make fires in the rain in an outdoor education class, gave tours to perspective students, helped develop and design the yearbook as well as participate in a variety of non-typical activities such as assisting in the hiring of a new Upper School Director, leading as a senior proctor and serving as as stakeholder on the Hebron Water Company. I was also a class officer and class president throughout my upper school career.
Daily Schedule:
Weekday
| | |
| --- | --- |
| 7:45 AM | Morning Meeting |
| 8:00 AM | Classes |
| 10:00 AM | 45 Minute Free Period |
| 10:45 AM | Classes |
| 12:30 AM | Lunch |
| 1:00 PM | Classes |
| 2:30 PM | End of Day - Prepare for after school sport/activity |
| 3:00 PM | Sports/After school activities |
| 5:30 PM | Dinner |
| 8:00 AM | Study Hall - 2 Hours |
Weekend
| | |
| --- | --- |
| 10:00 AM | Wake up - head to brunch |
| 12:00 AM | Hop on a mall trip bus to South Portland |
| 1:00 PM | Shopping, eating, exploring the mall |
| 5:00 PM | Return to campus, watch a movie with a friend or play a pick up soccer game |
| 6:00 PM | Dinner |
| 7:00 PM | Hang with friends in the dorm, participate in a video game tournament |
| 1:00 AM | Bed |
Review

Description

Carnegie Mellon University

Hebron is my home and the home of hundreds of my peers. It is a tightly knit community filled with a highly engaging and focused energy. It is the kind of place where. . .

Trinity College

I loved everything about my time at Hebron. It was truly a community, without the cliques I had come to expect at public school - sure, people had their groups of friends, but no one. . .

Eckerd College

Hebron Academy is a small day and boarding school in rural Hebron, Maine about an hour outside of Portland. I began my Hebron career in 6th grade and continued on, graduating as a senior in. . .

South Dakota State University

The teachers were very helpful in assisting and facilitating learning in the classroom. The campus was small and the school community was comfortable and tranquil. There was the opportunity to get to know every one. . .

Bay State College

Hebron Academy was my home for 2 years and completely changed me as a person! During my time at Hebron Academy I was able to find myself, improve my academics tremendously going from an average. . .

Show more reviews

(1

reviews)
April 20, 2018
Actually, there is no secret to getting your child into boarding school. Just a lot of hard work and a heavy commitment of time.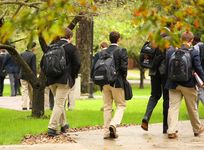 March 22, 2018
Some cynics think single-sex education is old-fashioned. The Kiski School shows how educating boys in a single-sex school is successful.
March 08, 2018
The wide range of fine academic, athletic, and other facilities found in boarding schools underscores the determination of schools to provide the very best for their students.