Reflections and Advice:
1.) What do you think makes your school unique relative to other boarding schools?
Hebron Academy is a small day and boarding school in rural Hebron, Maine about an hour outside of Portland. I began my Hebron career in 6th grade and continued on, graduating as a senior in 2007. Hebron is an incredibly unique place for a number of reasons including the school's strong sense of community, faculty dedication and extracurricular activities one can explore and enjoy while at Hebron.I believe one of the most incredible things about Hebron is the strong community built around the school. When you graduate from Hebron, even if you have only spent a year at the school, you feel as if you have an entire new family. The faculty become your friends and advocates. Students from all over the world build lifelong relationships in the classroom, on the field and in the dorms. Hebron is a place where everyone knows your name and vise-versa.The faculty dedication is truly amazing at Hebron. The Academy employs a wide range of teachers with incredible background and life experiences. The faculty translate their unique histories into creating an outstanding learning environment for students inside and outside of the classroom. Many teachers live in houses right on campus and will frequently invite students into their homes for dinner or a move or extra tutoring. During my seven years at Hebron, I did not once have a teacher who wasn't willing to go the extra mile and make my learning experience amazing.Hebron also offers a huge variety of extracurricular activities for students to explore and enjoy. Along with traditional sports, Hebron also offers outdoor education, rock band, rock climbing, musical theater, travel abroad experiences to places such as Malawi and Peru and much, much more. Hebron encourages its athletes to explore an instrument or take an outdoor education or photography class and its artists to give downhill skiing a try during an annual all-school Mountain Day. The opportunities are endless, and the school is willing to incorporate new interests and activities brought to the school from its diverse student population.
2.) What was the best thing that happened to you in boarding school?
The best thing that happened to me during my seven years at Hebron was coming out of my shell socially and academically. I was a fairly shy and quiet kid when I first came to Hebron but by the end of my Hebron Academy career, I was fully comfortable making speeches in front of the entire school, performing on stage to an enormous audience and speaking up in class and asking "Why?" or "How?". I was fully prepared for the social and academic demands of college life after graduating from Hebron. Although I may not have seen it entirely when I was a student, I look back and value the skills and tools I have taken with me and have helped me lead a successful life in college.
3.) What might you have done differently during your boarding school experience?
If I could do things a little differently, I would have tried a few more sports while I was at the Academy. I was intimidated by some of the expert athletes performing on the fields but I now realize there are different teams for different skill levels. From beginners to the most advanced high school athletes, there are programs and teams to support the student's ability.
4.) What did you like most about your school?
I could go on and on about the things I loved most about Hebron, but overall, the sense of community and broad range of activities inside and outside of the class are two things I valued most about Hebron Academy.
5.) Do you have any final words of wisdom for visiting or incoming students to your school?
Explore the old ski mountain, learn to build a fire outside, learn to ski, run for class office. Getting involved may seem intimidating at first, but there are too many amazing things to explore at Hebron to pass up. Also, try the student union's famous breakfast sandwich! You will be hooked for life!
Academics:
1.) Describe the academics at your school - what did you like most about it?
The Academics at Hebron were challenging yet manageable. I rarely felt bored in class, even in subjects I did not particularly enjoy as the faculty would teacher through various means and methods, especially through out-of-the-classroom, hands-on activities. Every night, I had approximately 1-2 hours of homework which was quite manageable. If I had trouble understanding a complicated Chemistry equation or a Shakespeare Sonnet, all of my teachers were available after school and outside of the classroom to help me and answer any of my questions. Hebron is a smaller school with respect to other high schools and in turn, this limits the amount of classes the school can offer. However, this was compensated for by covering an enormous variety of material and subjects within the classes. For example, in an English class I took Freshman year, we spent a few weeks covering screenwriting and film with respect to the books we were covering in class, something that might be explored in a film class. I was able to take a variety of AP and Honors classes which in turn truly prepared me for college.
Athletics:
1.) Describe the athletics at your school - what did you like most about it?
Hebron has an incredibly strong athletic program with various levels within each sport to accommodate various skill levels. The recently upgraded D-1 hockey program has won numerous State championships. The Academy offers a wide variety of standard sports programs such as Basketball, Field Hockey, Swimming, Soccer and Hockey as well as a few non-typical athletic programs such as Outdoor Education and Personal Fitness. A student is required to participate in at least two athletic programs out of the three trimesters. Hebron also just finished building a state-of-the-art new athletics facility next to the hockey rink which I wasn't able to enjoy but have toured a few times and am quite jealous of the students who are now able to take advantage of the facility. The building includes squash courts, a rock wall, an indoor track and a scenic workout room.
Art, Music, and Theatre:
1.) Describe the arts program at your school - what did you like most about it?
The Arts, Music and Theatre programs at Hebron were all outstanding. I participated in all three during my seven years at Hebron and can attribute these programs for assisting me in coming out of my shell and becoming more outgoing. I conquered my fear of performing live in front of a huge audience for the annual Winter musical and participated annually since my first stage experience. I learned how to read and understand music through my saxophone lessons and music theory classes. I was also able to explore a wide variety of visual arts such as pottery, painting, sculpture and clay. The opportunities are endless for all students to further refine their skills or become introduced to a certain art form. Many dynamite varsity athletes find themselves singing on stage in the Winter musical along with their other teammates. The school prides itself on requiring all students to explore at least one art form during their tenure at Hebron yet most often students will take up another art form or continue beyond a required introductory class.
Extracurricular Opportunities:
1.) Describe the extracurriculars offered at your school - what did you like most about it?
The extra-curricular activities at Hebron were endless and all-encompassing. From the Gay-Straight Alliance to the weekly community service trips to an acapella group to an outdoor camping and outing club, the diverse student body allows for many different activities the students can become involved with. Many students follow a favorite professor into the activity and find themselves truly enjoying the program and continuing to stay involved in the subject area beyond Hebron. The wide variety of extra-curricular activities assist in furthering the sense of community at the Academy.
Dorm Life:
1.) Describe the dorm life in your school - what did you like most about it?
The dorm life at Hebron is typical of many boarding schools. Although I was mostly a day student, I had the opportunity to live in the dorms as a senior proctor. The Freshman boys live in their own dorm, Atwood, the older boys live in Sturdavant dorm and all of the girls live across campus in Halford dormitory. Most dorm rooms are set up for two people with a few singles available. There are a few bathrooms on each floor which for the most part are kept quite clean. There are common rooms on most dorm floors with satellite TV, comfortable chairs and table games. In each dorm, there are dorm parents, many with families themselves, living amongst the students and helping to provide a great residential life. Dorm parents check on students who seem down or off, help with homework and organize fun dorm activities and trips. While some students coming from urban environments struggle initially in the rural setting, there are an enormous variety of weekend trips available to the mall, paintballing, skiing, the movies, shopping hotspots and more.
Dining:
1.) Describe the dining arrangements at your school.
Hebron does a great job in serving up a variety of different food options for students. There are always a few different main dish/hot options, including a few options for vegetarians as well as a salad bar, sandwich bar, soup bar, bread station and an occasional make-your-own taco station or wok bar. There is no assigned seating and students are free to come in and eat during their free period if the dining hall is open during that time. All students have a built-in 30 minute lunch period. The dining hall is excellent in working with student suggestions and offering various international options throughout the week for the community to taste. As soon as I began to grow tired of some of the food options, the menus would switch around and a whole new variety of food would be introduced. I was hard pressed to not be able to find something I enjoyed every day. Students also have the option of going to the student union where they serve up burgers, sandwiches, ice cream and snacks all day for those who need a break from the dining hall.
Social and Town Life:
1.) Describe the school's town and surrounding area.
Hebron is in a very rural area and there is not much of a town life. The campus is essentially the hotspot of Hebron, Maine. Norway/South Paris and Lewiston/Auburn are about 15-20 minutes away with restaurants, movie theaters and other entertainment. Students frequently join faculty during the week as they venture into one of the surrounding towns and boarding students can make their way off campus on one of the many weekend trips.
2.) Describe the social life at your school - what did you like most about it?
The social life at Hebron is very unique yet all encompassing and welcoming. There are few clicks and the boarding and day student communities mingle as if there were no distinction. The international students are incorporated into the social life just like any other student. Frequently, during meal times, you will see athletes, faculty, art students and sometimes even middle school students sharing the same table and conversation. Students are able to discover themselves socially and learn to relate to an enormous variety of different students with different backgrounds, beliefs and interests.
Daily Schedule:
Weekday
10:00 AM
45 Minute Free Period
2:30 PM
End of Day - Prepare for after school sport/activity
3:00 PM
Sports/After school activities
8:00 AM
Study Hall - 2 Hours
Weekend
10:00 AM
Wake up - head to brunch
12:00 AM
Hop on a mall trip bus to South Portland
1:00 PM
Shopping, eating, exploring the mall
5:00 PM
Return to campus, watch a movie with a friend or play a pick up soccer game
7:00 PM
Hang with friends in the dorm, participate in a video game tournament
Hebron's location is a great setting to enjoy the outdoors. There are a variety of outdoor activities to take part in. The campus also has its own hiking trails, and in the fall and winter. . .
Hebron encouraged us to serve the surrounding community with designated community service days throughout the school year, as well as celebrating the diversity of our school by themed dinners and cultural events. . .
Hebron was so transformative for me. The main things that I can accredit this to are the the population of international students on campus and the community among women. In the upper school (the high. . .
Show more reviews (

6 reviews

)
Mastering the Boarding School Selection Process: A 5-Step Guide
Discover the ultimate 5-step guide to choosing the perfect boarding school for your child. Explore essential factors, such as academics, campus facilities, extracurricular activities, and more. Make an informed decision to provide your child with an enriching and transformative educational experience. Read now!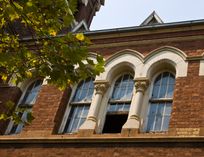 5 Founders and Their Boarding Schools
What prompts somebody to start a boarding school? The motives range from idealism to munificence right on through to capitalism. The common thread seems to be ample capital and a vision of what education can do.