Reflections and Advice:
1.) What do you think makes your school unique relative to other boarding schools?
Hebron is my home and the home of hundreds of my peers. It is a tightly knit community filled with a highly engaging and focused energy. It is the kind of place where young people grow, and learn how to be themselves. My classes at Hebron Academy did more than teach me the immediate subject at hand. Through anecdotes and the personal stories of classmates and teachers, my classes gave me a broader awareness of how the world works. I could see the forest beyond individual trees which obstruct a person's wider vision. Hebron is a special place, a place like no other. "Learning" becomes "Living". It is also a place where people can try things without fear of scrutiny. I tried soccer and despite my ineptitude I had the time of my life. The athlete can learn how to paint, the poet can learn how to play, and the photographer can learn how to act. Roles switch, entangle, disappear and the typical conventions of the high school experience are broken.
2.) What was the best thing that happened to you in boarding school?
Thanks to Hebron I have the confidence to tackle any task. I have the feeling that I can try to do anything and if a person is to be at all successful in life that's what they've got to do.
3.) What might you have done differently during your boarding school experience?
My advice: don't be afraid. Introduce yourself to other people and don't hide behind a facade. Be who you really are and you will go far.
4.) What did you like most about your school?
I'm not sure. There is so much. Hebron becomes Home and that's why I love it.
5.) Do you have any final words of wisdom for visiting or incoming students to your school?
Please, stop my John King's office. Mr. King is Hebron's headmaster and he loves a visitor. He knows the name of every student at the school and at least tries to know their families. Talk to people, from the admissions office, to the studies office, to the college counseling office, to the athletic directors office. I guarantee you will find that these are loving, interested, and intelligent people. Thank you for thinking about Hebron, it is my home and I invite you to make it yours too.
Academics:
1.) Describe the academics at your school - what did you like most about it?
The interaction. Lessons became conversations about the ideas behind the facts. Teachers took the Q&A Socratic method to a highly engaging level. The teachers applied the pressure necessary to show us what we were truly capable of.
Athletics:
1.) Describe the athletics at your school - what did you like most about it?
Very well established and also well diversified. The mandatory afternoon activity requirement got the entire school engaged and interested. Competitive yet inclusive. Coaches truly loved their teams and the sports. A+ athletic center and fields.
Art, Music, and Theatre:
1.) Describe the arts program at your school - what did you like most about it?
Again: well established and diversified. A student of the arts at Hebron has all the tools they need to explore truly innovative and creative ideas. The school may have great athletics and academics, but it also has one of the most inclusive and committed arts programs there is. The opportunities available to arts students at Hebron are limitless and more art classrooms and performing space are being created.
Extracurricular Opportunities:
1.) Describe the extracurriculars offered at your school - what did you like most about it?
The day does not end with the final class in Hebron. Beyond the athletic and artistic activities there are the various clubs present in our school including Green Key, Gay Straight Alliance, and the Yearbook Committee. Clubs can be established by anyone with a vision. My Junior year saw the creation (or recreation) of the Hebronian student newspaper; the brainchild of interested students.
Dorm Life:
1.) Describe the dorm life in your school - what did you like most about it?
As a proctor in Atwood Dorm I became part of a family. Living in Hebron's dorms is just like living at home, only with different (and more) people. It is a diverse and welcoming atmosphere. Often our dorm participated in dorm-specific activities such as a trip tubing, pingpong, birthday cake, and more.
Dining:
1.) Describe the dining arrangements at your school.
Sage Dining Service provides Hebron's faculty and students with many options at the three meals it serves. There is always a selection of entrees, deserts, soups, salads, sandwiches, and drinks. The best part of Hebron's dining room is that students eat side by side with their teachers and advisors. I have had meals over my 6 years at Hebron with almost every member of the faculty and staff.
Social and Town Life:
1.) Describe the school's town and surrounding area.
The town of Hebron, Maine is revolved around the school Hebron Academy. It is a small town nestled in the Oxford Hills region west of Auburn, Maine. The school is literally the center of town, owning the building that houses the post office and being two doors down from the town hall and the fire department. Hebron is also convenient to Portland, Maine's largest city and about 3 hours from Boston.
2.) Describe the social life at your school - what did you like most about it?
Very much a loving community, like a family. As I said before anybody could try anything but better than that they could also be who they wanted to be.
Daily Schedule:
Weekday
10:00 AM
Free Time: get books for next classes, catch up on studies
10:45 AM
English IV Honors
11:45 AM
Environmental Studies
2:00 PM
Free Time: start homework, catch up on studies, get ready for afternoon activity
3:00 PM
Classes end, Activity starts at 3:30
Weekend
9:15 AM
Free Time: get books for next classes, catch up on studies
11:30 AM
English IV Honors
Hebron's location is a great setting to enjoy the outdoors. There are a variety of outdoor activities to take part in. The campus also has its own hiking trails, and in the fall and winter. . .
Hebron encouraged us to serve the surrounding community with designated community service days throughout the school year, as well as celebrating the diversity of our school by themed dinners and cultural events. . .
Hebron was so transformative for me. The main things that I can accredit this to are the the population of international students on campus and the community among women. In the upper school (the high. . .
Show more reviews (

6 reviews

)
Mastering the Boarding School Selection Process: A 5-Step Guide
Discover the ultimate 5-step guide to choosing the perfect boarding school for your child. Explore essential factors, such as academics, campus facilities, extracurricular activities, and more. Make an informed decision to provide your child with an enriching and transformative educational experience. Read now!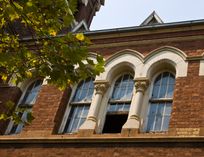 5 Founders and Their Boarding Schools
What prompts somebody to start a boarding school? The motives range from idealism to munificence right on through to capitalism. The common thread seems to be ample capital and a vision of what education can do.