Reflections and Advice:
1.) What do you think makes your school unique relative to other boarding schools?
The school has designated time periods every week that are similar to office hours called "Conference Periods." During these time periods I found a method of connecting with my teachers and better understanding the academic material. These time periods are manifestly important in that they encourage the student body to strive for high academic goals. The experiences I have gained through Conference Periods will definitely aid my studies in college through an increase in my organizational skills.
2.) What was the best thing that happened to you in boarding school?
The best thing that happened to me was learning how to write well. At Kent, I found myself challenged by the English department. The department aided my weakness in that the faculty always found time to help with my weakness and eventually turn it into one of my strengths. It was through this period of growth, I found myself changing as a person into a mature and responsible person.
3.) What might you have done differently during your boarding school experience?
I would not have taken such difficult courses in my first year. Frankly, it was a burden on my social life as I found myself staying up until 3 in the morning frequently highlighting my history textbook. I definitely should have chosen a course load that I could handle. I advise new students choose courses that interest them and that they would work hard in. It is not worth taking a class to prove something to colleges as you'll become tired and miserable.
4.) What did you like most about your school?
I really liked that I became independent at such a young age. I learned what most people do later on in life; how to take care of myself. Kent teaches their students this through a variety of classes and jobs students must perform. Although at times, Kent can be overwhelming, this school instills the importance of time management and that skill is important in life after school.
5.) Do you have any final words of wisdom for visiting or incoming students to your school?
I recommend living in Middle Dorm North. The dorm's convenience and faculty make it the prime residence at Kent School.
Academics:
1.) Describe the academics at your school - what did you like most about it?
I like the academics in that Kent allowed me to pursue my main interest: mathematics. Kent's Math department is nothing short of outstanding. In this department I studied various subjects such as calculus, statistics, and linear algebra/game theory. The small class sizes and encouraging faculty were responsible for my adoration of this department. The teachers in this department teach through various methods in order to help each student grasp a concept. Through this department, I have decided to study math in college, which I wouldn't have had I studied anywhere else.
Athletics:
1.) Describe the athletics at your school - what did you like most about it?
The athletic program at Kent is great. At Kent, students can participate in sports at various levels, from club sports to varsity level sports. These athletic offerings definitely encourage many students to become involved in sports that they would never be exposed to. For example, many students come to Kent without ever participating in crew, but the program at Kent spends a lot of time regarding development and many of these athletes eventually reach the Varsity team by their senior year. Therefore, Kent's variety of sports and levels of teams available is what I like most about the athletic program at Kent.
Art, Music, and Theatre:
1.) Describe the arts program at your school - what did you like most about it?
I didn't participate in arts.
Extracurricular Opportunities:
1.) Describe the extracurriculars offered at your school - what did you like most about it?
Kent offers a variety of clubs. This variety gives the students options that are bound to interest them. Our school offers everything from dance troupes to political societies. However, if there is not a club that represents your interest, you can start one! This is what I love about Kent; the support of our interests by the administration. If you petition for the start of a new club, the school will financially support the club and help it gain notoriety in the school. Specifically, my favorite activity was MUN. In this club, I learned the most important skill of all; oral presentation. This skill will help me in life as I can communicate my ideas in a thorough and concise manner; a skill that will help me for the rest of my life.
Dorm Life:
1.) Describe the dorm life in your school - what did you like most about it?
The dorm gives you an immediate sense of community. It is through the interactions between students in the dorm, that we gain an understanding and tolerance of others. Specifically, the dorm gives a new perspective on international cultures as the Kent student body spans the world. Moreover, the dorms also give you another opportunity to interact with faculty, who are there to also help with a variety of situations. The dorm life will definitely aid my ability to understand others as I venture off into university.
Dining:
1.) Describe the dining arrangements at your school.
At Kent, breakfast, lunch, and dinner are offered. The meals are great and offer a variety of meals from "Fish Fridays" to "Taco Tuesdays." The meals give a students a social escape from the demands of the academic day. I, personally, enjoy formal dinner. Every Thursday, after chapel, each student sits with their advisor and is given the opportunity to notify their advisor about how their week has gone so far. Consequently, the dining arrangements at Kent are great in that you get the opportunity to bond with classmates and teachers.
Social and Town Life:
1.) Describe the school's town and surrounding area.
Kent, Connecticut is a quaint town in Northwestern Connecticut. The town's charming atmosphere definitely attracts a majority in the students. The town offers everything from a pharmacy to bistros. Also, the school's accessibility to the town is amazing in that it is simply a two minute walk. That being said, the winters are a bit rough. During this period, the students rarely enter town and are confined to the campus. However, during the fall and spring, the town of Kent is wonderful in that it gives Kent students a change of scenery in terms of food and other activities.
2.) Describe the social life at your school - what did you like most about it?
I came to Kent as a Junior. The difficulty of coming to Kent at this time was that many friend groups were already made and it seemed that making friends would be impossible. However, at Kent you'll find a variety of friendly people that are always looking for new friends so the sense of loneliness soon nullified. Soon enough, I find myself comfortable in terms of the social life.
Daily Schedule:
Weekday
Weekend
The freedom Kent offers its students is truly unparalleled, and with freedom comes responsibility: Students quickly learn how to look after themselves and one another. If you're looking for a place to learn independence, and. . .
Kent's emphasis on individualized education is one of the elements that sets it apart from other boarding schools. The Studies Office allows students to choose classes that interest them the most, when they have completed. . .
Campus is beautiful and landscape around it. It was very relaxing walking around campus and looking at the beautiful mountain algo and Housatonic river.Teachers and advisors were available 24/7 and always happy to give advice. . .
Show more reviews (

25 reviews

)
Mastering the Boarding School Selection Process: A 5-Step Guide
Discover the ultimate 5-step guide to choosing the perfect boarding school for your child. Explore essential factors, such as academics, campus facilities, extracurricular activities, and more. Make an informed decision to provide your child with an enriching and transformative educational experience. Read now!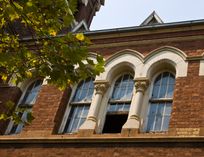 5 Founders and Their Boarding Schools
What prompts somebody to start a boarding school? The motives range from idealism to munificence right on through to capitalism. The common thread seems to be ample capital and a vision of what education can do.