Reflections and Advice:
1.) What do you think makes your school unique relative to other boarding schools?
Suffield Academy has the a very close teacher- student relationship. The accessibility of getting extra help or having a adult to talk to is very easy at Suffield. The faculty is very understanding and open to the students and care about each one of us individually. The sit down lunches is also unique to Suffield. The sit down lunches allow students to meet people that they would not normally talk to. This allows new students or shy students to make friends and talk to upperclassmen without feeling judged. The faculty member at the table allow students to meet teachers that they might not have in class which is really great.
2.) What was the best thing that happened to you in boarding school?
Being at Suffield everyday is the best thing that has happened to me. Being at Suffield has given me so many opportunities that I would not have if hadn't attended Suffield. Suffield has introduced me to so many different things that I would not have been exposed to if I was anywhere else. Suffield has made me such an independent young women who is ready for the world.
3.) What might you have done differently during your boarding school experience?
Be open to everything. Try things you wouldn't try normally. Make new friends from different places and just open up to world and opinions different from yours.
4.) What did you like most about your school?
I like everything about Suffield. The people, the faculty, the town, the food and classes. This has been the best four years of my life so far. Suffield makes me incredibly happy and I think everyone will like Suffield.
5.) Do you have any final words of wisdom for visiting or incoming students to your school?
Suffield has the best bagels in the WORLD! I had my first tomato, cream cheese bagel at Suffield and it was amazing. I would recommend any dorm at Suffield because the people you live with becomes your family and friends and every dorm gives off that loving and cozy vibe.
Academics:
1.) Describe the academics at your school - what did you like most about it?
The teachers are very much involved in the community so they are very understanding when it comes to workload. They understand that students have a very demanding day and take very demanding classes. I like that at Suffield you can ask to reschedule major assignments if you have three or more in one day. They are a wide variety of classes that can be taken as an elective. The courses are very rigorous at Suffield. There are no true easy courses because the faculty likes to push the students to their fullest capabilities.
Athletics:
1.) Describe the athletics at your school - what did you like most about it?
With the new field house and the renovations done on the pool, the athletic facilities at Suffield Academy are superb. The facilities are kept in great shape and is open for everyone. A unique aspect at Suffield Academy, is the athlete of week award which is given to students every week. This allows students to gain recognition for their hard work even if they may not be the best athlete on the team. There is almost every sport available at Suffield and if you are interested in a sport that is not in season or not available, Suffield allows students to have specials so they can go off campus to pursue what interests them.
Art, Music, and Theatre:
1.) Describe the arts program at your school - what did you like most about it?
At Suffield, the arts are greatly appreciated. Everyone attends the plays and music performances. In the school paper, students' art is put on display for everyone to appreciate. At least once or twice the school holds an Open Mic where students can read poetry, sing or play an instrument and get cheered on by their fellow classmates. The theater is small and cozy where there is three showings of the show where everyone can come once or every night.
Extracurricular Opportunities:
1.) Describe the extracurriculars offered at your school - what did you like most about it?
There are tons of fun student organizations at Suffield. There is at least one group that interests someone. If something interests you and their isn't a group or club for it, you can easily get one started. There is so much room to find something that interests you. Because of Suffield's leadership program volunteering is part of the curriculum. As a sophomore, it is mandatory to participate in a volunteer project. Some projects involve putting solar panels on the SOLO barn or helping students at the near by elementary school.
Dorm Life:
1.) Describe the dorm life in your school - what did you like most about it?
At Suffield most of the dorms are in close proximity to each other so everyone is near each other. There is a T.V. with cable in every dorm so in my free time I like to sit around with my friends and just watch T.V. In the town of Suffield there is always access to food any time of the day (except for after lights out). The dorm parents are very involved in the students living in the dorm. They are always will to feed students or just to hang out. The room selection process is relatively easy, sign up for a dorm and a roommate and usually you will get what you request.
Dining:
1.) Describe the dining arrangements at your school.
There is sit down lunch Monday, Tuesday, Thursday and Friday. Cafeteria Style lunch on Wednesday and Saturday. The cafeteria is open all day from 7am to 6pm but closes right before lunch and dinner to set things up. There is a wide variety of food served at Suffield. There is always a salad bar, sandwich bar, miso soup bar and a hot bar. There are vegetarian options as well as options for students that have certain allergies. Also if there isn't anything you like available you can always order from restaurants nearby.
Social and Town Life:
1.) Describe the school's town and surrounding area.
Suffield is a very welcoming town. The people in the town are very friendly and kind to the students. In the town there are a lot of restaurants and places to go. Nearby there are malls and movie theaters where the students can go to. I like the accessibility of everything nearby like the train station and bus stations that can bring you to major cities.
2.) Describe the social life at your school - what did you like most about it?
I like how friendly the students are at Suffield. Everyone is kind to each other. There is a lot of mingling between the grades. There is no distinct separation between upperclassmen and underclassmen as well as border and day students. At Suffield there are no labels placed on students just because of their age or where they come from and this is what I like the most.
Daily Schedule:
Weekday
2:15 PM
Free Period (Sleep)
Weekend
12:00 AM
Hang out in dorm watching tv
6:30 PM
Homework in the dorm
10:00 PM
Go to my friends room to hangout
11:00 PM
Lights Out or I stay up and read
One of the best things about suffield is the teachers. I had never been to a school where they care so much. I got really close with my advisor and they helped me a great. . .
Suffield Academy is truly an exceptional place. I graduated in May of 2016 on a beautiful sunny day. As tradition stands, I rang the bell four times at graduation marking the amount of years I. . .
It's centralized location to a (sudo) urban city- Hartford while at the same time maintaining the quintessential large open landscape that boarding schools are known for. . .
Show more reviews (

9 reviews

)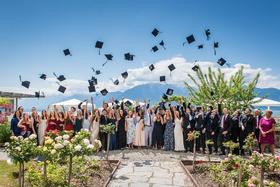 Nurturing Futures: A Journey through Boarding at Haut-Lac School in Switzerland
Nestled in the hills overlooking Lake Geneva in the French-speaking part of Switzerland lies an educational gem that embodies a unique blend of academic excellence, cultural richness and a profound sense of community. Founded over 30 years ago, Haut-Lac International Bilingual Day and Boarding School is now home to both 600 day students and a maximum of 30 boarders from around the world.
What To Wear at Your Job Interview
Navigating job interviews can be stressful, but knowing what to wear shouldn't be. Our comprehensive guide covers the essential dress code tips for men and women interviewing at boarding schools. Make your first impression count with style and professionalism.
Navigating the Modern Maze: Emerging Challenges for Boarding Schools
Explore the pressing challenges facing boarding schools, from marketing difficulties and rising insurance costs to facility maintenance and recruitment of competent trustees and teachers. This article delves into these complex issues and proposes innovative strategies to overcome them.