Reflections and Advice:
1.) What do you think makes your school unique relative to other boarding schools?
At CHCH the multiple intelligences approach to teaching is utilized. This allows students to learn from a new approach. What really sets our school apart is the sense of community. Being a school of such small size, less than 200 students, you get to know everyone on a level that is just remarkable. Although this small size can be frustrating at times it really is a wonderful aspect of the school.
2.) What was the best thing that happened to you in boarding school?
The best part of CHCH was the faculty. In my dorm the Chemistry teacher also happened to be my houseparent. He fueled my passion for chemistry and constantly was helping me push myself further and helping me study. This helped guide me into pursuing a career in Chemical Engineering. While at CHCH, I recieved three awards for our science fair. Two of which were for my study of microscopic life and the other was for a bio diesel formula that i created myself.
3.) What might you have done differently during your boarding school experience?
The only thing i would have changed is I wish i started there as a freshman and attended all four years there, It is truly an amazing place.
4.) What did you like most about your school?
The sense of community is unlike any other. It really feels like one big family at CHCH.
5.) Do you have any final words of wisdom for visiting or incoming students to your school?
Appreciate your time here. Although sometimes it may seem stressful and you may get upset, in the end you will not want it to end. This was the best school for me and I was blessed with the opportunity to attend. Spend some nights sitting on the benches behind the library and just look out onto the pond. CHCH is a beautiful campus, who knows you may even see the blue heron on campus.
Academics:
1.) Describe the academics at your school - what did you like most about it?
The academics were taken with a very different approach to other schools. At CHCH the teachers and faculty really want you to succeed. They create a loving and caring environment which makes it easier to succeed. This changed me from just a regular student who would need help, to a much more academically driven student. Many of the faculty have advanced degrees and are very knowledgeable in their field. They encourage you to go beyond the classroom and continue to engage in whatever subject it may be, outside of the classroom. Typically classes are small ranging from around 6-12 students in each class. Due to this small size we were not very competitive in class and we learned from each other as well. There was quite a bit of homework my junior and senior year with around 4 or more hours of homework each night. This was beneficial for me because it created a very rigid schedule for me to live by and succeed by.
Athletics:
1.) Describe the athletics at your school - what did you like most about it?
The athletics are competitive within the league that we play. I played on both the varsity soccer and Frisbee teams. Both were known as very good teams in our league which was the Mass Bay Independent League. Practices were five days a week about 2 hours each day. They truly helped me develop as a player and the coaches in both sports new the game very well and helped us play to the best of our ability.
Art, Music, and Theatre:
1.) Describe the arts program at your school - what did you like most about it?
Our drama program is very underrated. We have a very talented group of students and such a limited budget, yet every season they put on a brilliant production. The fall and spring are typically normal plays while the winter is a musical.
Extracurricular Opportunities:
1.) Describe the extracurriculars offered at your school - what did you like most about it?
Every weekend there were different activities planned that boarding students and day students were able to attend. They ranged from mall trips, to trips to six flags, to various community service opportunities. There were often trips to a farm which benefited the food project. This was a great way for me to give back and enjoy the great outdoors. We also had a very close connection with the Perkins School so there were opportunities to go there and help out as well.
Dorm Life:
1.) Describe the dorm life in your school - what did you like most about it?
While there i lived in Worcester Hall, which is the boys dorm, for all three years. There is one boys dorm of a little over 30 kids, and two girls dorms. In the boys dorms it was two to a room and you would share a bathroom that was between your room and the two people next to you. We would participate in all dorm activities like sports on the weekends and even had a water balloon fight. The dorm parents are very close with the kids and would often bring us to places if we needed it and would even make us food on occasion. The head houseparents were very much like my parents away from home and i could confide in them about anything.
Dining:
1.) Describe the dining arrangements at your school.
Three are three meals a day during the week and brunch and dinner on the weekends. The food was from Cisco Dining Services. The quality of food was very good and the food menu was always posted online. It is a very open seating plan and often times students and teachers would sit together even though faculty also had their own table.
Social and Town Life:
1.) Describe the school's town and surrounding area.
The school is in a town called Waltham. It is just a short walk to the down town, at just about 1 mile. Waltham is filled with many places to eat and even a cool movie theater. Waltham is home to two other colleges, Brandeis and Bentley, so it is set up like many other college towns are.
2.) Describe the social life at your school - what did you like most about it?
The social life at my school was great. With students from many states and many countries I had the chance to learn about many new cultures. The day students and borders were close and I would hang around with just as many day students on the weekends as I would boarders. The weekend trips really engaged the day students which was nice having them on campus.
Daily Schedule:
Weekday
Weekend
6:00 AM
Project Food Community Service
12:00 AM
I would work on homework or walk downtown
4:00 PM
Play soccer with friends
6:00 PM
Study or go downtown and see a movie with friends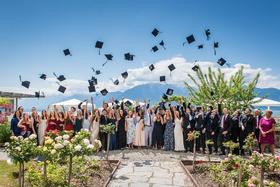 Nurturing Futures: A Journey through Boarding at Haut-Lac School in Switzerland
Nestled in the hills overlooking Lake Geneva in the French-speaking part of Switzerland lies an educational gem that embodies a unique blend of academic excellence, cultural richness and a profound sense of community. Founded over 30 years ago, Haut-Lac International Bilingual Day and Boarding School is now home to both 600 day students and a maximum of 30 boarders from around the world.
What To Wear at Your Job Interview
Navigating job interviews can be stressful, but knowing what to wear shouldn't be. Our comprehensive guide covers the essential dress code tips for men and women interviewing at boarding schools. Make your first impression count with style and professionalism.
Navigating the Modern Maze: Emerging Challenges for Boarding Schools
Explore the pressing challenges facing boarding schools, from marketing difficulties and rising insurance costs to facility maintenance and recruitment of competent trustees and teachers. This article delves into these complex issues and proposes innovative strategies to overcome them.