Reflections and Advice:
1.) What do you think makes your school unique relative to other boarding schools?
Groton is a small school in the countryside with immense resources and an extremely demanding academic atmosphere; the first word most students associate with the School is "intense." The School's long history and honored traditions (see Wikipedia, etc.) and wealth ($800k/student) attracts some of the best teachers in the world, which in turn attracts very intelligent and dedicated students (especially since the School's financial aid is almost unparalleled among prep schools). While there are a few schools that offer a comparable level of academic scholarship to Groton's because of Groton'sunique size (~350 students) and location (in an obscure town in MA) none of them create quite as powerful of a "bubble effect" as Groton does. Placing so many extremely talented students in an academic pressure cooker with few distractions creates a society in itself that is at the same time highly competitive and even more tightly knit.
2.) What was the best thing that happened to you in boarding school?
I'm just going to quote this passage from Tobias Wolff (a prep school veteran himself)'s magnificent autobiography "This Boy's Life.""He told me about his own time there [at the Hill School] in the years just before World War II. He had grown up in Seattle, where he'd done well in school. He expected that he would fall easily into life at Hill, but he hadn't. The academic work was much harder. He missed his family and hated the snowy Pennsylvania winters...He had found the school a cold place. "Then, in his last year, something changed. The members of his class grew close in ways that he had never thought possible, until they were more like brothers than friends. It came, he said, from the simple fact of sharing the same life for a period of years. It made them a family. That was how he thought of the school now – as his second family."
3.) What might you have done differently during your boarding school experience?
Groton's definitely an amazing experience and I would recommend it to anyone, because it's definitely worth a shot. With this in mind, Groton is a very intense place and the people that have the best time there are the people that know what they're in for. I would say that my four years at Groton were some of the best of my life, and I've had the chance to meet amazing people and do things I'd never thought possible.What would I have done differently? I'd have met more amazing people; I wasn't very outgoing in my freshman year, and I didn't get to know that year's senior class very well, although I made some lasting friends anyway. I'd have gotten to know more teachers, because they're awesome people as well as awesome instructors. I'd have tried more things I'd never thought possible. But even so, I can't help but feel extremely satisfied about my Groton experience.
4.) What did you like most about your school?
Groton is THE archetypal American prep school: it prepares you for the future, and how. Its academics are magnificent and the opportunities it offers are truly mind-boggling. However, the common thread running through my previous answers - what makes Groton so unique, and so wonderful - is the community, the camaraderie, that you can't help but notice the first time you set foot on campus. Groton is a family, and although all families have squabbles, at the end of the day there's nobody else you'd rather be with.
5.) Do you have any final words of wisdom for visiting or incoming students to your school?
At Groton, you may feel at first that you don't fit in, or that you may take some time to acclimatize. My only advice to you would be that everybody else feels this way, so don't hesitate to hit the ground running. Stay out of your room as much as possible; if you're not actively doing things, you're wasting your time. Make friends early and often - they will help make you the person you'll grow up to be. Every day, you owe it to yourself to fully explore the world that Groton creates and illuminates, because every day that you do so, you'll further justify making the decision to leave home for a new, unknown, but hauntingly lovely world.
Academics:
1.) Describe the academics at your school - what did you like most about it?
As already mentioned, Groton prides itself on its rigorous academics. Many courses are AP level although not explicitly stated, and the vast majority of students taking World and American History, junior year English, AB and BC Calculus, etc. go on to take the AP and in general do admirably well.Groton gives its students all the resources they need to succeed, from a 60,000-volume library to a world-class drama facility. Seniors are given wide latitude to design their own curricula with the tutorial system. The teachers in particular are always happy to help students out and they can always point you in the right direction regarding your queries, whether or not they are related to the class at hand; Groton teachers definitely subscribe to the theory that a good teacher is a "teacher of life."The competition among students is extremely strong but also very friendly, and while the workload is extremely tough (six non-art classes is the norm), students always find it workable. The vast majority find their college work to be easier than their Groton work (Ivies included), proving that Groton prepares its students extremely well for the rigors of college life.
Athletics:
1.) Describe the athletics at your school - what did you like most about it?
At all levels, athletics (which are mandatory) serve to help students form bonds and friendships and also to generate school spirit. Groton is and has always been a school where academics take precedence over athletics, but many of its sports teams do admirably well; rowing and squash routinely compete at the national and (in rowing's case) international levels. Our football rivalry with St. Mark's is the fifth-oldest in the country (since 1886). In addition, the Independent School League in which Groton competes is one of the best all-around leagues in the entire country.There is a wide variety of sports teams offered to athletes of varying interest and ability, and thanks to the School's financial firepower, the FSA (Faculty-Sponsored Activity) program allows students to pursue interests not traditionally offered by the Athletic Department such as golf and badminton. One of the things I always found mind-boggling about Groton was how a school of 350 students had two ice rinks at its disposal.
Art, Music, and Theatre:
1.) Describe the arts program at your school - what did you like most about it?
Groton has greatly stepped up its Arts program (mandatory for two years) in recent years and the effort certainly shows. Massive renovations and building projects mean that now every single musical group, art class, and theater production can take place in a literally world-class venue. For example, a few years before I started at Groton, the Schoolhouse Hall where my Jazz Ensemble plays was renovated at a cost of over $1 million, and I greatly appreciated and enjoyed being able to play in a setting that was both modern (light and sound systems, acoustics) and classily old-school (design, history, atmosphere). The arts faculty is excellent and in particular my saxophone instructor knew his instrument inside out and made me an infinitely better musician. Although I didn't have the time to take part in other artistic endeavors (shop, drama, dance, choir, etc., etc.) while at Groton, I certainly wish I could have done so.
Extracurricular Opportunities:
1.) Describe the extracurriculars offered at your school - what did you like most about it?
I had an extensive list of extracurricular activities to choose from during my four years at Groton. I chose to throw myself into a few activities such as the school newspaper and the debating team, both of which I found extremely rewarding. There is also a very strong community service culture at Groton (the school motto is cui servire est regnare, "To serve is to rule"); some friends and I worked at the local soup kitchen, others at the homeless shelter, and so on. In all of these activities, I would say that it was the students that made them interesting - I had a ton of fun working for the newspaper, for example, because my fellow staff members were great guys who loved to talk and argue (a lot of us made our way to the Debating Society, but that's another matter). Groton just gives us the opportunity (and, I'll say it again, its resources REALLY help expand these opportunities - new clubs are always being created) and tells us to run with it.
Dorm Life:
1.) Describe the dorm life in your school - what did you like most about it?
Dorm life was always vibrant and fun. After freshman year, students can opt to room in singles, doubles, or triples, but the main social unit of dorm life is not the individual room but the dorm at large. Every dorm forms a unique identity over the first few weeks and months of the school year and students are always very proud of the dorm they are in - that's what dorm life does to you. Done right, boarding school is the time of your life - as my friend Joe said, "How often do you get to live with your best friends?"I didn't realize until my senior year when I became a prefect in _____'s Dorm (all seniors are dorm prefects) how much the seniors set the tone for the dormitory. Groton gave us a lot of responsibility to run our dorm to the point where we were a cross between big brothers and parents, and we found it very fulfilling. We were blessed to have a lot of great kids who really bought into the Groton experience and had a wonderful year. Being a dorm prefect definitely shaped my maturity (cliched, I know, but true) and changed the way I see a lot of things.
Dining:
1.) Describe the dining arrangements at your school.
Groton's dining hall food is lovely. Not to brag (okay, this is clearly bragging, I admit it): I've been to many other boarding schools for sports games and debating tournaments and the like, and ours is extremely good. Of course, nothing compares to home cooking - as an Asian, I wished sometimes that the Asian food could be better, for example - but that's honestly no reason to skip out on the boarding school experience. Sit-down (black-tie) dinners are held throughout the year and they definitely gave me a chance to get to know people I never would have otherwise - the pageantry of it all is one of Groton's greatest traditions. Special shoutout to Chuck, the single greatest sandwich maker in the history of the universe.
Social and Town Life:
1.) Describe the school's town and surrounding area.
Groton is a small school in a small town and town-and-gown relations are warm but limited for the most part. While we didn't go into town very often (despite the School's name, the Groton campus is actually on the far outskirts of Groton proper), our day students form an important link between the School and its environment.I spent many happy afternoons exploring and savoring the environment around campus. The School owns hundreds of acres of land adjoining the campus and the forest on the banks of the Nashua River is an especially good place to relax and get away from it all when you really need a breather.
2.) Describe the social life at your school - what did you like most about it?
Social life at the school revolves around the relationships you form with your classmates, who are also your closest friends. Groton, MA is tiny and because external social activities are hardly as lively as they would be in a big city, our social lives are focused on and devoted to each other. Although we didn't do much hanging out at the mall or the like (the nearest mall is 30 minutes away), I think I formed much stronger and deeper relationships with not only my friends but also people I'd never have gotten otherwise than if I'd gone to a day school.With this in mind, most Groton social life is centered at the Student Center, which has the two student-operated restaurants: Scudders (a hamburger grill/sports bar) and Dory's (a traditional cafe and pretty much the exact opposite of Scudders in every way). When the weather permits, students congregate on the Circle (the circular meadow in the middle of campus) to relax and hang out and enjoy a beautiful fall/spring day.
Daily Schedule:
Weekday
8:00 AM
Morning chapel (assembly); roll call (announcements)
11:30 AM
Lunch (exact time may vary depending on classes)
3:30 PM
Athletics or some other afternoon activity
6:00 PM
Social activities; hang out with friends
8:00 PM
Study hall (8th-10th grades); study or hang out (11th-12th grades)
10:00 PM
Check-in with the dorm; go to bed around 11-12
Weekend
7:00 AM
Wake up, shower, breakfast
8:00 AM
Classes begin (half-day)
1:00 PM
Athletic events: warm-ups (if at home), bus leaves (if away)
4:00 PM
Athletic events end (if at home); dinner at 5
7:00 PM
Athletic events end (if away); dinner on bus
8:00 PM
Hang out with friends, etc.
9:00 PM
Dance in the Student Center or some other activity
11:00 PM
Check-in with the dorm
I think the most influential part of Groton is it's emphasis on community. As an effect of the small size and commitment to inclusion, Groton skillfully combines the independence that comes with attending a boarding. . .
Groton is unique in its campus set-up. It is centered around the "Circle" a large expanse of grass that is used as a soccer field in the fall and for lawn games in the spring. . .
Groton is a small school in the countryside with immense resources and an extremely demanding academic atmosphere; the first word most students associate with the School is "intense." The School's long history and honored traditions. . .
Show more reviews (

16 reviews

)
Mastering the Boarding School Selection Process: A 5-Step Guide
Discover the ultimate 5-step guide to choosing the perfect boarding school for your child. Explore essential factors, such as academics, campus facilities, extracurricular activities, and more. Make an informed decision to provide your child with an enriching and transformative educational experience. Read now!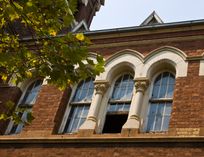 5 Founders and Their Boarding Schools
What prompts somebody to start a boarding school? The motives range from idealism to munificence right on through to capitalism. The common thread seems to be ample capital and a vision of what education can do.