The Peddie School - Review #3
Reflections and Advice:
1.) What do you think makes your school unique relative to other boarding schools?
The Peddie vs. Blair rivalry undoubtedly sets Peddie apart, as the rivalry is the oldest in NJ (since 1903). Blair week is such a memorable week in the life of a Peddie student and no other boarding school can boast such a special experience in sportsmanship.
2.) What was the best thing that happened to you in boarding school?
The costa rica spring break trip was the best thing since it led me transfer to a school there. Now, I'm looking into going to med school there so I'm happy Peddie showed me the happiest country in the world.Breaking out of my shyness was empowering as I believe being shy is not good. I became more open-minded and had a desire to not settle for normalcy.
3.) What might you have done differently during your boarding school experience?
I would've entered as a freshman and not as a sophomore. My life today just interacting with my whole class would've been totally different had I been there. Advice would be to stay humble and take it easy. Most students are rich, but don't think your family's money makes you great. Be humble and available to people when needed (not at the expense of schoolwork though). Take care of each other and love everyone no matter who they are.
4.) What did you like most about your school?
The cohesiveness and pride of the community
5.) Do you have any final words of wisdom for visiting or incoming students to your school?
Hang out at the Grille. Go easy on the muffin Thursdays (they're from dunkin so they're bad for you & are full of chemicals that you don't want in you). Have a good attitude about community service and do it with friends. Don't stress so much; it doesn't help anything. Girls, live in Trask or Avery. Learn as much of a language as you can from a class and from the international kids. Listen in chapel, go to Vespers and don't sweat the petty things.
Academics:
1.) Describe the academics at your school - what did you like most about it?
Academics at Peddie are certainly rigorous, especially for me coming in as a new sophomore which is why I cannot stress how important it is to start as a freshman. I loved how the teachers weren't soft; they were like parents who pushed you to become more tolerant of the workload. Being able to go over to my chemistry teacher's house for help was so nice, I wish I could relive it.Every graduate I asked who was a college freshman agreed Peddie helped them tackle workloads that otherwise would've been overwhelming. The environment is competitive, but was never so bad that it made people behave much differently to get ahead. I'm not a competitive person, so i hope there're more people like this. It makes the college process much less dramatic, if that makes sense.
Athletics:
1.) Describe the athletics at your school - what did you like most about it?
Peddie swimming is nationally ranked, so the pride was never ending and strong always. Athletics altogether is great. Compared to its fellow elite schools, the diversity of available sports is less but I never felt that I liked athletics less because of it.
Art, Music, and Theatre:
1.) Describe the arts program at your school - what did you like most about it?
It's really just impeccable and filled with so much character. PEDDIE has birthed so many original actors and actresses with élan. I loved watching the plays just as much as listening to orchestra performances. Faculty was perfect also.
Extracurricular Opportunities:
1.) Describe the extracurriculars offered at your school - what did you like most about it?
There was such diversity and everyone could find something they liked. If they couldn't, they created their own club. I loved how much the clubs did off campus. For example, a few members of the French club and I went to a French teacher's house where she taught us how to make crêpes. In the vegetarian club, we went to a delicious vegetarian restaurant. So many great memories from extracurriculars at Peddie.
Dorm Life:
1.) Describe the dorm life in your school - what did you like most about it?
Dorm life rocked. Everyone really gets close and can know each other inside out. I loved being a big family. Room selection was pretty fair. Avery and Trask are the girl dorms to live in after freshman year and for boys, Coleman is great (in front of dining hall) and the others too except for Potter South and Kerr.
Dining:
1.) Describe the dining arrangements at your school.
When I was there, the food was mediocre but family style dinner on Monday's and Thursday's when everyone would dress formally and eat with staff was good. hours were good except dinner on Sundays were way too early. This can be changed easily I'm sure. No complaints about the cafeteria set up. I love it in there as well as the seats outside in front of the lake.
Social and Town Life:
1.) Describe the school's town and surrounding area.
Hightstown is cute, safe and charming. Mannino's has some of the best pizza you'll ever eat. I love the warmth they showed towards PEDDIE kids.
2.) Describe the social life at your school - what did you like most about it?
Definitely good. It was clique-y so I hope that changes because I feel like we would've learned more about other cultures if the American kids didn't just hang with American kids, for example. I loved the diversity of everyone from their backgrounds and their distinct personality from where they came from.
Daily Schedule:
Weekday
Weekend
11:30 AM
All classes over unless you had a free block
12:00 AM
Sports, fun, down time
While most boarding schools are smaller than public or even private day schools, Peddie was unique because we only had around 500 kids for all four of my years there. Another unique aspect was our. . .
Peddie is all about community! It's a co-educational school with a focus on service and community. . .
The Peddie vs. Blair rivalry undoubtedly sets Peddie apart, as the rivalry is the oldest in NJ (since 1903). Blair week is such a memorable week in the life of a Peddie student and no. . .
Show more reviews (

10 reviews

)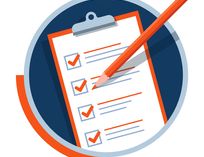 Employment: Common Questions And Answers
Want a change of pace? Fristrated and overwhelmed by your present teaching position? How about teaching in a boarding school? We answer some of your questions here.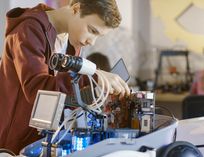 The Gifted Student
Your child is gifted. Congratulations! It's an awesome responsibility to parent a gifted child. So, what about high school? Check out boarding schools. They offer a rich array of resources and experience for teaching gifted children.