Reflections and Advice:
1.) What do you think makes your school unique relative to other boarding schools?
Apart from The White Mountain School being located in a very unique setting the thing that makes it stand out the most when compared to other boarding schools is the size of the student populations. The school has only around 100 students and has slowly been trying to increase while still keeping its tight-knit sense of community. Another factor that distinguishes The White Mountain School is the mandatory all-school trips called 'Field Courses'. 'Field Courses' give students the opportunity to explore new interests, and due to the length of the trips (typically ranging from 5-7 days) the students are allowed to expand their knowledge of whatever their trip is about such as; backpacking, rock climbing, backcountry skiing, volunteering, and even expand on language trips during international trips to places such as France, the Dominican Republic, and Nicaragua.
2.) What was the best thing that happened to you in boarding school?
Well if I was forced to pick the best thing that happened to me during boarding school it would be that I was forced to explore the great outdoors. Before I arrived to WMS I was not at all interested in the environment or in any outdoor activity especially since I was coming from a city. However, because back then they only offered trips that were strictly outdoors I was forced to step out of my comfort zone. It is because of this push that I was able to feel comfortable enough to try new sports while at WMS even though I had no experienced. I was able to explore rock climbing which I fell in love with and participated in for 3 years, and even tried mountain biking which quite honestly sounded terrifying. However, through the friendships I established with the faculty and with my peers I felt that I could try it and was not afraid of making a mistake or occasionally falling because I knew I had the support system to keep me going. Due to the emphasizes on the outdoors at WMS I was able to learn to appreciate it and by the end of my time there I realized the importance in exposing everyone to the outdoors. I have never in my life felt the sense of oneness with the world around me as I have at WMS, and it is because of these exposures and new experiences that one of my goals is to actually become an environmental lawyer because my time at WMS has taught me that we are all interconnected with the environment and it needs us to speak up for it.
3.) What might you have done differently during your boarding school experience?
I don't think I would change anything of my experience when I first arrived at WMS because all of the difficulties I had during the first years lead up to my growing as a more conscientious person overall. I arrived with the mentality that even though I did not particularly like the outdoors and I was not an outdoorsy person by the time I graduated I would love it. Three years later I was a student assistant of a backpacking trip which I never imagined myself doing. Some advice for kids who are going to boarding school is to push yourself out of your comfort zone. Seek the new experiences and if you see that there is something particularly unique to your school then take part of it! Like I said I started my first day at WMS thinking half of the people there were crazy to rock climb or go mountain biking and what in the world was backpacking?! However, by the end I loved all of those things and I continue to seek ways to integrate it into my life because I miss it a lot now being in a suburb in Maryland. So I would just say, keep an open mind even if at the start it seems difficult, and dare to try new things because if you don't you might be depriving yourself of something good.
4.) What did you like most about your school?
Overall, I loved the emphasize on the outdoors and the environmental consciousness they taught us. I loved the professors who took the time to push every one of their students and to help them through any difficulties they had. My advisors were incredible and I could not imagine my WMS life without them. The faculty is very invested in helping the students, and I cannot thank them enough for all of the work they have put into helping me become the best I can be. My advisors especially, because I would even go as far as to say that the faith that my advisors have had in my has been the same as my mothers which just shows how much they really believe in the potential of their students. Everything about WMS will change you and shape you into becoming a better person in the long run even if you may not be aware of it at the time.
5.) Do you have any final words of wisdom for visiting or incoming students to your school?
I would definitely recommend visiting Rennell's Homemade Ice Cream in Bethlehem. It has the best ice cream in the world not to mention very friendly staff. Another recommendation is to check out the farm at WMS. If you have time I suggest asking your tour guide if they could show you the spot in front of the farm which gives you the outlook of the white mountains. It continues to be my favorite spot because of the beauty, and the piece you sense when looking out on the greatness of the mountains.
Academics:
1.) Describe the academics at your school - what did you like most about it?
Academics at WMS is not challenging in a conventional way. The academics in WMS seeks to teach students to interact with the world around them. During my four years at WMS I experienced the most hands-on learning I have ever experienced. Since the student population is small the number of faculty members is also small ranging from 30-40 (I believe). It is because of this that most of the classes are discussion based and encourage the students to participate during class. The professors' passion for teaching and dedication to helping students is admirable. I have rarely encountered teachers as dedicated as I have during my time at WMS. Not to mention the fact that WMS is a first-name based environment which really emphasizes the sense of a family away from home. One of the best departments at WMS is the environmental department, and since WMS has, in the past, placed a strong emphasizes on protecting our earth there are a lot of classes on environmental science or environmental projects on campus. I would definitely recommend taking an environmental course in order to learn something that can be applied to any concentration during college and life. What I loved most about WMS is that it is not a competitive environment in the negative sense even though they have recently started offering AP classes. During my most challenging courses at WMS I found myself studying outside of class with peers and teachers without feeling a sense of competition among my classmates. We were there to help one another on a topic that we could all use help in. Competitiveness at WMS does not mean competition among students, but instead means pushing one another to give the best of our abilities in order to succeed as a group. As for the workload it is generally manageable and even when you feel overwhelmed professors are there to help whenever you need help with a specific subject. When they do push you and demand better work or pile on complex projects or homework it is not to stress you out, but instead is because they know the potential among their students and want them to see that they are able to do much more than they may think.
Athletics:
1.) Describe the athletics at your school - what did you like most about it?
The athletics program at WMS is very unique just as the rest of the school. Although they offer the more conventional sports such as soccer, skiing, lacrosse, and basketball (which, by the way, became an offered sport through the efforts of students who really wanted to have basketball as an offered sport at WMS when we did not have a team) they also offer sports that you would not usually see at other places such as rock climbing, mountain biking, whitewater kayaking, and farm and forest. Sports are a part of daily life at WMS (mandatory participation). Although WMS is not necessarily one of the most competitive schools when it comes to sports they still have games and compete in races, but the main emphasize is to have fun and to feel comfortable enough to try something new while creating a sense of oneness with the team. The gym is another unique factor of WMS with an indoor climbing wall that takes up a good amount of the gym. They also have different machines that you can use as well as a basketball court which is not as big as some people would like but is due to the basketball team being fairly new.
Art, Music, and Theatre:
1.) Describe the arts program at your school - what did you like most about it?
At WMS the visual arts, music, and theatre program is becoming stronger. The visual arts program has recently been given a new space in order to have more space for those classes. WMS is also now offering more courses and sports concentrating on dancing. They have been able to provide a new dance studio for the dancers which was not in place during my time at WMS. The music program is also expanding by have more students participate in a-capella and the music facilities are always open to use for students who want to go in there and play the piano, drums, or guitar. The school is committed to continue to expand the visual arts, music, and theatre program by offering more courses for theatre and by having plays at least twice during the school year. If the course or opportunity is not there students are always welcomed to talk to the professors in order to work something out. The opportunities at WMS in any sense are endless so long as the student is willing to pursue it and expresses their interest in order to gain support.
Extracurricular Opportunities:
1.) Describe the extracurriculars offered at your school - what did you like most about it?
Students are allowed to volunteer during sports when it is offered, and are also encouraged to do so. They have potlucks at least once a month (I believe) and this is announced during the mornings in order to inform those who may be interested in volunteering. There is also an all school event during the spring which is called 'Community Service Day', and before this day students are allowed to sign up for specific events in order to volunteer in places of their interest. This day is dedicated to have the entire school part-take in helping the outside community (you do community service off campus). It serves to further emphasize the dedication WMS has to producing community driven, and community conscientious people.
Dorm Life:
1.) Describe the dorm life in your school - what did you like most about it?
As a female, the two dorms that I lived in were Carter and Hill House. Hill House is where the freshmen live and where sophomore or senior proctors live. As for Carter that is where the rest of the sophomore, junior, and senior females live. The room selection process is done by seniority, and you are allowed to pick your own roommate. If you are a proctor, which is usually known as RA during college, you usually get a single. In order to become a proctor you have to go through the application process in order for the dorm team to decide if you are a good fit. As proctor you are there to help out with dorm events, and help any student which is having a hard time with homesickness or any other issues. Before students arrive to school in the beginning of the year the proctors go through training in order to effectively deal with any dorm issues and to learn to distinguish when to let the dorm faculty know. Sometimes the dorms have bonding events during the night where students can get a snack if they would like or if they just want to talk to others there. Besides proctors the students have the dorm faculty as support any time they need them especially since the dorm faculty live in apartments in the dorms.
Dining:
1.) Describe the dining arrangements at your school.
I know that WMS has recently changed its dining arrangements when you go to get food, but during my time the juice room was usually open during the day up until the end of dinner. You can usually get fruit or juice if you get hungry in between classes or anything like that. You can sit anywhere you want and since the tables are round there is always room for more. The faculty eats during the same time and so you can also sit with the faculty if you would really like to. They have also started family-dinners in which you get assigned a "family" which you have to sit with during this time. It usually consists of one faculty member or two, and 5 students. I think family style dinners are done every thursday if I am not wrong. However, they also have community dinners which are opened to the public to join. During this time students are assigned seating as well and after dinner or before dinner they see the performance that is taking place at the school. Usually it is music or dancing and is very diverse while also teaching the students something new about a culture or a group of people. Family style dinners and community dinners are mandatory for the entire school, but is also fun in that it gives you a chance to talk to other people you may not usually hang out with.
Social and Town Life:
1.) Describe the school's town and surrounding area.
Since WMS is located in Bethlehem the nearest town is Littleton. Every weekend and one day during the week they have town trips where you can choose to go to either Walmart or Littleton. Littleton is a very nice town where you can go out to eat Thai food during the weekend or see a movie. Bethlehem is another place where you can go in through means of transportation to get some ice cream or check out the small businesses nearby. Generally you need a car to get to these places. I actually really liked the fact that everything was kind of far because you felt very connected to the nature around and were pushed to explore more of it.
2.) Describe the social life at your school - what did you like most about it?
The social life at WMS is very unique due to the smallness. Its kind of awesome because you get to know everyone at the school and are bound to have a conversation with everyone there at some point. You get to the point even knowing everyone's first and last name simply because you are interacting with different people all the time during class, sports, and dinner.
Apart from The White Mountain School being located in a very unique setting the thing that makes it stand out the most when compared to other boarding schools is the size of the student populations. . .
Very enthusiastic, young faculty who know a lot about the topics they teach. The same faculty also lead the sport programs, which builds a very strong, versatile teacher-student relationship, which I find to be rather. . .
The White Mountain School's sense of community and adventure attracts motivated and qualified faculty and a diverse student body. Through a combination of outdoor experiences, leadership opportunities and strong academics, the school consistently produces well. . .
Show more reviews (

2 reviews

)
Mastering the Boarding School Selection Process: A 5-Step Guide
Discover the ultimate 5-step guide to choosing the perfect boarding school for your child. Explore essential factors, such as academics, campus facilities, extracurricular activities, and more. Make an informed decision to provide your child with an enriching and transformative educational experience. Read now!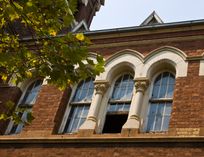 5 Founders and Their Boarding Schools
What prompts somebody to start a boarding school? The motives range from idealism to munificence right on through to capitalism. The common thread seems to be ample capital and a vision of what education can do.