Reflections and Advice:
1.) What do you think makes your school unique relative to other boarding schools?
You could not ask for a more beautiful location--atop of a hill overlooking a beach on the Atlantic Ocean. Some of my fondest memories came from playing baseball on a sunny afternoon and just taking in the the stunning view. In addition, the tight-knit community on the the Hilltop was absolutely amazing. Coming from a public school where all kids were the same, it was an eye-opening experience to attend a school with students from all over the world, of different backgrounds and beliefs, but made special connections in their time at St. George's. These friendships last a lifetime.
2.) What was the best thing that happened to you in boarding school?
Again, the most memorable/best part about SG was the relationships that I formed with my friends. In terms of how I changed or grew as a person, I would just say that St. George's helped me realize my potential as both a student and a young man. I went from being a shy, underachieving boy my freshmen year, to an outgoing and hardworking young man by the time I graduated, which all made my college experience that much easier.
3.) What might you have done differently during your boarding school experience?
My advice to kids going to boarding school is to take advantage of and try as many things as possible. It is a great way to meet new people and possible find a new passion/hobby along the way.
4.) What did you like most about your school?
I liked the tight-knit community and how the school functioned with so many people from different backgrounds. It truly is a warm and welcoming campus. As a student of color I was originally unsure how my experience would be at a New England boarding school with typically smaller numbers of students of color, however it never became an issue for me in my time at SG. Not only did I feel comfortable due to the warm atmosphere of the community, but I knew that I had the support of certain faculty members of color if I ever needed to confide in them. There is actually an official affinity group now at the school for students of color led by a young male faculty member of color. The amount of support offered within the school as a whole, whether social, academic, etc., was/is tremendous.
5.) Do you have any final words of wisdom for visiting or incoming students to your school?
Words of wisdom for visiting/incoming students: take a second to just observe the students in their everyday life. See how they interact with each other, with faculty and try to imagine if you could see yourself as a member of this community. It definitely is a special one.
Academics:
1.) Describe the academics at your school - what did you like most about it?
St. George's was the most challenging academic institution I experienced in my 22 years of education. The teachers expect a lot out of each student, but do a wonderful job of supporting students when needed. Although I was never a top student in my class, I genuinely enjoyed my experience in the classroom at SG, because it forced me to challenge myself on a daily basis and learn the true values of what an education can do for you down the road. I believe that my time in college was that much easier due to my academic experience at St. George's--learning how to manage my time, forming strong study habits and putting my priorities in the right place. The connections I made with several teachers had a significant impact on me, especially my US History teacher, as it sparked my interest in becoming a teacher right out of college.
Athletics:
1.) Describe the athletics at your school - what did you like most about it?
I had coaches in both basketball and baseball that invested in me and helped aid in the process of college recruitment. However, the most valuable time I spent as an athlete occurred after practice, working collectively with teammates, which helped form great team chemistry and also allowed us to improve as individual players. The commitment of athletes on campus across the board was something I had never seen before, even in my years of playing college basketball.
Art, Music, and Theatre:
1.) Describe the arts program at your school - what did you like most about it?
Although art never came easy to me, I did enjoy my time taking art classes. I love how the school displays the work of the talented artists on campus. I never participated in music or theatre, however, after attending numerous music guilds and school plays during my time as a student, I was amazed at the dedication and passion that some students had for these programs--very talented kids.
Extracurricular Opportunities:
1.) Describe the extracurriculars offered at your school - what did you like most about it?
St. George's is a very busy campus. Between classes, sports and extra-curricular activities, the students are always engaged in school life. Every student will engage in some sort of community service multiple times of year, which is great. Whether it may be for the day of engagement on MLK day, a sports team taking a day off to clean up the beach, or participating in the big brother/big sister program, St. George's students are definitely involved. As member of the local community, I think it was great out often the school engaged in the Newport area.
Dorm Life:
1.) Describe the dorm life in your school - what did you like most about it?
I was a day student, however, I know living in the dorm is a fun and valuable experience for kids of high school age. Study hall was every night from 8-10pm, which was a great time to focus on work due the next day. I actually stayed on campus for study hall my junior and senior years and also slept over in the dorms on Saturday nights, so I do have some experience. I remember the dorm being a place where you could just kick back and relax if you needed to take a break, hang out playing video games with a large group of kids or get work done during free periods. Also, my adviser was dorm parent in an upperclassman dorm and I noticed that there was a close bond between the students and dorm parent.
Dining:
1.) Describe the dining arrangements at your school.
King Hall looks like the dining hall in Harry Potter--a really cool looking place. My freshman year the students sat strictly with their class, but as the years went on, that began to fade and the seating became more open. The dining hall is open for about 1.5 hours 3 times a day. The students can go whenever it fits their schedule. The food was good, definitely better than a typical high school cafeteria. They have recently switched to a new dining service, which is much improved.
Social and Town Life:
1.) Describe the school's town and surrounding area.
Newport, RI is a great place for kids to attend a boarding school. Aside from its beauty, Newport is also a fun town to hang out in and is a safe place for kids to be. Often on Saturday nights we would take a cab downtown, grab dinner, go to the arcade or movies and then come back to campus for the night's entertainment. Faculty members also drive shuttles into town so students do not have to always pay for a cab.
2.) Describe the social life at your school - what did you like most about it?
Social life at SG is what I remember most about the school. I made my best friends there and we had so much fun on campus each day. No matter how stressed I was due to academics or upset about a tough loss in athletics, I was always able to forget about all of that when I was hanging out with my friends. Whether it was playing four square out on the quad or just playing video games, we always found a way to have fun. The entertainment on Saturday nights was usually well attended. Some examples of events were dances, dodge ball tournaments, movie showings on the quad, student concerts, etc. The thing I liked most about SG on weekends was the fact that most of the students stayed on campus rather than pack up and head home. It is a very community driven school, which is why I enjoyed my experience so much.
Mastering the Boarding School Selection Process: A 5-Step Guide
Discover the ultimate 5-step guide to choosing the perfect boarding school for your child. Explore essential factors, such as academics, campus facilities, extracurricular activities, and more. Make an informed decision to provide your child with an enriching and transformative educational experience. Read now!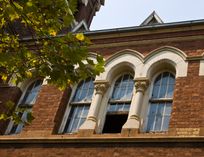 5 Founders and Their Boarding Schools
What prompts somebody to start a boarding school? The motives range from idealism to munificence right on through to capitalism. The common thread seems to be ample capital and a vision of what education can do.