Reflections and Advice:
1.) What do you think makes your school unique relative to other boarding schools?
I think that the most obvious unique thing about Scattergood is the student body size. In my experience, having such a small community was something that most people (staff and students) found simultaneously very frustrating and very rewarding. Looking back though, I feel like the size really challenged me to be good to others, and I appreciate that now in my college community of ~1500 people.One aspect of Scattergood, which I only realized was unique after talking with college friends with vastly different boarding school experiences, is the way in which students and staff relate. While there was obviously some unavoidable power structure, there were a lot of factors, implicit and explicit (for example, both students and staff being on work crews), that encouraged really beautiful friendships and mentorships between students and staff in my experience.Some of the richest friendships I've had have been with teachers at Scattergood, partly, I think, because it was one of the first times in an educational setting where folks with wisdom shared it with me in a non-patronizing feeling way, and were eager to learn from me too.
2.) What was the best thing that happened to you in boarding school?
I would say that, counter-intuitively, the best thing that happened to me at Scattergood was a period of extreme procrastination and academic struggle. My difficulty with school, discipline and motivation solicited some of the most amazing sharing of stories, wisdom, and empathy I've ever experienced, mostly on the part of staff directly leveling with me and helping me out. I think it was this struggle and support that made me realize the motivation deep within me to not live life passively, to thrive, and I'm not sure how this would have happened in a different place.
3.) What might you have done differently during your boarding school experience?
In terms of being where I am now, and learning what I've learned, I would nothing different. Experientially, the one thing I would change would be that I would have been less lazy and taken up all the opportunities presented to me. I think that's the 'best' way to live in general in most people's minds, but this rings true especially at Scattergood.
4.) What did you like most about your school?
Overall, my absolute favorite thing about Scattergood was (is!) the supportive, tight-knit community I found there. I think the amazing thing about a solid community is that it manifests itself in every aspect of life, and when you tap in to the communal experience, every class, every meal, every random moment of hanging out is just that much richer.
5.) Do you have any final words of wisdom for visiting or incoming students to your school?
Swim in the pond! Eat new foods! Play with campus dogs! Get dirty at the farm! Have strange, interesting conversations with people!
Academics:
1.) Describe the academics at your school - what did you like most about it?
What I liked most about the academics at Scattergood was the eagerness of most teachers to seek more student-oriented direction in classes, to just step down for a moment and let students bring to light what they find compelling and meaningful. That's not to say that teachers didn't teach, it's just that there was usually space for engaged student direction in class. One way self-direction is also embodied is the independent study, where students with the motivation and planning can study something not normally offered.While I didn't always appreciate it at the time, I feel grateful for the workload now. Just starting freshman year at a fairly un-selective but academically rigorous school, the workload and demand for critical thought is fairly on-par with my senior year at Scattergood. Starting college, I'm also very grateful for the way in which I was taught to write from my heart and head but with concision.
Athletics:
1.) Describe the athletics at your school - what did you like most about it?
The combination of mandatory participation in some form of wellness class and funky wellness offerings was actually a super awesome aspect of going to Scattergood for me (and most people I think). I was able to do a huge range of athletics, from roller hockey, to fencing, to frisbee golf, to an unsupported 1300 mile bike tour. If you go to Scattergood with an open mind, you will have a lot of fun with the athletics.Scattergood may not be the school to go to if you are trying to be recruited to a NCAA Division I college, but you can definitely still have a good experience with athletics at a more inter-team competitive level if you fence or play soccer or basketball.
Art, Music, and Theatre:
1.) Describe the arts program at your school - what did you like most about it?
A phrase to sum up my feelings about the arts, specifically theatre, at Scattergood would be 'a combination of awesome and accessible.' Because of the small size of the school, there was pretty much always room for anyone interested to be a part of an arts group or program. There was also a lot of room for self-direction in the arts at Scattergood (room for self-direction being a pretty common theme there). One example of Scattergood providing opportunities for artists is Scattergood co-organizing an art show at an Iowa City youth center during the Iowa City gallery, and inviting musicians to play the art show. Unexpected opportunities/hard-work created opportunities like that were pretty frequent and special, something I really appreciated.
Extracurricular Opportunities:
1.) Describe the extracurriculars offered at your school - what did you like most about it?
At Scattergood, you're always required to take a project class, which is a big vehicle for extracurricular stuff. Some of my favorite extracurriculars at Earlham were kiln building, rock band, and neo-futurist theatre. In all three of these projects, I was really more of a team member than a student receiving a lesson- we were all creating and absorbing knowledge rather than just consuming it from a teacher. I was an architect, a band mate, a writer/actor.
Dorm Life:
1.) Describe the dorm life in your school - what did you like most about it?
One effect of a small student body was a very tight knit dorm community. The folks I lived around were the people I did everything, from building ludicrously intricate blanket forts, to having the most serious conversations. Decisions about dorm life, other than school rules, are made communally through consensus, which, while slow sometimes, was nice in that it fostered ownership of our space. Rooms have either two or three residents, selected by interests/living habits compatibility first semester, and roommate request second semester. Most folks get pretty close to the dorm sponsors.
Dining:
1.) Describe the dining arrangements at your school.
Meals were only at set times, with the entire community present in a space to share announcements, and cooked by the community with Scattergood farm ingredients (two meals a day with the help of students!). I loved that it was very much family style, and even if I hadn't worked on the farm or with meal prep recently, having worked so much in the farm and kitchen, I always felt a part of the food making process in a really nice way.
Social and Town Life:
1.) Describe the school's town and surrounding area.
Scattergood is about two and a half miles from West Branch- totally walkable and bikeable if you're not feeling lazy. West Branch is a small historic community, with cute shops and a nice historic national park celebrating Herbert Hoover's West Branch origin. Every Saturday, there is a van to Iowa City, which as a huge college town definitely has a lot going on arts/culture wise, and shopping if you're into that. Good food too! There was always a fair amount of opportunity to go concerts and nature in the surrounding area through staff.
2.) Describe the social life at your school - what did you like most about it?
Scattergood was amazing socially. My best friends in the world I came to know at Scattergood, and I anticipate talking to many of them for the rest of my life. While it can certainly feel small, I think that the frustration with tight community living is definitely worth the richness of the relationships people build at Scattergood. I definitely felt like I always had friends to hang out and do stuff with with, and that was great, but even greater was the sense of connection with everyone at Scattergood, through being a part of something intentional and close knit and tough and rewarding, even those few I was barely directly interacting with.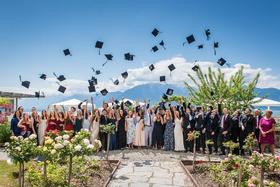 Nurturing Futures: A Journey through Boarding at Haut-Lac School in Switzerland
Nestled in the hills overlooking Lake Geneva in the French-speaking part of Switzerland lies an educational gem that embodies a unique blend of academic excellence, cultural richness and a profound sense of community. Founded over 30 years ago, Haut-Lac International Bilingual Day and Boarding School is now home to both 600 day students and a maximum of 30 boarders from around the world.
What To Wear at Your Job Interview
Navigating job interviews can be stressful, but knowing what to wear shouldn't be. Our comprehensive guide covers the essential dress code tips for men and women interviewing at boarding schools. Make your first impression count with style and professionalism.
Navigating the Modern Maze: Emerging Challenges for Boarding Schools
Explore the pressing challenges facing boarding schools, from marketing difficulties and rising insurance costs to facility maintenance and recruitment of competent trustees and teachers. This article delves into these complex issues and proposes innovative strategies to overcome them.