Reflections and Advice:
1.) What do you think makes your school unique relative to other boarding schools?
I loved everything about my time at Hebron. It was truly a community, without the cliques I had come to expect at public school - sure, people had their groups of friends, but no one would look askance if you sat with someone new in the dining hall.The faculty's genuine interest in every students interests and dreams was possibly the most special thing about Hebron Academy. Beyond being supportive in a classroom context, teachers were always willing to sponsor an outside project or help you start a club.
2.) What was the best thing that happened to you in boarding school?
I'm not sure what the best isolated thing was that happened to me at Hebron, but I often tell people that Hebron was the best thing that ever happened to me. I really grew as a person, an athlete, and a student while I was there - I was truly prepared for college in a way that many of my college friends were not.
3.) What might you have done differently during your boarding school experience?
The biggest thing I would do differently is attend Hebron for all four years, as I didn't start until my sophomore year. My advice for new students is simple: commit fully in everything you do. Try your best, try new things, and trust your friends.
4.) What did you like most about your school?
The sense of community was overwhelming. We used to roll our eyes when teachers talked about it in morning meeting, but it really was special. I've never felt more comfortable than I did while I was at Hebron.
5.) Do you have any final words of wisdom for visiting or incoming students to your school?
Explore everything! Hebron is over two hundred years old - there's an old fall out shelter in the arts center that doubled as uniform storage when I was at school, and no doubt there are all kinds of other hidden gems.
Academics:
1.) Describe the academics at your school - what did you like most about it?
The academics at Hebron were both challenging and enriching. I took multiple AP classes, and was able to apply my test scores toward college credits after high school. The faculty always proved to truly value student learning and curiosity above all: during my senior year, there was an AP test I wanted to take, but the school didn't have the interest for a full class. One of my teachers volunteered to take on an independent study with me, and gave up her planning period three days a week to help me master the material.Teachers were also available every night during study hall for extra help if you felt you needed it. Indeed, your teachers often lived in your dorm or were your coaches, so you could find them any time if you had questions.
Athletics:
1.) Describe the athletics at your school - what did you like most about it?
I honestly felt as if the field hockey team at Hebron was my family. The girls came from all over the world and with all levels of experience, but we banded together, winning the MAISAD tournament every year, and even making it to the New England tournament for the first time in team history.I was recruited to play field hockey at the university level because of my experience at Hebron - and other sports are just as strong.In the three sports I played over three years, I never once felt discouraged by a coach, or demoralized by a (rare) loss. The philosophy of Hebron sports was always hard work, competitive spirit, and sportsmanship.They finished the new athletic center the year after I graduated, and it's pretty amazing!
Art, Music, and Theatre:
1.) Describe the arts program at your school - what did you like most about it?
Hebron always had robust arts programs. The school might be better known for its athletics, but visual arts, music, and theater are just as much a part of student life. Perhaps the best part of the theater program was how many students the yearly musical draws. Entire sports teams often join the cast, with ensemble roles for those who aren't looking to stand out, and solo parts for students who want to make a statement. It's really a testament to the spirit of the school: you don't have to have a harsh definition for yourself - you can be an jock and a thespian and a mathlete and an artist, all at once, and everyone will cheer you on.
Extracurricular Opportunities:
1.) Describe the extracurriculars offered at your school - what did you like most about it?
The most unique extra-curricular at Hebron has to be the outdoor education program, taking full advantage of the rural Maine location of the school. Students go hiking, learn to navigate with maps and compasses, and even learn to build a fire in the snow. In the winter, they can learn to ski or snowboard.If there are any clubs or activities students would like to see that aren't available, faculty members are always willing to help students get the ball rolling. A classmate of mine wanted to start a dance club, and within a month she had secured studio space, recruited members, and found a coach, all with the support of a faculty adviser.
Dorm Life:
1.) Describe the dorm life in your school - what did you like most about it?
Living in the dorm was the best part of boarding school. Words simply cannot describe how close I became with my dorm mates - it's been over half a decade since I graduated, but every time I see one of them we can pick up right where we left off. Hebron is a small school, and the tight-knit nature of dorm life is what makes it really special. I would still trust any of the girls I lived with at Hebron with my life. The rooms are pretty typical - mostly doubles, with a few singles. There are faculty members living in the dorm, in separate apartments, some with their families, and all ready to open their homes (and their kitchens) to you if you need them.
Dining:
1.) Describe the dining arrangements at your school.
The dining hall was open for three meals every weekday, and two (brunch and dinner) on weekends. I was always able to find something good to eat, and my mother would tell you I was a super picky eater back in the day. There's always bagels and toast available, as well as fresh fruit, cereal, and a salad bar, in addition to the various hot meal offerings.
Social and Town Life:
1.) Describe the school's town and surrounding area.
The town of Hebron is pretty much just the school, though there were weekly trips available to nearby Portland, Maine. It's an absolutely beautiful place, with views of the White Mountains and gorgeous forests all around. Perhaps the best part of such an isolated location was how bright the stars were every night.
2.) Describe the social life at your school - what did you like most about it?
I made some of my lifelong friends at Hebron. Even those I've lost touch with, I feel like I could run into them tomorrow and strike up a conversation as if nothing has changed - because our friendship never could.Living with your friends brings you closer in a way that nothing else can - you grow to know and love everything about them, and they know all about you. It's incredibly freeing to know your peers know all your annoying habits - and love you anyway.
Hebron's location is a great setting to enjoy the outdoors. There are a variety of outdoor activities to take part in. The campus also has its own hiking trails, and in the fall and winter. . .
Hebron encouraged us to serve the surrounding community with designated community service days throughout the school year, as well as celebrating the diversity of our school by themed dinners and cultural events. . .
Hebron was so transformative for me. The main things that I can accredit this to are the the population of international students on campus and the community among women. In the upper school (the high. . .
Show more reviews (

6 reviews

)
Mastering the Boarding School Selection Process: A 5-Step Guide
Discover the ultimate 5-step guide to choosing the perfect boarding school for your child. Explore essential factors, such as academics, campus facilities, extracurricular activities, and more. Make an informed decision to provide your child with an enriching and transformative educational experience. Read now!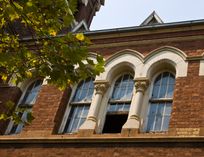 5 Founders and Their Boarding Schools
What prompts somebody to start a boarding school? The motives range from idealism to munificence right on through to capitalism. The common thread seems to be ample capital and a vision of what education can do.