Virginia Episcopal School - Review #1
About the Author:

College Enrolled
University of California, Santa Barbara
Home Town, State (Country)
Mexico City , CA
Years Attended Boarding School
4
Activities During Boarding School
JV Volleyball (2yrs), Varsity Swimming (4yrs), Varsity Soccer (4yrs), Outdoor Club (1yr), Cross OCuntry (1yr), School Musical (3yrs), Basia Librum (4yrs- President), Quiz Bowl (3yrs), Big Sib Little Sib (2yrs), Model OAS (1yr), VES Math Club (1yr), TEAMS Engineering Competition (1yr- won 1st place), Creator of Annual Book Swap, Bishop Ambassador (4yrs), Counselor.
Review

Description

University of California, Santa Barbara

What I valued most about VES was the small community that was formed between students and faculty. Our teachers became our friends, and I don't think this type of community can be found anywhere else. . .

University of Virginia

Virginia Episcopal School (VES) does an excellent job of fusing the roles of teachers into mentors, advisers, and friends. Any given teacher I had would approach me outside of class to ask about homework, how. . .

Bard

The professors and the students at VES are what make this school incredible--the people are individuals who, together, can make anyone feels as though they are at home and in an alternate reality. I was. . .

Georgia Tech

An aspect that makes VES unique is the connection between the faculty and the students. Because much of the faculty live on campus, the students have an opportunity to connect with them outside of the. . .

UNC Chapel Hill

The student-faculty relationships are the lynchpin at VES. Also the catered education and one on one effort by the faculty is key to the success VES has. I came in a mediocre student, athlete and. . .

Show more reviews

(0

reviews)
April 20, 2018
Actually, there is no secret to getting your child into boarding school. Just a lot of hard work and a heavy commitment of time.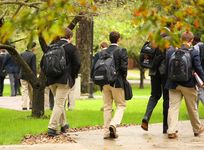 March 22, 2018
Some cynics think single-sex education is old-fashioned. The Kiski School shows how educating boys in a single-sex school is successful.
March 08, 2018
The wide range of fine academic, athletic, and other facilities found in boarding schools underscores the determination of schools to provide the very best for their students.