EF Academy Torbay - Review #3
About the Author:

College Enrolled
University of Westminster
Home Town, State (Country)
St. Petersburg, none
Years Attended Boarding School
2
Activities During Boarding School
On my first year I attended Cooking and Spanish Clubs. On my second year I helped to organize Red Nose Day, I also was a Tutor Representative of my tutor group.
Review

Description

-

We all are like a family and it makes our school unique, different from others. We are an international school, and we are here away from our families but coming to this school one can. . .

Cardiff University

Being an International Private Boarding School in the UK, EF Academy Torbay offers the opportunity to get into world renowned universities for students who have the willingness to study overseas. Guided and taught by experienced. . .

University of Westminster

Hello, my name is Olga Kornilova, I am from St. Petersburg, Russia. I finished my A-level program at EF Torbay this June. Without doubts I can say - that was an absolutely right decision to. . .
April 20, 2018
Actually, there is no secret to getting your child into boarding school. Just a lot of hard work and a heavy commitment of time.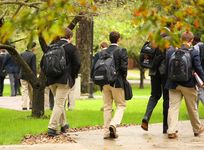 March 22, 2018
Some cynics think single-sex education is old-fashioned. The Kiski School shows how educating boys in a single-sex school is successful.
March 08, 2018
The wide range of fine academic, athletic, and other facilities found in boarding schools underscores the determination of schools to provide the very best for their students.