Reflections and Advice:
1.) What do you think makes your school unique relative to other boarding schools?
While Kent School fits the mold of a traditional boarding school, one thing that really sets us apart is the setting. Nestled in Housatonic Valley, students are always within a 5 minute walk of each other and get to know everyone well. Furthermore, having a town a 5 minute walk away makes weekends all that much more bearable and a great destination to visit once you have graduated. Furthermore, Kent School focuses on the person as a whole. They want to develop and student that is well versed in music, art, athletics, and a variety of different subjects.
2.) What was the best thing that happened to you in boarding school?
I met the most amazing people at Kent. Between the students, faculty, staff, and parents, my life was changed along with my view on it. I grew as a person to become more independent and left Kent making every decision without my parents. Furthermore, being mixed with students from every walk of life allowed me to obtain a broader view on society and the world.
3.) What might you have done differently during your boarding school experience?
The only thing I would have changed was to reach out to more groups earlier. I stuck with a close group of friends until my senior year, but once I met more people I realized how much more enjoyable being at kent was.
4.) What did you like most about your school?
The school motto(translated form latin): Simplicity of Life, Directness of Purpose, and Self-Reliance sums up my feelings about the school very well. The lessons I learned were invaluable, and the people I met were incredible, but what I liked most was how I was constantly challenged to be better. Everyone encouraged you to be the best version of yourself, and it was that push that caused me change into who I am today.
5.) Do you have any final words of wisdom for visiting or incoming students to your school?
Every New England Prep School has its own distinct feel, find the one that fits your desires and personality. The years spent away will have an impact on the course of your life, and you should do everything in your power to make them some of the happiest. Make sure to spend time in the town of Kent and grab lunch at J.P. Gifford's or coffee at Kent Coffee & Chocolate.
Academics:
1.) Describe the academics at your school - what did you like most about it?
I thoroughly enjoyed the round-table discussion styled classes that were normally smaller than 14 students. Classes were never lectures, but discoveries of information, and everything could be question. If a student had a question they were never judged for asking, and the teachers were always intelligent and knowledgeable enough to answer them completely.
Athletics:
1.) Describe the athletics at your school - what did you like most about it?
Athletics have always been a strong suite for the school, especially female sports. In my time there, almost every team had a winning record and many won the Founders League Title. Furthermore, while you have many D1 athletes in the making, you also have my kids who just love the sport. Kent is able to cater to all of these different levels effectively in a way where everyone is happy.
Art, Music, and Theatre:
1.) Describe the arts program at your school - what did you like most about it?
With the installment of a brand new music and visual arts complex, Kent is well equipped to handle every level. From the beginner to the student who frequents the Carnegie Hall, the instructors are able to effectively help every student.
Extracurricular Opportunities:
1.) Describe the extracurriculars offered at your school - what did you like most about it?
Anything a student wants to propose will be approved as a club. Faculty have a wide variety of interests and enjoy doing those with the students.
Dorm Life:
1.) Describe the dorm life in your school - what did you like most about it?
With floors of 10-25 kids, you know every student very well, and with inter-dorm competitions you become great friends with all your neighbors. All the common rooms have recently been redone and they include every amenity from pool tables to ping pong to tv to well stocked vending machines. Some of my most cherished moments come from the late nights spent in friends rooms on the weekends.
Dining:
1.) Describe the dining arrangements at your school.
The quality of the dining hall has been on a steady increase since I first attended Kent. The facilities have been upgraded and the food has gotten more diverse and more appetizing. There are once a week sit-down meals with advisors that gives students the opportunity to eat in more of a family setting while catching up with their advisor and fellow advisees. There are always plenty of options and if you do not like what the are service, there is a snack bar in the basement with burgers, pizza, and other like food available.
Social and Town Life:
1.) Describe the school's town and surrounding area.
The town of Kent, Ct is one of the most beautiful in New England. With not a single chain and plenty of local restaurants and shops. It is a joy to walk around in at any time of the year. Furthermore, the town completely supports Kent and residence can often be seen at the sporting and musical events.
2.) Describe the social life at your school - what did you like most about it?
There was always something going on or a bus taking students on an adventure. While the winter can feel a bit constrictive, there's always kids hanging out watching hockey or watching holiday movies in the dorm, and occasionally there will be dance to attend.
Daily Schedule:
Weekday
Weekend
1:00 PM
Some type of activity
5:00 PM
Student Council Meeting
The freedom Kent offers its students is truly unparalleled, and with freedom comes responsibility: Students quickly learn how to look after themselves and one another. If you're looking for a place to learn independence, and. . .
Kent's emphasis on individualized education is one of the elements that sets it apart from other boarding schools. The Studies Office allows students to choose classes that interest them the most, when they have completed. . .
Campus is beautiful and landscape around it. It was very relaxing walking around campus and looking at the beautiful mountain algo and Housatonic river.Teachers and advisors were available 24/7 and always happy to give advice. . .
Show more reviews (

25 reviews

)
Mastering the Boarding School Selection Process: A 5-Step Guide
Discover the ultimate 5-step guide to choosing the perfect boarding school for your child. Explore essential factors, such as academics, campus facilities, extracurricular activities, and more. Make an informed decision to provide your child with an enriching and transformative educational experience. Read now!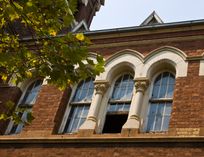 5 Founders and Their Boarding Schools
What prompts somebody to start a boarding school? The motives range from idealism to munificence right on through to capitalism. The common thread seems to be ample capital and a vision of what education can do.