The Hotchkiss School - Review #6
Reflections and Advice:
1.) What do you think makes your school unique relative to other boarding schools?
Hotchkiss combines many methods of learning that have been proven successful in recent research. Students can expect to interact in smaller classes with round table conversations, apply real-life solutions to local biological issues, and study classic literature along modern and contemporary texts. The quality of the athletics and arts program are equally high, with state-of-the-art facilities and experts on hand with backgrounds in every sport and artistic discipline you might imagine.
2.) What was the best thing that happened to you in boarding school?
My experience in boarding school gave me the social and intellectual skills I needed to succeed in college, where I pursued a major and thesis in Spanish studies and a minor in government. As a teacher of gifted students, I find myself replicating many of the techniques used by my own Hotchkiss teachers. I am also thankful for the ability to pursue as special studies, which I used to create a transcendentalist poetry and photography book with two of my close friends.
3.) What might you have done differently during your boarding school experience?
During my first year, I was hesitant to get involved in sports because I had little background or skills. Instead, I volunteered at a local middle school. While this allowed me to be active in the community, I did not get the "team experience" that is so central and important to boarding school students. Once involved in athletics, I was glad I had taken the chance.
4.) What did you like most about your school?
Hotchkiss provided me with incredible opportunities to explore my own interests and try new things. It is in such a beautiful location and physically feels very comfortable and safe. The faculty and staff have a genuine interest in helping promote and graduate intelligent, socially conscious graduates who have the tools needed to achieve their post-highschool goals.
5.) Do you have any final words of wisdom for visiting or incoming students to your school?
Go to at last one concert in Elfers Hall.
Academics:
1.) Describe the academics at your school - what did you like most about it?
Without a doubt, the best thing about the academics at Hotchkiss is the singular expertise each teacher brings to their subject area. Each instructor brings a personalized and flexible approach to their discipline, and smaller class sizes allow students to develop a real relationship to each of their teachers. Teachers are able to focus elective classes to their personal interests, so students can choose from a variety of subjects including ethics, philosophy, limnology, and more.
Athletics:
1.) Describe the athletics at your school - what did you like most about it?
Hotchkiss boasts one of the best athletics programs in the country. As a runner, I enjoyed cross country, track, and winter club running. However, there are many intramural or "club" teams that are non-competitive. Students can try out hockey, tennis, water polo, and more. The competitive teams win medals every year and Hotchkiss has quite a few alumni participating in national leagues. While there is not mandatory participation, students MUST have an afternoon activity. They can volunteer with a charity or do a special project instead of sports.
Art, Music, and Theatre:
1.) Describe the arts program at your school - what did you like most about it?
As a member of the orchestra, I was really impressed by the breadth of the arts program. Every year the drama program hosted a live-action musical complete with pit orchestra; music students attended conservatories after graduating including Juilliard and Oberlin; art students, particularly photography, went on to careers in their area. With constantly renovated facilities for the arts, Hotchkiss is emerging as a top target school for aspiring artists of every area.
Extracurricular Opportunities:
1.) Describe the extracurriculars offered at your school - what did you like most about it?
There are clubs for every possible interest at Hotchkiss. And if there isn't, you can make one. From political interest clubs to BAHSA, GSA, and Hillel, there are also clubs that specialize in public service. One club that many students are interested in is the newspaper; another, the radio, allows students to create their own stations that air on WKIS, the Hotchkiss radio station.
Dorm Life:
1.) Describe the dorm life in your school - what did you like most about it?
All rooms at Hotchkiss are either doubles or singles, with shared bathrooms on each floor and access to washers and dryers as well as a vending machine. Although every dorm is single-sex, students can visit one another in their common room during visiting hours. Every common room has a TV with cable, comfortable chairs, and a microwave. You can select roommates or choose to have a single. There is also a lottery for the dorms, but you can request to move if you have a pressing concern.
Dining:
1.) Describe the dining arrangements at your school.
The cafeteria is open for normal mealtime hours, but students can get coffee, tea, cereal, and fruit any time of day as long as the main building is open. The set-up is family style, with individual tables with 8-10 seats. Faculty and their children also eat in the dining hall. The food is pretty good, and there is always a salad and pasta bar if you aren't interested in whatever the bulk food is. Hillel and halal options are available, as are vegan and vegetarian fare.
Social and Town Life:
1.) Describe the school's town and surrounding area.
Lakeville, the town surrounding Hotchkiss, is fairly small. However it does have several excellent restaurants and small stores students may be interested in; the larger town, Millerton (NY) about five miles away has a grocery store, CVS, movie theater, and walking trails. A bus takes students each weekend into Millerton for whatever needs they cannot get at the school store.
2.) Describe the social life at your school - what did you like most about it?
With the diversity of the student body, Hotchkiss students can expect to find groups of people with similar interests. While the school is not as "cohesive" as some of the smaller schools, there is an overall feeling of school spirit and support, which is particularly apparent senior year and after graduation.
Daily Schedule:
Weekday
6:00 PM
Dining hall opens for dinner
8:00 PM
Underclass curfew/study hall
10:00 PM
Upperclass curfew
Weekend
1:00 PM
Sports games occur
Hotchkiss's campus had TWO ice hockey rinks and we also have a legendary field hockey team. Our Varsity Field Hockey team won the New England Championships 10 years in a row and then two years. . .
Hotchkiss is a medium-sized (approximately 600 students), New England boarding school nestled snugly in the hills of rustic Northwestern Connecticut. The school sits on the beautiful Lake Wononskopomuc, on which its highly accomplished sailing team. . .
Hotchkiss is a great institution. While I, like many boarding school students, have a love hate relationship with the school, it gave me more gifts than I can ever repay. Our school is taught under. . .
Show more reviews (

6 reviews

)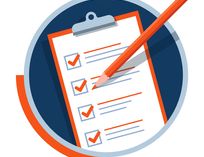 Employment: Common Questions And Answers
Want a change of pace? Fristrated and overwhelmed by your present teaching position? How about teaching in a boarding school? We answer some of your questions here.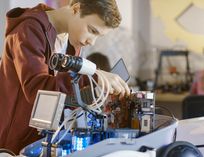 The Gifted Student
Your child is gifted. Congratulations! It's an awesome responsibility to parent a gifted child. So, what about high school? Check out boarding schools. They offer a rich array of resources and experience for teaching gifted children.