Reflections and Advice:
1.) What do you think makes your school unique relative to other boarding schools?
I applaud Suffield on several things but perhaps the most important is the way they have modernized. I have attended other schools that stick to the traditional boarding school model and do not stray an inch. Suffield maintains traditions at the same time adapting to modern day changes. Examples of this include their traditional sit down lunch complimented by a buffet dinner, or the incorporation of their four-year college counseling program.
2.) What was the best thing that happened to you in boarding school?
Suffield gives students the opportunity to grow into adults. You gain a sense of independence with the comfort of knowing you have support if needed.
3.) What might you have done differently during your boarding school experience?
Much as you find out in college, it is important to get out of your comfort zone. I recommend this from day one for anyone attending Suffield or any other boarding school. Go to the union and talk to people you don't know, try out for a varsity team, eat dinner at a different table than your "norm"
4.) What did you like most about your school?
Majority of the community wanted to be there. This really made a difference. Being surrounded by students and teachers who enjoyed the place where they spent their lives brings out the best in people. Suffield is a happy place which makes learning and living more enjoyable and brings out success.
5.) Do you have any final words of wisdom for visiting or incoming students to your school?
If you get in, go. If you go, don't take those bagels for granted, unless you are going to college in NYC, it is tough to track down a bagel comparable to the snack bar's.
Academics:
1.) Describe the academics at your school - what did you like most about it?
Academics at Suffield are well structured, there are opportunities to challenge yourself. At the same time the course work is well suited for high levels of comprehension not just high volume of material.
Athletics:
1.) Describe the athletics at your school - what did you like most about it?
Top notch- at all levels Suffield wins, and simply put, athletics are more enjoyable when you are victorious.
Art, Music, and Theatre:
1.) Describe the arts program at your school - what did you like most about it?
Personally, I was not artistic, however they have a variety of approaches to the arts and it is up to the student to choose their path which I enjoyed. For example their architecture program.
Extracurricular Opportunities:
1.) Describe the extracurriculars offered at your school - what did you like most about it?
There are plenty of extra-curricular activities to involve yourself in. Personally, I enjoyed the spirit committee, nothing like getting a big pep rally going before a big game.
Dorm Life:
1.) Describe the dorm life in your school - what did you like most about it?
Underclassmen enjoy excellent living facilities, by the time you reach junior and senior year, you end up living with people you form a brotherly relationship with that lasts well after graduation.
Dining:
1.) Describe the dining arrangements at your school.
Top notch in all aspects, not too much more can be said.
Social and Town Life:
1.) Describe the school's town and surrounding area.
Proximity to the airport, local restaurants and large retail outlets are at an arm's reach, it makes a real difference compared to being out in the "sticks".
2.) Describe the social life at your school - what did you like most about it?
…it doesn't stop. It is as active as any school I have seen with both boarding and day students. Cliques are not a thing at Suffield, everyone is more or less friends regardless of class, origin or gender.
Daily Schedule:
Weekday
Weekend
8:00 PM
Movies, trip to town, sporting event....endless weekend options
11:00 PM
Socialize in the dorms
One of the best things about suffield is the teachers. I had never been to a school where they care so much. I got really close with my advisor and they helped me a great. . .
Suffield Academy is truly an exceptional place. I graduated in May of 2016 on a beautiful sunny day. As tradition stands, I rang the bell four times at graduation marking the amount of years I. . .
It's centralized location to a (sudo) urban city- Hartford while at the same time maintaining the quintessential large open landscape that boarding schools are known for. . .
Show more reviews (

9 reviews

)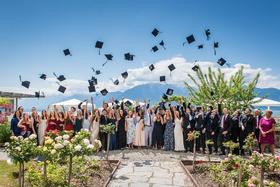 Nurturing Futures: A Journey through Boarding at Haut-Lac School in Switzerland
Nestled in the hills overlooking Lake Geneva in the French-speaking part of Switzerland lies an educational gem that embodies a unique blend of academic excellence, cultural richness and a profound sense of community. Founded over 30 years ago, Haut-Lac International Bilingual Day and Boarding School is now home to both 600 day students and a maximum of 30 boarders from around the world.
Navigating the Modern Maze: Emerging Challenges for Boarding Schools
Explore the pressing challenges facing boarding schools, from marketing difficulties and rising insurance costs to facility maintenance and recruitment of competent trustees and teachers. This article delves into these complex issues and proposes innovative strategies to overcome them.
What To Wear at Your Job Interview
Navigating job interviews can be stressful, but knowing what to wear shouldn't be. Our comprehensive guide covers the essential dress code tips for men and women interviewing at boarding schools. Make your first impression count with style and professionalism.