Reflections and Advice:
1.) What do you think makes your school unique relative to other boarding schools?
Daily Jobs, I did not simply pay to go to school here; I participated in maintaining it just as I would have done at home. Chapel 3-4x per week. Although I did not have a religious upbringing, the Episcopal support system at Kent allowed me to feel I was participating in a meaningful community. School 6 days per week. 1/2 days Wednesday and Saturday. Although I lived less than an hour away from Kent, the limited number of weekends allowed off campus in addition to Mon-Sat classes kept me as a full participant in student life here. Uniforms- Although Kent has done away with uniforms, I felt it was a great way NOT to stand out among other more affluent students.
2.) What was the best thing that happened to you in boarding school?
Kent provided me with a sense of safety and nurturing that I was not getting at home. They were not judgmental and I got a GREAT education! My only disappointment is that I didn't fully comprehend what I had at my fingertips until I had already graduated.
3.) What might you have done differently during your boarding school experience?
My adult self would say, listen more, speak less and try to become a better person so that you attract like-minded classmates. These may be the best friendships you will ever make.
4.) What did you like most about your school?
Everyone was different here, not just one model with different clothes. Think about it, if you pick the right school rather than the one you are pushed into, that environment will allow you to flourish. To be honest, Kent's faculty, work ethic and spiritual support system saved my life.
5.) Do you have any final words of wisdom for visiting or incoming students to your school?
Listen to your gut. Do you want to be surrounded by wealth and influence? Do you want to develop strong friendships with honorable people? Do you want to become the best person you are capable of becoming? Speak with the teachers and speak with the students and ask them what they like about their school. Do they feel safe or do they feel they are in a competition? Kent nurtures your soul. It's also a beautiful campus and small enough that you won't get lost in the crowd.
Academics:
1.) Describe the academics at your school - what did you like most about it?
In 1976 I graduated Cum Laude. In retrospect, I believe I had an amazing work ethic but lacked a real interest in the future importance of my studies. I was incredibly competitive when it came to school and getting good grades but I was not perceptive about people nor did I have a grasp of nuanced ideas. Despite my method of learning, and my emotional distance from my classmates, I was able to excel academically and to this day I consider this the most valuable three years in my life. I felt nurtured and not judged by my teachers.
Athletics:
1.) Describe the athletics at your school - what did you like most about it?
I chose to participate in team sports rather than gym because I was competitive academically as well as physically. I did not excel at sports but enjoyed them all the same. I am thankful that Kent offered three seasons of sports rather than one sport across three seasons. I sent my kids to public high school and the pressure to excel in one sport was obvious because of the pressure to get sports scholarships. I felt that Kent was about rounding out our spirits so we could learn and grow in different directions rather than be trapped in one way of "getting ahead".
Art, Music, and Theatre:
1.) Describe the arts program at your school - what did you like most about it?
I loved the monthly Performing Arts and Lecture Series program (PALS) because we were exposed to lots of art forms that I would otherwise never have experienced. Aside from participating in one musical the winter of my senior year, I was not involved in any of the Music or theatre programs.
Extracurricular Opportunities:
1.) Describe the extracurriculars offered at your school - what did you like most about it?
I was not involved in clubs other than athletics and I spent most of my time studying.
Dorm Life:
1.) Describe the dorm life in your school - what did you like most about it?
I always had a roommate and I don't really remember anything bad about living with other students. Hmmm...
Dining:
1.) Describe the dining arrangements at your school.
We changed seating assignments every 6 weeks or so and I recall that I never had a table that I didn't like. The food was great! We had teachers to maintain sanity at the head of the table.
Social and Town Life:
1.) Describe the school's town and surrounding area.
I barely went into town except for a rare trip to get Pizza when family showed up. I had everything I needed on campus.
2.) Describe the social life at your school - what did you like most about it?
I was a loner but didn't realize it until after I left college. I had two close friends and that's all I needed. I always enjoyed going to Saturday night movies and on occasion I went to away dances at other schools.
Daily Schedule:
Weekday
Weekend
2:00 PM
Sports or hanging out w/friends
7:30 PM
Movies on the Boys campus
The freedom Kent offers its students is truly unparalleled, and with freedom comes responsibility: Students quickly learn how to look after themselves and one another. If you're looking for a place to learn independence, and. . .
Kent's emphasis on individualized education is one of the elements that sets it apart from other boarding schools. The Studies Office allows students to choose classes that interest them the most, when they have completed. . .
Campus is beautiful and landscape around it. It was very relaxing walking around campus and looking at the beautiful mountain algo and Housatonic river.Teachers and advisors were available 24/7 and always happy to give advice. . .
Show more reviews (

25 reviews

)
Mastering the Boarding School Selection Process: A 5-Step Guide
Discover the ultimate 5-step guide to choosing the perfect boarding school for your child. Explore essential factors, such as academics, campus facilities, extracurricular activities, and more. Make an informed decision to provide your child with an enriching and transformative educational experience. Read now!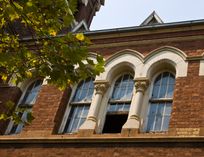 5 Founders and Their Boarding Schools
What prompts somebody to start a boarding school? The motives range from idealism to munificence right on through to capitalism. The common thread seems to be ample capital and a vision of what education can do.