Reflections and Advice:
1.) What do you think makes your school unique relative to other boarding schools?
All students were encouraged to join (and it was "cool" to join) organizations like Gay-Straight Alliance, Community Service, and student-run snack bars Scudder's and Dorys. Small school classes and small advisor groups meant a lot of one on one attention for everyone, not just talented students.
2.) What was the best thing that happened to you in boarding school?
I feel like I learned a lot because I made mistakes and was corrected or learned the lesson myself. Groton definitely helped me develop a sense of ethics and I learned a lot from my teachers and classmates alike. I am so thankful for my experiences at Groton and I am the person I am today because of the 5 years I spent there.
3.) What might you have done differently during your boarding school experience?
I'm not sure if I would do anything differently. I wouldn't dye my hair red in 8th grade! That's about it. I learned a lot from my time there and do not have regrets.
4.) What did you like most about your school?
Everyone was smart. Everyone brought something to the table. It really was amazing how much you learned from other classmates and teammates and not just teachers and books. Groton has such an exceptional community and you really learn how to be an intellectual.
5.) Do you have any final words of wisdom for visiting or incoming students to your school?
The athletic center is pretty great if you are into sports. The performing arts center is great if you are into that. It is hard for visiting students to see, so you have to do it when you first arrive - go to Dory's and Scudder's! I hope it is still as fun as it used to be.
Academics:
1.) Describe the academics at your school - what did you like most about it?
Hard. Groton is a challenging school. I liked the interdisciplinary approach: teachers wanted you to grow as an intellectual and not just recite information. AP classes and independent study offered for students who were up for the challenge.
Athletics:
1.) Describe the athletics at your school - what did you like most about it?
Some teams/programs were stronger than others. All teams I played on had talented individuals and good coaches, and we really bonded together. I played sports for five years and think it helped me develop in a lot of different ways - I was a healthy kid, I socialized more through sports, I learned discipline and pushed myself, and I experienced successes and wins with people I was close with.
Art, Music, and Theatre:
1.) Describe the arts program at your school - what did you like most about it?
I did visual arts classes all through school but not music and theater. I was able to take a variety of classes including painting, photography, digital photography.
Extracurricular Opportunities:
1.) Describe the extracurriculars offered at your school - what did you like most about it?
I started working at the student run snack bar Scudder's in 8th grade. I worked there (part-time, usually Friday nights) for my whole Groton experience and served as Head of Scudder's prefect my senior year. I was in charge of all purchasing, inventory, hiring and managing employees, supervising and training, and cooking everything on the menu. While my parents thought it was a distraction from my school work, I found that I learned a lot of important life skills and really played to my strengths in holding a position like this. I now serve as one of the people who organizes reunion events for my class because people know I can organize an event, communicate with vendors, and bring everyone together.
Dorm Life:
1.) Describe the dorm life in your school - what did you like most about it?
Dorm life was weird at first but ok eventually. I liked living with my friends a lot. It was strange having someone that wasn't your parent (faculty member) on your case all the time but I don't think I ever had a bad experience with a dorm parent.
Dining:
1.) Describe the dining arrangements at your school.
Dining hall was great. Lots of options all the time. Like any school, there would be certain things that everyone would roll their eyes at but I do think as far as schools go Groton had a great setup and great cafeteria staff.
Social and Town Life:
1.) Describe the school's town and surrounding area.
We didn't go into Groton much, occasionally for a meal with our advisor. It is a small, safe town with some restaurants and golf courses etc.
2.) Describe the social life at your school - what did you like most about it?
Groton did a good job of trying to get everyone involved but not pressuring the kids who didn't want to go to the dances, etc. to be a part of it. If you really didn't want to do it, no one would make you. A lot of the events were student organized which made them fun, and everyone wanted to go and support their friends.
Daily Schedule:
Weekday
7:15 PM
Intervis (between dorms)
Weekend
1:00 AM
Away teams leave for sports games
2:00 PM
Home teams get ready for sports games
7:00 PM
Hang out in dorms w friends
9:00 AM
Dance, Scudder's, Movies, etc
I think the most influential part of Groton is it's emphasis on community. As an effect of the small size and commitment to inclusion, Groton skillfully combines the independence that comes with attending a boarding. . .
Groton is unique in its campus set-up. It is centered around the "Circle" a large expanse of grass that is used as a soccer field in the fall and for lawn games in the spring. . .
Groton is a small school in the countryside with immense resources and an extremely demanding academic atmosphere; the first word most students associate with the School is "intense." The School's long history and honored traditions. . .
Show more reviews (

16 reviews

)
Mastering the Boarding School Selection Process: A 5-Step Guide
Discover the ultimate 5-step guide to choosing the perfect boarding school for your child. Explore essential factors, such as academics, campus facilities, extracurricular activities, and more. Make an informed decision to provide your child with an enriching and transformative educational experience. Read now!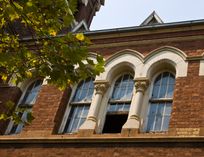 5 Founders and Their Boarding Schools
What prompts somebody to start a boarding school? The motives range from idealism to munificence right on through to capitalism. The common thread seems to be ample capital and a vision of what education can do.