Reflections and Advice:
1.) What do you think makes your school unique relative to other boarding schools?
While boarding schools and other college preparatory schools now incorporate art, music, sports, and extracurricular to foster a well roundedness, Concord Academy placed a large emphasis on developing the artistry of students. The dance and theater departments offer collegiate-level training, and students are free to engage in various levels of visual and performing arts. The school does a fantastic job of fostering community. While there are always tensions on high school campuses, the school makes a point of gathering the full community every single day of the week. The very act of sharing space as a full community (though this does not necessarily include dining and facilities workers) creates an inclusiveness and belonging unlike what I've experienced elsewhere.
2.) What was the best thing that happened to you in boarding school?
Boarding school was often a crash course in adulthood. Living without parents and family around, I grew to recognize family in those around me and those who support me. Boarding school made me much more community-minded, which changed the course of my life.
3.) What might you have done differently during your boarding school experience?
Boarding school, and school in general, can be so difficult! Don't forget that there's more to life than grades and homework. Honestly, I don't remember much math or Latin, but I do remember the connections I made and the experience of expanding my worldview and my intellect. Embrace the challenge, and know that it won't end the world.
4.) What did you like most about your school?
Four years out of CA and I find myself immersed in it, once again. The school never truly leaves you, nor you it. The connections I've made will last a lifetime and the campus is always a home to me. I am still involved in various ways, though I am no longer a student.
5.) Do you have any final words of wisdom for visiting or incoming students to your school?
All institutions can be challenging. At any school, there are issues with the student body, the administration, the faculty and staff. CA was a place which, to me, felt as if it genuinely listened to students and worked on those issues.
Academics:
1.) Describe the academics at your school - what did you like most about it?
I truly loved the freedom to determine my own, individualized academic course. While this facet is commonplace at boarding schools, I was able to tailor my high school curriculum to fit my desires. With little interest in math, I was able to take two English classes my senior spring, which heightened my proficiency in the subject. Further, the selection of classes makes all the disciplines accessible to folks with different abilities, skills, and interests. While I did not excel in physics, I found a course which dealt with water quality, rights, access, and politics, in which we used the scientific information to draft briefs -- a skill which helps me immensely while I study public policy. My senior year, I was able to complete a senior project, which involved building a greenhouse to grow vegetables. The rigor of this project allowed me to work kinetically and intellectually, marrying my passions and my academics.
Athletics:
1.) Describe the athletics at your school - what did you like most about it?
I appreciate that the school accounts for the interest and ability of students when fulfilling athletic requirements. While I always filled my requirement by running cross country and playing lacrosse, the school allows students to take more generic gym classes, more specified classes (such as weight training and off-season running), perform in theatre pieces, and even participate on a local farm.
Art, Music, and Theatre:
1.) Describe the arts program at your school - what did you like most about it?
The school's emphasis on arts is so incredibly valuable. Given that students are asked to take an art, music, and/or theater for the majority of their time as a student, I was able to dabble in various mediums, including ceramics, painting, film, piano, theater, book making, and photography. While I dabbled quite a bit, I still had time to dive into photography, making it to an upper level class, in which I truly honed my ability. Coming to Concord, I had no idea that I would love photo so much, and cannot recommend the art program more.
Extracurricular Opportunities:
1.) Describe the extracurriculars offered at your school - what did you like most about it?
There are clubs that appeal to immensely diverse interests, including environmental groups, affinity groups, multi-cultural groups, science and math organizations, etc. With the sheer quantity and variance of groups, students have so many options through which to get involved. Plus, if there is something lacking, students are more than welcome to found a club, and most likely, will find a number of students also interested in that specific space.
Dorm Life:
1.) Describe the dorm life in your school - what did you like most about it?
I appreciated that the school uses remodeled houses, rather than dorms, as I think this style brought folks closer together. There is a greater sense of community inside the houses, establishing a network of friends and support from the very beginning. Plus, the inter-house rivalries are pure fun. The housing system also allows students to get to know faculty more intimately and in a different setting. I am incredible close with house parents, still.
Dining:
1.) Describe the dining arrangements at your school.
The dining hall is, in fact, better than the one at my college. The array of options cater to various dietary needs and keeps students -- particularly boarding students -- from growing too tired of the food served. The dining staff is beyond friendly and works incredibly hard to ensure that there's always delicious food somewhere on campus.
Social and Town Life:
1.) Describe the school's town and surrounding area.
Situated right in the town of Concord, students are free to roam, even without signing out -- unlike most boarding schools. The town is small and quaint, but provides ample space to explore during the week. CA also has an easy system that allows students to leave campus, including going into Boston (and the commuter rail is so easy to access from campus). I never felt trapped or isolated on the campus.
2.) Describe the social life at your school - what did you like most about it?
As a boarder, I became friends with folks I likely would never have otherwise. People are generally open to hanging out and meeting new people. Often, in my experience, during senior year, the entire class becomes close, as they've spent four years together. I am still close with many of my friends to this day and appreciate the different places that we're from and that we've begun to call home. The worldliness I gained from my friends is indescribable.
Daily Schedule:
Weekday
8:00 AM
Leave boarding house
8:45 AM
Chapel/announcements
Weekend
One of my favorite things about CA is the way people learn to work to be kind and open to people who aren't like them. There are people who think and work and act in. . .
The courses that I was able to take bordered on college-level courses. Since the course load consisted almost entirely of electives -- not just English, or Honors English, or AP English -- I was able. . .
There's a commitment around my school from students and faculty to social justice that fosters a very welcoming environment. There's so many resources and groups with the goal of making the community better for all. . .
Show more reviews (

6 reviews

)
Mastering the Boarding School Selection Process: A 5-Step Guide
Discover the ultimate 5-step guide to choosing the perfect boarding school for your child. Explore essential factors, such as academics, campus facilities, extracurricular activities, and more. Make an informed decision to provide your child with an enriching and transformative educational experience. Read now!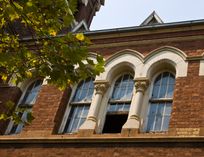 5 Founders and Their Boarding Schools
What prompts somebody to start a boarding school? The motives range from idealism to munificence right on through to capitalism. The common thread seems to be ample capital and a vision of what education can do.