Reflections and Advice:
1.) What do you think makes your school unique relative to other boarding schools?
Something about Kent that I really enjoyed were our mandatory on-campus jobs. While many of these jobs are, admittedly, mundane, there are many jobs that were very great. Jobs change every term (on a trimester basis) so those with unpleasant jobs don't have to stay with them for too long, but if one wishes to keep their job they're able to request that.My job every term starting winter of my first year, was tour guiding. When I had my interview when applying to Kent with Mrs. Fitzgerald-Dunn, she told me right then not to be surprised if I was assigned as a tour guide starting when I got to Kent. When I got my job assignment winter of my first year, I was wary because tour guiding is one of the more involved, time consuming jobs.However, tour guiding ended up being one of my most favorite activities at Kent. Being able to play a part in shaping the incoming classes is a unique experience, and something I did not take lightly. Had it not been for a mandatory job requirement, I don't know that I would have taken the initiative to participate in something like tour guiding.Overall no matter what job you're assigned at Kent, they all become great resumé builders, many provide leadership experience, and they all can be made fun.
2.) What was the best thing that happened to you in boarding school?
The best thing that happened to me was just becoming the person I am today. Before I got to Kent I didn't really have a huge focus on what I would do with the rest of my life and just focused on what was important right now. Now, I have a huge understanding for how my decisions will affect me and I value so many more things than I did as a 15-year-old moving into North Dorm. I don't know how Kent taught me that, but I know that without a doubt it did.
3.) What might you have done differently during your boarding school experience?
The only thing I would have done differently is come to Kent a year earlier than I did, and start freshman year. I never felt like it was a problem starting Kent sophomore year-- the grade nearly doubles freshman to sophomore year-- but I would have loved another year. The adjustment to boarding school can be hard of course, but once I was settled in I loved almost every second of it. Everybody I know misses Kent every day and much of our grade is still very much in touch with each other. The only advice I have is take advantage of everything your boarding school-- Kent or otherwise-- has to offer, because you'll miss it when it's gone.
4.) What did you like most about your school?
I loved the family of Kent. I know that's cliché, but it is completely true. I met some of the most interesting and diverse people at Kent and I miss the atmosphere and the culture immensely. Kent was a fantastic place to find myself in three years, and I could not have done it without the people I was surrounded by.
5.) Do you have any final words of wisdom for visiting or incoming students to your school?
My advice would be to go with your gut. Of course I think everyone should go to Kent, but what is really most important is to go where you think is best for you. This doesn't always mean going to the top-ranking school you get into, or the school where people want you to go. For me, Kent was all of those things, but that's not why I picked it. I knew from the second I stepped on campus that I would spend the rest of my high school career there, and I never once regretted it. I was a tour guide at Kent and that was the advice I gave to every single one of my tours. It's so special to find the right fit and in the end, you will not be successful if you are not happy at your school.
Academics:
1.) Describe the academics at your school - what did you like most about it?
As a former public school student, the academics at Kent were incomparable to what I was used to. Kent has an average class size of 12 students, and almost all classrooms are set up in harkness tables or U-shaped desk arrangement to facilitate class discussion. Participation is a huge percentage of every class grade at Kent (even math and science courses) and is extremely valued.What made Kent different from other similarly-sized, private schools was the conference periods. Three times per week there were advising and conference periods for either 20 minutes, or an entire class block. This made teachers even more accessible than I saw at any other boarding school. Of course, teachers live in the dorms, and are advisors just like they are at most other schools, but our conference periods is what made Kent stand out to me. I never felt like there wasn't more than ample time outside of class to go see a teacher for help, and additionally class meetings were extremely open for questions as well.
Athletics:
1.) Describe the athletics at your school - what did you like most about it?
Athletics are extremely strong at Kent. Our crew and hockey programs are world renowned, and our list of athletes who graduated from Kent is quite large. Athletics are a very important part of life at Kent, which fosters a lot of positive aspects of the school life.I am not an athletic person, nor have I ever been. This made coming to Kent a bit daunting to me, knowing I was around so many strong athletes. Each of my roommates at Kent are coincidentally now college athletes in some respect, and many of my peers were very talented. However, I didn't feel like I was any less a part of the Kent community for not participating in varsity athletics. As a member of the crew team for my main sport, this was a different experience than most of the other teams. The team really functions as one KSBC girl's team, rather than 2 Varsity boats and 2 JV boats. Not all teams are like this at Kent, but all teams are truly a community. Teams often sit together in the dining hall, and spend time together outside of practice. That being said, not being a part of a team for fall and winter term did not hinder me socially at all. Kent students encourage physical fitness, but don't devalue those who aren't talented in sports.Like most schools, you must participate in an activity after school each term, and until senior year two of those terms must be athletic, though they need not be "sports." Not going to sports meetings counts the same as not going to class, so practice and games are all mandatory.
Art, Music, and Theatre:
1.) Describe the arts program at your school - what did you like most about it?
In terms of music, Kent has a great choir, a cappella groups, band, jazz band, as well as private music lessons. Kent's auditorium was just remodeled and finished in 2014. Everybody is required to enroll in a one-semester "music survey" class that teaches the history of music, largely on the classical side. Students can choose to take this class any term they want to, but everybody must take it and pass in order to graduate. The theatre program is extremely impressive as well. In the fall, the after school activity is always a play, which is put on the week before fall exams. In the winter, the after school activity is the Winter One Acts. Students have the opportunity to write and product one act plays in small groups, and all the groups put on their plays the week before winter exams. This is probably the most popular after school activity of the three seasons for theater, as it draws on a huge portion of the Kent community. Another fun thing about the one acts is that you don't have to participate in the activity to be in them. Often, a group of students who are in the activity will invite one or two of their friends to have small roles in their plays if they need extra people. The crowds at the productions are huge, and they are very fun to go to. In the spring, the theatre program always puts on a musical. This is very fun for students who are involved, because it draws on such a large portion of the arts students. Of course, there are students singing and acting, but the band also plays for the orchestra, and then there are students doing work back stage in everything from set design to lighting. This event also draws large crowds, often because teachers sometimes get involved and play a part in the musical. In terms of visual arts, this is where I was most involved. Every student at kent has to take an "art survey" course, which teaches everything from pottery to drawing and painting. There is always a final project for this class, and by the end most students become quite talented at art. This class is also a pre-requisite for any other art class at Kent, so students usually take it early. Kent offers many different art classes, as well as an after school art activity each season. In the after school activity, students can do any type of art they wish, or all types. When I did this activity, there was a girl who was sewing a series of her own designs for a fashion show she put on. There was another student who was talented at book making, who spent each day making her own books which turned out to be amazing art projects. There were incredibly talented painters, photographers, and more- Kent had talented students in really any type of art you can imagine.
Extracurricular Opportunities:
1.) Describe the extracurriculars offered at your school - what did you like most about it?
Kent has so much to offer in extracurriculars. They have an award winning engineering program with a new building in town, tons of sports teams each with multiple competitive levels, arts, music, theater, and more. Clubs are huge at Kent and I don't think I knew anyone who wasn't a part of multiple clubs or organizations. Kent also has non-traditional activities such as bell ringing, senior sports, club sports, and more. There truly is something for everyone which is what my favorite part about our extracurriculars was.
Dorm Life:
1.) Describe the dorm life in your school - what did you like most about it?
I lived in two different dorms while I was at Kent- Case dorm and North dorm. Both have great things to offer in different ways. North is close to classes and is the closest dorm to the boathouse which was a plus for me. Case dorm is close to the dining hall, the library, and the student center which was also really nice. Both dorms are quite large, as are all Kent dorms (probably about 50-75 girls). The nicest dorm at Kent is Hoerle Hall, which is the only co-ed dorm. One side is dedicated to just boys, and the other is just girls. Students can't cross into the other side of the dorm so there's never any mixing but it does house both girls and boys. Hoerle has a beautiful common room shared by both sides, and classrooms on the first floor. The rooms are much larger than the other dorms, and the floors are heated. Hoerle was finished for the 2012-2013 school year and is beautiful. The other dorms are field dorm, and middle dorm. Field dorm (all boys) is attached to the dining hall and Mattison auditorium. Middle dorm is in the middle of campus, near the library. All the dorms at Kent have pros and cons, but none of them are bad. Each dorm has dorm parents and their families living in apartments in the dorm, who are truly there for you for everything. The most unique part about Kent dorm life is there are really no singles. Everybody has a roommate which can be good and bad, but in the end it makes everybody's dorm situation pretty equal.
Dining:
1.) Describe the dining arrangements at your school.
Dining at Kent is pretty typical. There is one dining hall in the back of campus, attached to the student center in the basement. There are hot meals, freshly made pizza, deli options, fruit, pasta, etc. The menu does get repetitive but the food isn't bad. During exam week the dining hall does specials such as make your own sushi, fried dough, sundaes, etc. Students can also order delivery from restaurants in town, which is delivered to the student center until study hall begins at 8 pm. Additionally, there is a cereal bar which is open during and in between meals until study hall.
Social and Town Life:
1.) Describe the school's town and surrounding area.
The town of Kent is one of the most beautiful towns in Connecticut. Students are allowed to walk into town any time before 6pm during the spring or 5pm during the winter. On special occasions, students may ask their dean for extended town permission. Many students walk into town for lunch on Wednesdays or on the weekend, or to go shop at the vintage and antique stores. There is a grocery store and laundromat in semi-walking distance (within town limits, but definitely far to lug an entire load of laundry or full bags of groceries) as well. The restaurants are delicious and there are many options in town.
2.) Describe the social life at your school - what did you like most about it?
The social life at Kent is similar to any other boarding school. There are definitely friend groups but no distinct "cliques." Often, friend groups form around sports teams or activities. Friend groups are definitely fluid though and always changing.
The freedom Kent offers its students is truly unparalleled, and with freedom comes responsibility: Students quickly learn how to look after themselves and one another. If you're looking for a place to learn independence, and. . .
Kent's emphasis on individualized education is one of the elements that sets it apart from other boarding schools. The Studies Office allows students to choose classes that interest them the most, when they have completed. . .
Campus is beautiful and landscape around it. It was very relaxing walking around campus and looking at the beautiful mountain algo and Housatonic river.Teachers and advisors were available 24/7 and always happy to give advice. . .
Show more reviews (

25 reviews

)
Mastering the Boarding School Selection Process: A 5-Step Guide
Discover the ultimate 5-step guide to choosing the perfect boarding school for your child. Explore essential factors, such as academics, campus facilities, extracurricular activities, and more. Make an informed decision to provide your child with an enriching and transformative educational experience. Read now!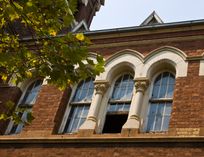 5 Founders and Their Boarding Schools
What prompts somebody to start a boarding school? The motives range from idealism to munificence right on through to capitalism. The common thread seems to be ample capital and a vision of what education can do.