Reflections and Advice:
1.) What do you think makes your school unique relative to other boarding schools?
The location was remote yet beautiful. Remote setting yet convenient to NYC, Hartford, Boston. Student run campus for the most part.
2.) What was the best thing that happened to you in boarding school?
The people I met became family members and 30 years after we speak weekly if not more frequently.
3.) What might you have done differently during your boarding school experience?
Put yourself out there form the get go. Everyone is in the same boat and feeling as apprehensive and nervous as you are.
4.) What did you like most about your school?
The people.
5.) Do you have any final words of wisdom for visiting or incoming students to your school?
All the dorms are more or less the same. People should definitely check out the boat house.
Academics:
1.) Describe the academics at your school - what did you like most about it?
Very small question that virtually all discussion based. No "preaching" from the teachers. Incredibly interactive learning experience. Very competitive yet the workload was very manageable. teachers were all excellent. A unique mix of those they stayed for 1-2 years and those that were or have been there for 30+ years.
Athletics:
1.) Describe the athletics at your school - what did you like most about it?
Incredibly competitive and successful. That being said everyone could play any sport probably just not at the varsity level. There was three season mandatory participation. Coaches were like parents and continue to close friends to this day.
Art, Music, and Theatre:
1.) Describe the arts program at your school - what did you like most about it?
I attended many of these events and found them enjoyable I did not however participate in any of these programs.
Extracurricular Opportunities:
1.) Describe the extracurriculars offered at your school - what did you like most about it?
I was pretty much involved in sports and prefect duties. Blue Key showing prospective students around the school and bragging about Kent made me proud.
Dorm Life:
1.) Describe the dorm life in your school - what did you like most about it?
Loved the dorms. Lead by seniors primarily with a dorm parent on site. Conducive to creating a very family like atmosphere.
Dining:
1.) Describe the dining arrangements at your school.
Mandatory three family style sit down meals every day. Loved you got to spend time with everyone in the school and chat. Food was okay.
Social and Town Life:
1.) Describe the school's town and surrounding area.
The town is quaint and wonderful. The surrounding area is one of the most beautiful places I have ever been.
2.) Describe the social life at your school - what did you like most about it?
pretty normal.
Daily Schedule:
Weekday
Weekend
1:00 AM
sports games begin
7:30 AM
dances, socials etc...
The freedom Kent offers its students is truly unparalleled, and with freedom comes responsibility: Students quickly learn how to look after themselves and one another. If you're looking for a place to learn independence, and. . .
Kent's emphasis on individualized education is one of the elements that sets it apart from other boarding schools. The Studies Office allows students to choose classes that interest them the most, when they have completed. . .
Campus is beautiful and landscape around it. It was very relaxing walking around campus and looking at the beautiful mountain algo and Housatonic river.Teachers and advisors were available 24/7 and always happy to give advice. . .
Show more reviews (

25 reviews

)
Mastering the Boarding School Selection Process: A 5-Step Guide
Discover the ultimate 5-step guide to choosing the perfect boarding school for your child. Explore essential factors, such as academics, campus facilities, extracurricular activities, and more. Make an informed decision to provide your child with an enriching and transformative educational experience. Read now!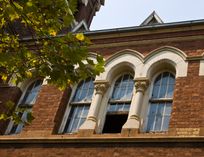 5 Founders and Their Boarding Schools
What prompts somebody to start a boarding school? The motives range from idealism to munificence right on through to capitalism. The common thread seems to be ample capital and a vision of what education can do.