Reflections and Advice:
1.) What do you think makes your school unique relative to other boarding schools?
Mandatory jobs program overseen by seniors (mostly janitorial duties). Episcopal tradition that welcomed all faiths. Dress code. Small classes with invested faculty and students who wanted to learn. Intellectual curiosity was supported.
2.) What was the best thing that happened to you in boarding school?
Boarding school can be difficult for some. You are away from your family at the age of 12 or 13, never to be with them for more than a summer's vacation again for the rest of your life. There will always be immature students who bully or intimidate to compensate for whatever their own issues are. You need some measure of inner strength and resiliency to rise above that, find your friends, find your passions, focus on the work. I found solace in rowing and school and the life lessons learned have served me very well.
3.) What might you have done differently during your boarding school experience?
Clothing. My family was not from New England, and there was a definite "preppy" clothing culture that I simply wasn't aware of. I did not have the benefit of visiting the school prior to attending, and pretty much started out on the wrong foot because I didn't dress like everyone else. Invest some time and effort in learning about the school's current culture and take steps to blend in.
4.) What did you like most about your school?
Uncompromising approach to its motto. Simplicity of life, self-reliance, and directness of purpose.
5.) Do you have any final words of wisdom for visiting or incoming students to your school?
Small, beautiful campus is easily explored. Climb the short (steep) hike to Numeral Rock, which overlooks the campus and valley. Check out the falls and rapids south of campus under the covered bridge.
Academics:
1.) Describe the academics at your school - what did you like most about it?
Small classes, less lecture and more discussion, outstanding faculty In 1970s, more focused on liberal arts but today there is an excellent STEM program.
Athletics:
1.) Describe the athletics at your school - what did you like most about it?
A focus on competing with honor. Winning with humility and suffering disappointments with grace. The school was very proud of constantly being recognized for sportsmanship while maintaining standards of excellence in sports. Classic triad of instruction, faith and athletics was required. If you didn't wish to compete at a interscholastic level, there were club programs and other activities available.
Art, Music, and Theatre:
1.) Describe the arts program at your school - what did you like most about it?
Wasn't my cup of tea, but there were plenty of programs in these genres.
Extracurricular Opportunities:
1.) Describe the extracurriculars offered at your school - what did you like most about it?
I recall one in particular - a forest fire response unit that was integrated with the town of Kent that I enjoyed because it forced young people to think outward and beyond themselves.
Dorm Life:
1.) Describe the dorm life in your school - what did you like most about it?
No locks, spartan conditions, gang showers. Part of the school's motto is "Simplicity of life", and they meant it. It was good for the soul. "Late night food access?" - laughing out loud. This was not a country club experience.
Dining:
1.) Describe the dining arrangements at your school.
Single large dining hall where we ate breakfast, lunch and dinner. Rotating table assignments meant no social pressure as to seating. Two students from each year, eight to a table. Underclassmen rotated grabbing a serving tray and fetching food for the table. Meals where the primary vehicle for announcements. Faculty dined with students. Food was EXCELLENT.
Social and Town Life:
1.) Describe the school's town and surrounding area.
Classic, small New England town. Lovely.
2.) Describe the social life at your school - what did you like most about it?
There wasn't much. In that era, the girls had a separate campus (since integrated). There were Friday and Saturday night dances, films, etc. An occasional event with another boarding school.
Daily Schedule:
Weekday
6:15 AM
Breakfast (If late, you took a run)
3:00 PM
(Wed) Afternoon sports, otherwise classes
10:00 PM
Lights out for underclassmen
11:00 PM
Lights out for seniors
Weekend
6:00 AM
Same as weekdays, AM Classes
1:00 PM
Sports, Activities
The freedom Kent offers its students is truly unparalleled, and with freedom comes responsibility: Students quickly learn how to look after themselves and one another. If you're looking for a place to learn independence, and. . .
Kent's emphasis on individualized education is one of the elements that sets it apart from other boarding schools. The Studies Office allows students to choose classes that interest them the most, when they have completed. . .
Campus is beautiful and landscape around it. It was very relaxing walking around campus and looking at the beautiful mountain algo and Housatonic river.Teachers and advisors were available 24/7 and always happy to give advice. . .
Show more reviews (

25 reviews

)
Mastering the Boarding School Selection Process: A 5-Step Guide
Discover the ultimate 5-step guide to choosing the perfect boarding school for your child. Explore essential factors, such as academics, campus facilities, extracurricular activities, and more. Make an informed decision to provide your child with an enriching and transformative educational experience. Read now!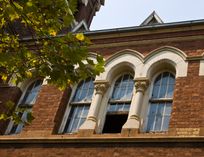 5 Founders and Their Boarding Schools
What prompts somebody to start a boarding school? The motives range from idealism to munificence right on through to capitalism. The common thread seems to be ample capital and a vision of what education can do.