Reflections and Advice:
1.) What do you think makes your school unique relative to other boarding schools?
Kent provided outstanding guidelines for life. A work ethic through the jobs program assigning chores on a rotating basis ie dish crew, classroom clean up, sweeping hallways. Then there was the "hours" program for being late to meals, class, or other minor infractions. Some real values ie no cheating, stealing, lying or racism tolerated! Healthy mind and healthy body, classes and sports. Religious studies with an open discussion in the theology class. Team work in sports!
2.) What was the best thing that happened to you in boarding school?
I realized that speaking 4 languages was a valuable talent. Previously I had been shy about that.
3.) What might you have done differently during your boarding school experience?
Stay in touch with your favorite teachers. Do the homework and be able to speak.
4.) What did you like most about your school?
The teachers and the location. I learned so much
5.) Do you have any final words of wisdom for visiting or incoming students to your school?
Be careful how much you spend in the school store. Climb to numeral rock several times, not just to paint the rock
Academics:
1.) Describe the academics at your school - what did you like most about it?
Academics were demanding! You learned how to write, read and think! Mathematics were thorough!
Athletics:
1.) Describe the athletics at your school - what did you like most about it?
I enjoyed intramural sports, I was not a jock and was not interested in sports. Enjoyed crew except as a winning coxswain I kept getting thrown into the Housatonic river. Wrestling was tough but it toughened me.
Art, Music, and Theatre:
1.) Describe the arts program at your school - what did you like most about it?
Enjoyed art classes and my photography skills were developed early in life
Extracurricular Opportunities:
1.) Describe the extracurriculars offered at your school - what did you like most about it?
Loved the ecology club and to this day I promote recycling based on what I learned at KENT.
Dorm Life:
1.) Describe the dorm life in your school - what did you like most about it?
Dorm life was healthy. No comfortable chair was provided so my grandmother from Denmark sent me a safari chair. There were bunk beds, there were room mates. The first one was randomly assigned, afterwards you could select friends. Senior year was the best year.
Dining:
1.) Describe the dining arrangements at your school.
There were three meals a day. A lot of chicken as I recall. Great baker, fresh milk as the school had its own farm at the time. You sat at a table with tie and jacket and rotated tables to meet other students.
Social and Town Life:
1.) Describe the school's town and surrounding area.
Kent was and probably still is a small town. We had a $2 allowance that was useful to do laundry at the Laundromat or buy postage at the post office to write home.
2.) Describe the social life at your school - what did you like most about it?
Kent arranged movies on weekends as well as dances with the girls school. There were guest speakers and there was chapel.
The freedom Kent offers its students is truly unparalleled, and with freedom comes responsibility: Students quickly learn how to look after themselves and one another. If you're looking for a place to learn independence, and. . .
Kent's emphasis on individualized education is one of the elements that sets it apart from other boarding schools. The Studies Office allows students to choose classes that interest them the most, when they have completed. . .
Campus is beautiful and landscape around it. It was very relaxing walking around campus and looking at the beautiful mountain algo and Housatonic river.Teachers and advisors were available 24/7 and always happy to give advice. . .
Show more reviews (

25 reviews

)
Mastering the Boarding School Selection Process: A 5-Step Guide
Discover the ultimate 5-step guide to choosing the perfect boarding school for your child. Explore essential factors, such as academics, campus facilities, extracurricular activities, and more. Make an informed decision to provide your child with an enriching and transformative educational experience. Read now!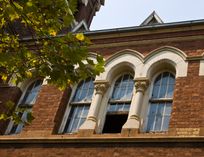 5 Founders and Their Boarding Schools
What prompts somebody to start a boarding school? The motives range from idealism to munificence right on through to capitalism. The common thread seems to be ample capital and a vision of what education can do.