Stuart Hall School - Review #6
About the Author:

College Enrolled
Emory & Henry
Home Town, State (Country)
Roanoke, VA
Years Attended Boarding School
2
Activities During Boarding School
Choir, theater, social committee, cross country, field hockey, was published in the school magazine for a poem along with other students.
Review

Description

None (gap year)

Unlike most boarding schools in the United States which tend to have large campuses in rather rural or otherwise secluded areas, Stuart Hall School has a rather small campus located inside a small town and. . .

Virginia Polytechnic Institute and State University

Stuart Hall's diverse community and the sense of family are two of the many very important aspects that make the school unique. Small class sizes provide the opportunity for all types of students to. . .

VCU

My boarding school was actually co-ed during the academic day, but only girls boarded (though I think now the boarding has become co-ed presently). . .

Ashworth College

Every student was required to take part in intramurals. This usually consisted of at least two sports with one fine arts over three semesters. . .

University of Virginia

Stuart Hall's small class sizes and caring faculty really do give it the "family" atmosphere that it advertises. While at Stuart Hall I had many opportunities to explore. . .

Show more reviews

(4

reviews)
April 20, 2018
Actually, there is no secret to getting your child into boarding school. Just a lot of hard work and a heavy commitment of time.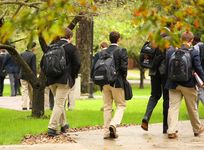 March 22, 2018
Some cynics think single-sex education is old-fashioned. The Kiski School shows how educating boys in a single-sex school is successful.
March 08, 2018
The wide range of fine academic, athletic, and other facilities found in boarding schools underscores the determination of schools to provide the very best for their students.