Reflections and Advice:
1.) What do you think makes your school unique relative to other boarding schools?
No other boarding school is a Catholic(Augustinian), Day and dorm school that offers the international baccalaureate program. You can make friends from nearby and also from around the world. It is great to have a dorm that is mainly international students because you learn so much about different cultures. Because we are a Catholic school, Christian service is required. One of my favorite ways to volunteer was with a club on campus called Hogar Infantil. We fundraised money for an orphanage in Tiuana, Mexico and at the end of the year, we went to visit the kids and hand over the money we fundraised.
2.) What was the best thing that happened to you in boarding school?
This is such a hard question because I truly only remember good things about Villanova. Villanova has impacted me positively in so many ways and has truly shaped me into the person that I am today. The most important thing that I learned while being there is putting myself and my well-being first as well as the importance of self love. I could not have done this without the constant support and love that I received from my peers and staff at Villanova. One of my favorite memories at Villanova was the senior retreat, which I cannot say too much about because it is a surprise! It made me realize how loved I was and it made me appreciate my peers even more than I already did. It truly was a life changing experience.
3.) What might you have done differently during your boarding school experience?
I am an introvert so my first year I stayed inside my dorm a lot. I wish I would have gone out more because I would have felt less lonely since everyone at Nova is so welcoming and inclusive. Do not stay in your room! it will depress you and make you homesick. Go out and make friends. They will soon become your family.
4.) What did you like most about your school?
The community was amazing. There was always someone there to help me whenever I needed someone. I had never cried so much until we went on our last retreat and on graduation. It really hurts to leave your family, specially when we were all going in separate paths.
5.) Do you have any final words of wisdom for visiting or incoming students to your school?
Go star gazing while you are on campus. It is such a stress reliever and it is so beautiful. I am from the city so I never experienced that.
Academics:
1.) Describe the academics at your school - what did you like most about it?
Villanova is an International Baccalaureate school which means that we offer IB courses. All of our courses are college prep since we are a preparatory school. We also offer honors and AP classes. Our academics are pretty rigorous, but students have the opportunity to still be involved and play sports. Villanova does a great job in preparing you for the academic rigor of college. The teachers are amazing, kind and understanding. They are part of our family, so you get really close to them.
Athletics:
1.) Describe the athletics at your school - what did you like most about it?
We are a school of student athletes. EVERYONE can join a sport no matter how bad or good you are. There are only tryouts for varsity in certain sports, but if you do not make it into varsity, there is always JV. Sports teams are very close. An athletes priority is school so they must maintain good grades or they will be on academic probation. We have a twitter account (@VPRAGECAGE) for our sports, which I had the honor of running for two years.
Art, Music, and Theatre:
1.) Describe the arts program at your school - what did you like most about it?
Everyone can do theatre and be in the musical and play. I cannot sing or act for that matter, but I got a lead role, Gingy, in Shrek the musical. We have an outside amphitheater where we put on our musicals which is very neat.
Extracurricular Opportunities:
1.) Describe the extracurriculars offered at your school - what did you like most about it?
Everyone can get involved in everything. No one is excluded and it is not competitive. Most of the club meetings are during lunch, which can be a downside to some people, but I did not mind. It is very easy to start your own club. Volunteer opportunities: Hogar Infantil Project Africa Interact Club Campus Ministry Music Ministry Altar Serving Lector (reading at mass)Other clubs/extra curriculars: CERT ASB Yo-Yo club Filipino club Latino Community Asian club (I cannot remember the name) dance club Mock trial JSA Astronomy Club Chess club STEM club Environmental club Art Club Whiffleball club Music club Poetry Out load International day dancing (Mexico and Philippines) Talent show and much more!
Dorm Life:
1.) Describe the dorm life in your school - what did you like most about it?
The girls dorms are very big. The boys dorms are not as big but they are better than most college dorms. The one complaint that I do have, and even the dorm staff hates, is that we have to pay for laundry, but I believe that that is the case at all institutions. The girls dorm and the boys dorm are separate and we are not allowed in each others room, but we have many other places to hang out. My favorite part of the dorm, besides its big rooms, is our bon fire pit, our resource center(study space), and the girls dorm lobby.
Dining:
1.) Describe the dining arrangements at your school.
The food is amazing and the cooks are the kindest people you will ever meet. They became some of my best friends and mentors throughout my high school experience. They gladly took our food suggestions because they are aware that the dorm is our home.
Social and Town Life:
1.) Describe the school's town and surrounding area.
Although there is not much to do in California, the dorm always does its best to show you the best of southern California with the organization of trips form Santa Barbara to Los Angeles. Ojai does have great restaurants, but other than that, you need to go out of town.
2.) Describe the social life at your school - what did you like most about it?
Everyone at Nova is unique in their own way. Everyone knows everyone and everyone is kind. Although there are people who sit together at lunch or hang out, no one is excluded; it does not feel clique-ish. There is a stronger sense of family within the dorm because you will live with one another, but Villanova as a whole is a family, form teachers to dorm staff to students. I never felt un-loved or excluded.
Daily Schedule:
Weekday
12:45 AM
Lunch with ASB meeting
3:00 PM
Football practice (football manager)
9:00 PM
Snack, play soccer, hangout
Weekend
3:00 PM
Trip to nearby shopping center
9:00 PM
capture the flag in the dark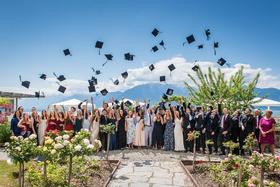 Nurturing Futures: A Journey through Boarding at Haut-Lac School in Switzerland
Nestled in the hills overlooking Lake Geneva in the French-speaking part of Switzerland lies an educational gem that embodies a unique blend of academic excellence, cultural richness and a profound sense of community. Founded over 30 years ago, Haut-Lac International Bilingual Day and Boarding School is now home to both 600 day students and a maximum of 30 boarders from around the world.
What To Wear at Your Job Interview
Navigating job interviews can be stressful, but knowing what to wear shouldn't be. Our comprehensive guide covers the essential dress code tips for men and women interviewing at boarding schools. Make your first impression count with style and professionalism.
Navigating the Modern Maze: Emerging Challenges for Boarding Schools
Explore the pressing challenges facing boarding schools, from marketing difficulties and rising insurance costs to facility maintenance and recruitment of competent trustees and teachers. This article delves into these complex issues and proposes innovative strategies to overcome them.