South Kent School - Review #2
About the Author:

College Enrolled
University of Southern Maine
Home Town, State (Country)
delray beach, FL
Years Attended Boarding School
4
Activities During Boarding School
Played soccer, hockey, tennis at assorted levels, to include the varsity level. Editor of the school newspaper, ran the school's second-hand store, and was student in charge of the library my senior year.
Review

Description

American University

Every student is required to participate in the Center for Innovation program. The program is designed to encourage students to live sustainably and be aware of their carbon footprint. Twice a week the classes are. . .

University of Southern Maine

The Hillside, as SKS is affectionately called, has evolved with the times. The school has always taught its graduates how to survive in our world in such an impactful ways. Boys are taught how to. . .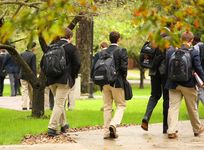 March 22, 2018
Some cynics think single-sex education is old-fashioned. The Kiski School shows how educating boys in a single-sex school is successful.
March 14, 2018
Determining which programs are 'must haves' is an important part of choosing the right boarding school for your child.
March 08, 2018
The wide range of fine academic, athletic, and other facilities found in boarding schools underscores the determination of schools to provide the very best for their students.