Reflections and Advice:
1.) What do you think makes your school unique relative to other boarding schools?
The education I was fortunate to receive in my four years at Hebron Academy (Hebron, ME) made all the difference in what I have been able to do since. My teachers were more than exceptional, their names still elicit admiration and reverence 64 years later. They cared about each student and made sure that we "got it"!More than the facts and understanding, my ethics and mores can al be traced to those four years and my Hebron experience.
2.) What was the best thing that happened to you in boarding school?
The ethos and atmosphere at Hebron set my mind free. In later life I secured several patents and ran a successful manufacturing enterprise because of my ability to think creatively. That resulted from my Hebron experience.
3.) What might you have done differently during your boarding school experience?
What I did I would do again. For anyone enrolling at Hebron today I would say"open your mind, absorb what you see and let the ambiance of a great school take you as far as you can go.
4.) What did you like most about your school?
The love and caring of the administration and faculty that was showered on me at every opportunity.
5.) Do you have any final words of wisdom for visiting or incoming students to your school?
At Hebron there is a gold mine of knowledge and growth available to all who would take advantage of it. Take advantage of it! It will serve you well throughout your life.
Academics:
1.) Describe the academics at your school - what did you like most about it?
The academics at Hebron in my day were top drawer with high standards and expectations accompanied by whatever support an individual student needed. I am sure that all of that is still true.
Athletics:
1.) Describe the athletics at your school - what did you like most about it?
Cross Country, hockey, baseball were my sports of chic e. Never a natural athlete, I was encouraged to try, allowed to participate with playing time, and am convinced that my coordination and overall health were both improved as a result.
Art, Music, and Theatre:
1.) Describe the arts program at your school - what did you like most about it?
All of the performing arts at Hebron have grown in importance and prominence in the years since I graduate. The fact that there is now a major well funded arts center on campus speaks for itself.
Extracurricular Opportunities:
1.) Describe the extracurriculars offered at your school - what did you like most about it?
We had numerous clubs including radio, record (music) glee, outdoor, now is expanded to include environmental interest, international relations, mountain, and many others. The diversity of interests developed among the students is open ended with the opportunity for additions in response to student interest.
Dorm Life:
1.) Describe the dorm life in your school - what did you like most about it?
The students showed respect and caring for one another in ways that made living away from home at ages 14 to 18 palatable and a learning experience.
Dining:
1.) Describe the dining arrangements at your school.
We sat at tables of eight with six or seven students and a faculty member and, if married, spouse. Every two weeks we changed tables and the students were shuffled. Pretty soon, you knew everyone on campus.That has changed and now meals are cafeteria style with good food and great camaraderie.
Social and Town Life:
1.) Describe the school's town and surrounding area.
The town of Hebron is pretty much small town America. Back in the 1950's, there was not much to interact with. Today, things are changed with the growth of the town.
2.) Describe the social life at your school - what did you like most about it?
We pretty much got along well back then. There wee four dances with girl's schools but now Hebron is co-ed. I suspect that the social life today far surpasses what I experienced. I would add that my wife and I recently celebrated our 56th wedding anniversary so it can be assumed that the small town aura and single sex school of the 1950s did no harm
Hebron's location is a great setting to enjoy the outdoors. There are a variety of outdoor activities to take part in. The campus also has its own hiking trails, and in the fall and winter. . .
Hebron encouraged us to serve the surrounding community with designated community service days throughout the school year, as well as celebrating the diversity of our school by themed dinners and cultural events. . .
Hebron was so transformative for me. The main things that I can accredit this to are the the population of international students on campus and the community among women. In the upper school (the high. . .
Show more reviews (

6 reviews

)
Mastering the Boarding School Selection Process: A 5-Step Guide
Discover the ultimate 5-step guide to choosing the perfect boarding school for your child. Explore essential factors, such as academics, campus facilities, extracurricular activities, and more. Make an informed decision to provide your child with an enriching and transformative educational experience. Read now!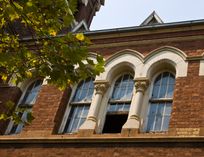 5 Founders and Their Boarding Schools
What prompts somebody to start a boarding school? The motives range from idealism to munificence right on through to capitalism. The common thread seems to be ample capital and a vision of what education can do.