Orchard Lake St. Mary's Preparatory - Review #1
About the Author:

College Enrolled
University of Connecticut
Home Town, State (Country)
Qingdao, none
Years Attended Boarding School
2
Activities During Boarding School
I was in school soccer varsity team, and I played as a center role, which connects attack and defense to make strategical move as well. I was in school debate varsity team, which I wrote a lot of thesis statement and went out to compete with other schools as well. I was also in the Ice Hockey team, which is one of my favorite sports that I always passionate about.
Review

Description

University of Connecticut

The boarding program at our school are very distinguished, dorm advisors are always trying to provide more activities to enrich our life. As an international student, I feel St. Mary's is a "home away from. . .

University of Detroit

I think the volunteer work that all students and faculty perform allow the students to experience hands on how they can make a difference and also to see others that are less fortunate then our. . .
April 20, 2018
Actually, there is no secret to getting your child into boarding school. Just a lot of hard work and a heavy commitment of time.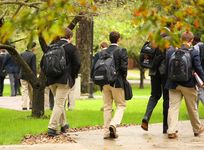 March 22, 2018
Some cynics think single-sex education is old-fashioned. The Kiski School shows how educating boys in a single-sex school is successful.
March 08, 2018
The wide range of fine academic, athletic, and other facilities found in boarding schools underscores the determination of schools to provide the very best for their students.