Reflections and Advice:
1.) What do you think makes your school unique relative to other boarding schools?
Faculty focused on me and didn't allow me to slip through cracks. Highly recommend school.
2.) What was the best thing that happened to you in boarding school?
I will always remember my days at Suffield. The school allowed me to grow and assured my future by keeping me on track and helping me find a college that met my needs. If I were in a public high school I doubt I would gave ended up in college.
3.) What might you have done differently during your boarding school experience?
Like so many things in life I wish I had taken my academics more seriously and fully took advantage of what I was afforded. For someone who was afraid to take chances Suffield drew me out by laying opportunities in front of me then slowly nudging me without "pressure".
4.) What did you like most about your school?
The small size. The faculty that was so enthusiastic. The sense of community.
5.) Do you have any final words of wisdom for visiting or incoming students to your school?
Suffield is a great place. My brother went to a "higher rated" school but they failed grossly in the small things and it showed.
Academics:
1.) Describe the academics at your school - what did you like most about it?
Classes were challenging, and fully prepped you to meet challenges of college. Full accountability was the norm. Weren't allowed to get behind. If you were struggling you were immediately called in for extra help. Just wish the language requirement was more.
Athletics:
1.) Describe the athletics at your school - what did you like most about it?
Highly competitive. Teams during my time were highly competitive. Wrestling produced national champs. Swim program was building. Facilities were top notch. All were required to take part. All levels of competitiveness available.
Art, Music, and Theatre:
1.) Describe the arts program at your school - what did you like most about it?
Arts program were adequate in my time. Facilities have exploded and are now top-notch. Arts were well and truly integrated into campus life.
Extracurricular Opportunities:
1.) Describe the extracurriculars offered at your school - what did you like most about it?
Outdoors activities were and still abundant. Anyone could start a club. Usual clubs are available. Faculty always involved bringing they're love and passion to activities.
Dorm Life:
1.) Describe the dorm life in your school - what did you like most about it?
Rooms were great. Dorm atmosphere was conducive to studying. Dorm could be a sanctuary. Faculty member in charge of dorm for evening would usually make a food run for late-night munchies.
Dining:
1.) Describe the dining arrangements at your school.
Food was better than average. Had salad bar 40 years ago. First school to do so. Dining style. Breakfast was cafeteria-style. This allowed students to sleep in if they chose. A plus. Saturday and Sunday dinner was also cafeteria style.
Social and Town Life:
1.) Describe the school's town and surrounding area.
Town is small. Limited stores. One grocery store, limited restaurants within walking distance. Charming New England town. Bradley international airport just down the road.
2.) Describe the social life at your school - what did you like most about it?
Social life was great. Activities were plentiful. Many opportunities to get engaged in travel and alike.
One of the best things about suffield is the teachers. I had never been to a school where they care so much. I got really close with my advisor and they helped me a great. . .
Suffield Academy is truly an exceptional place. I graduated in May of 2016 on a beautiful sunny day. As tradition stands, I rang the bell four times at graduation marking the amount of years I. . .
It's centralized location to a (sudo) urban city- Hartford while at the same time maintaining the quintessential large open landscape that boarding schools are known for. . .
Show more reviews (

9 reviews

)
Mastering the Boarding School Selection Process: A 5-Step Guide
Discover the ultimate 5-step guide to choosing the perfect boarding school for your child. Explore essential factors, such as academics, campus facilities, extracurricular activities, and more. Make an informed decision to provide your child with an enriching and transformative educational experience. Read now!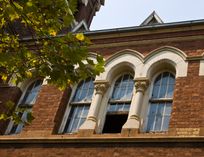 5 Founders and Their Boarding Schools
What prompts somebody to start a boarding school? The motives range from idealism to munificence right on through to capitalism. The common thread seems to be ample capital and a vision of what education can do.