Howe Military Academy - Review #4
About the Author:

College Enrolled
Benedictine University
Home Town, State (Country)
Wheaton, IL
Years Attended Boarding School
2
Activities During Boarding School
While in attendance, I participated in tennis, rifle team, and the first annual talent show. On the tennis team I was team captain my senior year, and ranked as 1st Sgt of Echo Company on the corps.
Review

Description

Ivy Tech

Howe military really brought me out of my shell, and showed me how to be a leader. I also got more individual help on all my school work, if I had any questions. Howe put. . .

Purdue University

One unique aspect of Howe was that incorporated the military into every aspect of the day. From uniforms to the schedule it showed you how being in the military was really like and I don't. . .

US Navy

I liked the fact that we had a lot of one on one with teachers. And academics played a huge role in that aspect, my grades flew because I had a teacher focus more time. . .

Benedictine University

The class sizes allow for educators to cater to the needs of each student. Taking time to clarify a subject to a student that may not have a grasp on the material yet is not. . .

Adrian College

I wouldn't of graduated if it wasn't for Howe. I wouldn't of landed and retired from the medical field if it wasn't for Howe. I wouldn't of gotten a quality education if it wasn't for. . .

Show more reviews

(1

reviews)
April 20, 2018
Actually, there is no secret to getting your child into boarding school. Just a lot of hard work and a heavy commitment of time.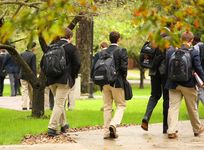 March 22, 2018
Some cynics think single-sex education is old-fashioned. The Kiski School shows how educating boys in a single-sex school is successful.
March 08, 2018
The wide range of fine academic, athletic, and other facilities found in boarding schools underscores the determination of schools to provide the very best for their students.