Reflections and Advice:
1.) What do you think makes your school unique relative to other boarding schools?
The teachers were very helpful in assisting and facilitating learning in the classroom. The campus was small and the school community was comfortable and tranquil. There was the opportunity to get to know every one on campus and form close bonds. The sports teams were fun and competitive. I received very helpful assistance from staff in searching and getting accepted to college.
2.) What was the best thing that happened to you in boarding school?
My experience there allowed me to meet people from around the world and get to know a different region of the country. I still have friends I talk to from my days in Hebron.
3.) What might you have done differently during your boarding school experience?
Meet everyone and get involved in all the activities and social events. Definitely participate in sports or other groups! Stay focused on the studies.
4.) What did you like most about your school?
It was a awesome place to spent my last year's of high school and the friendships I formed was the most rewarding aspect for me!
5.) Do you have any final words of wisdom for visiting or incoming students to your school?
I'd say it's important to try out everything the school has to offer and go out on the field trips and attend other school functions.
Academics:
1.) Describe the academics at your school - what did you like most about it?
There were great teachers that provided insight and class discussion. The coursework helped me to prepare for college level classes. The school set up a balanced daily schedule including study time that mirrors what is needed to succeed in the college environment.
Athletics:
1.) Describe the athletics at your school - what did you like most about it?
It was great to compete in competitive sports. Had the opportunity to travel to multiple states for sporting events. Hebron had a diverse variety of options for every season. Awesome workout facility!
Art, Music, and Theatre:
1.) Describe the arts program at your school - what did you like most about it?
The theater was nice and they presented some entertaining plays!
Extracurricular Opportunities:
1.) Describe the extracurriculars offered at your school - what did you like most about it?
It was fun to have the bonfire get togethers in the amphitheater were fantastic. The student union was a great place to socialize, play games, and get some food!
Dorm Life:
1.) Describe the dorm life in your school - what did you like most about it?
It was organized by grade so it was nice to live near your friends and get to progress through school together.
Dining:
1.) Describe the dining arrangements at your school.
The dinning room had a wide variety of food to choose from. Salad bar and a grill your own section were nice features.
Social and Town Life:
1.) Describe the school's town and surrounding area.
There was Oxford hills ten miles away for movies. Then there was trips to Portland every weekend to check out old town. Sometimes we would go to Boston. Hebron was basically just the school campus.
2.) Describe the social life at your school - what did you like most about it?
It was rewarding to get to know everyone at school, since it was a small campus. Lots of time to socialize and get quality time together.
Hebron's location is a great setting to enjoy the outdoors. There are a variety of outdoor activities to take part in. The campus also has its own hiking trails, and in the fall and winter. . .
Hebron encouraged us to serve the surrounding community with designated community service days throughout the school year, as well as celebrating the diversity of our school by themed dinners and cultural events. . .
Hebron was so transformative for me. The main things that I can accredit this to are the the population of international students on campus and the community among women. In the upper school (the high. . .
Show more reviews (

6 reviews

)
Mastering the Boarding School Selection Process: A 5-Step Guide
Discover the ultimate 5-step guide to choosing the perfect boarding school for your child. Explore essential factors, such as academics, campus facilities, extracurricular activities, and more. Make an informed decision to provide your child with an enriching and transformative educational experience. Read now!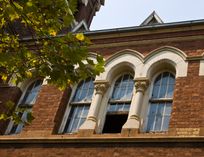 5 Founders and Their Boarding Schools
What prompts somebody to start a boarding school? The motives range from idealism to munificence right on through to capitalism. The common thread seems to be ample capital and a vision of what education can do.