Saint John's Preparatory School - Review #3
About the Author:

College Enrolled
University of Iowa
Home Town, State (Country)
Bangkok, none
Years Attended Boarding School
2
Activities During Boarding School
I participated in soccer and tennis. It was more like a fun activities rather than competing with others.
Review

Description

University of Pittsburgh

I like smaller schools. SJP is a small school with a big campus and great views. Everyone I met here were so friendly. As a foreigner and international student, I had great time here, and. . .

University of California San Diego (UCSD)

I really like the fact that there were varieties of classes that I could choose from. My school was IB oriented and it was interesting to see the depth and the level of study that. . .

University of Iowa

I think this school is unique in the sense that it is located close to college campus which allow students to use college facilities. The students may also experience some of the college life by. . .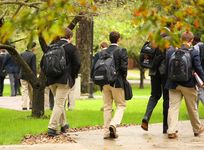 March 22, 2018
Some cynics think single-sex education is old-fashioned. The Kiski School shows how educating boys in a single-sex school is successful.
March 14, 2018
Determining which programs are 'must haves' is an important part of choosing the right boarding school for your child.
March 08, 2018
The wide range of fine academic, athletic, and other facilities found in boarding schools underscores the determination of schools to provide the very best for their students.