Reflections and Advice:
1.) What do you think makes your school unique relative to other boarding schools?
The centrality of the chapel on Kent's campus and in students' weekly lives makes Kent unique. Though the episcopal traditions are not forced upon any student and other religious services are readily available, the school's frequent use of the chapel as a meeting place gives all students a sense of common ground -- even if that common ground is grumbling about being in chapel for a school meeting. Graduation ceremonies start in the chapel as do other leadership ceremonies and when alumni return to campus, the chapel is one of the first places they visit. I think there is good reason for this and the chapel comes to serve as a special place for all.Additionally, Kent's junior/senior traditions, whether it be the passing of leadership positions, rock day, ring ceremony etc solidify bonds between students. Kent's community is small and close knit so the bonds between classmates and grades are especially important to the entire Kent community and are honored and celebrated.
2.) What was the best thing that happened to you in boarding school?
The "best thing" that happened to me at boarding school is indescribable. I grew as a person, student and friend in leaps and bounds, all of which I can attribute to the people surrounding me. At any boarding school you grow up quickly, but at Kent you grow up with all of your peers in growing up simultaneously and in close proximity. This leaves few things unknown but means your network is intimate. The teachers and deans know you by face and name and though they are certainly authorities quickly become pseudo and friends while leaving ample room for you to figure things out on your own.I had no specific great achievement at Kent aside from leaving campus bittersweet after graduation -- certain in my friendships but feeling well equipped, responsible and confident in my capabilities. This was an accomplishment in and of itself as I had arrived at Kent three years prior, uncertain in all aspects of my life and was leaving having studied over the summer at Oxford, earned myself a leadership role amongst the student body, but still very much grounded. This is not to say my Kent experience was solely of happy moments and sunny days, rather what challenges I and my peers had faced, we faced in our own ways but ever supported by one another.
3.) What might you have done differently during your boarding school experience?
If anything, I would have made even greater efforts to know the teachers personally so I could keep better in touch with them after graduation. The teachers are one of your greatest resources going into Kent or any other boarding school so keep them close. However, given the tightness of the Kent community, the teachers know essentially all the students and reaching out to them (even following graduation) is encouraged.
4.) What did you like most about your school?
The community and the location. It was by no means perfect (no where is) but I found something particularly nurturing about the Kent community and I will always have a soft spot for the Housatonic. Even looking at my college graduation on the near horizon, the ties I felt to Kent remain unmatched and I have yet to find a community so wholly interconnected. I credit this to the traditional aspects of Kent (though they can feel somewhat rigid), the actual size of the Kent community, and an breath taking physical location that kept us all close.
5.) Do you have any final words of wisdom for visiting or incoming students to your school?
Food recommendations: Get J.P. Gifford's (deli in the town) as much as you want and can -- I still miss it and my friends and I still talk about the fries there. Also, order the Monster cookie from Kent Pizza Pasta Garden (KPG's) at least once.Other recommendations: go for walks/ runs along the surrounding trails and do not let the natural beauty of Kent go unappreciated.
Academics:
1.) Describe the academics at your school - what did you like most about it?
The academics at Kent are strong and varying. Students have the power to choose their schedules and classes are offered at varying levels (from basic through AP). There is a core curriculum which forces students to try courses they might otherwise have not, including theology. The classes are very small and often conversational which was the greatest part of my education at Kent. Never once did I feel distanced from my peers or from the help/guidance of my teachers. The diverse and international student body at Kent gives way to rich conversation. That being said, there was not an encompassing competitive air at Kent. Students pushed themselves without a feeling of cut-throat academics.Also, the weekly schedule is confusing but once you get the hang of it, its no big deal. Saturday classes (half day) seem terrible but they're not bad at all and mean you get a half day on Wednesday.The English department at Kent is especially strong and kick-started an incredible background in literature -- bringing me not only to study in Oxford and later minor in English for undergrad but also publish my own book at 22 yrs old. I and my peers have all kept in touch with our English professors from Kent.
Athletics:
1.) Describe the athletics at your school - what did you like most about it?
Every Kent student must participate in an extra curricular activity and has a wide variety of options and as Kent uses a trimester system each student participates in three activities per year. During my time at Kent, I was able to try crew, tennis, yoga, cross country and even the musical. Other offerings include squash, hockey, lacrosse, field hockey, horseback riding, art classes, and more. The squash courts are new and the crew house is fantastic. Most sports are offered at a club, JV and Varsity level.
Art, Music, and Theatre:
1.) Describe the arts program at your school - what did you like most about it?
Kent has a long history in Arts, Music and Theatre. The facilities are good though the stage was a little outdated while I was there. However, the teachers are fantastic and Kent offers a huge selection of classes and even private lessons for student interested in music (though there is an extra fee). Students are encouraged to participate in the arts and the arts community at Kent is very very strong though it does not dominate the student body and character of the school.
Extracurricular Opportunities:
1.) Describe the extracurriculars offered at your school - what did you like most about it?
Kent has a huge amount of extra curricular offerings. Regarding clubs in particular -- if there is a club or organization students feel is missing they have excellent access and relationships to the deans so they can easily create a new club as long as a faculty member is willing to serve as advisor. This makes the breadth of offerings and opportunities wide and ever expanding.
Dorm Life:
1.) Describe the dorm life in your school - what did you like most about it?
Dorms are single-sex and more strictly regulated than other schools. However, the communities within the dorms are fantastic and the faculty members present on each floor are wonderful resources, eager to open their doors at nearly any time of day to help, console, or simply be there for the students within dorms. Roommates are assigned initially (and usually with great success) after which students pick their own roommates. Dorms after students' first year are assigned via a lottery/point system. Dorm rooms are typically 2-3 students and the newest dorm, Hoerle Hall is beautiful though reserved for upperclassmen and most other dorms offer a view of the river. The dining hall closes in the evening but the student center is open until about 10pm after which students are expected to be in the dorms where there are vending machines and microwaves available. The campus is small creating a close knit community overall.
Dining:
1.) Describe the dining arrangements at your school.
The dining hall food is nothing special and serves three meals a day with one formal sit-down meal a week. All other meals are cafeteria style with seats selected by the student. The town of Kent (with delivery options and a grocery store) is easily accessible. Students also have access to a student center which also sells snacks and other food options (nachos, pizza, etc.), vending machines, and an all-day cereal bar. The best food is by far from the town of Kent and even after graduating, students miss some of the main street restaurants.
Social and Town Life:
1.) Describe the school's town and surrounding area.
The town of Kent and the surrounding area is wonderful. Students can easily walk to town and are permitted to walk to town until roughly nightfall (with dean-granted permission students may stay out later). The school lines the Housatonic River and across a small bridge is a quaint town with numerous restaurants, a grocery store, a pharmacy, and a few other stores. The town is beautiful and the mountains framing Kent are some of the most beautiful mountains in America in the Fall. Though there is not much beyond Kent, NYC is only a quick drive or train ride away and the immediate town is safe and pleasant to be in.
2.) Describe the social life at your school - what did you like most about it?
The social life at Kent was good though students are kept on a relatively tight schedule. There are frequent socials but most students will complain about them. This being said, any student on any boarding school campus complains about the social life. Kent has a small student body and a large international population meaning students from all across the globe form quick and lasting bonds with one another. There is a large portion of the student body from the New England area but the student body as a whole is so small that it is impossible not to cross paths with most other students, even those outside of your immediate class. This can feel a bit too small after four years but to this day I stand by the community at Kent as being one of the best aspects of the school. I became friends with people who I may not have, had the student body been bigger, and the friends I made are both scattered across the globe and lasting.
The freedom Kent offers its students is truly unparalleled, and with freedom comes responsibility: Students quickly learn how to look after themselves and one another. If you're looking for a place to learn independence, and. . .
Kent's emphasis on individualized education is one of the elements that sets it apart from other boarding schools. The Studies Office allows students to choose classes that interest them the most, when they have completed. . .
Campus is beautiful and landscape around it. It was very relaxing walking around campus and looking at the beautiful mountain algo and Housatonic river.Teachers and advisors were available 24/7 and always happy to give advice. . .
Show more reviews (

25 reviews

)
Mastering the Boarding School Selection Process: A 5-Step Guide
Discover the ultimate 5-step guide to choosing the perfect boarding school for your child. Explore essential factors, such as academics, campus facilities, extracurricular activities, and more. Make an informed decision to provide your child with an enriching and transformative educational experience. Read now!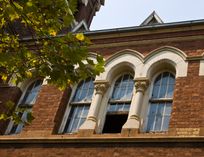 5 Founders and Their Boarding Schools
What prompts somebody to start a boarding school? The motives range from idealism to munificence right on through to capitalism. The common thread seems to be ample capital and a vision of what education can do.