Reflections and Advice:
1.) What do you think makes your school unique relative to other boarding schools?
Hebron was so transformative for me. The main things that I can accredit this to are the the population of international students on campus and the community among women. In the upper school (the high school grade levels) the population of international students makes up about 50% of the whole student body. This was an amazing way to gain a global perspective in such a malleable time in my life. Additionally, the ratio of guys to girls was about 4:1 which made us women vastly outnumbered by our male peers. However, this fostered a wonderful community amongst all of my female peers and I. Living in the residence hall with them was like living with 40 of my closest family members.
2.) What was the best thing that happened to you in boarding school?
I would say that rediscovered my love for education at Hebron. Before transferring from my public school in New York, I was running through the motions. I was only taking classes around me to seem 'smart' not because I enjoyed them. I didn't care about what I was doing and both my grades and mental health reflected this. When I had the opportunity to attend Hebron, I felt so refreshed. I was studying things I actually cared about and pursued passions I didn't know that I had. It was so helpful in my transition to college.
3.) What might you have done differently during your boarding school experience?
The only thing I wish I could change is that I wish I would've attended Hebron sooner. It was the experience of a lifetime for me, but it only lasted for one short year.
4.) What did you like most about your school?
I loved the community best of all. At Hebron, everyone truly cares for one another; students and faculty alike. It really felt like everyone wants the best for each other and is willing to help you get there. It's something I've yet to find elsewhere.
5.) Do you have any final words of wisdom for visiting or incoming students to your school?
Get curly fries and smoothie from the student union, you won't regret it! And if Austin still works there, strike up a conversation.
Academics:
1.) Describe the academics at your school - what did you like most about it?
I loved how academics at Hebron were pertinent to the real world. For example, I took Honors International Relations during a polarizing election cycle in the US and so what we learned was relevant to the goings on of the world around us. And in this class of 7 people, there were 4 different countries represented, so we had the ability to get first hand opinions from all over the globe.
Athletics:
1.) Describe the athletics at your school - what did you like most about it?
So many students participate in athletics at Hebron which is a testament to the wide range of programs we had. There is something for everyone. For example, in the fall you can do traditional athletic pursuits (like soccer or football) but we also offered mountain biking and outdoor education. Game days were also so fun to attend, that's when you really felt the community on campus. It was always a treat to watch our AMAZING boy's soccer team.
Art, Music, and Theatre:
1.) Describe the arts program at your school - what did you like most about it?
I took a photography class and absolutely adored the curriculum. With our very own darkroom studio, I got to do hands on work with film photography throughout the year. Our art building is also open during study hall hours at night so those who are enrolled in an art class have time to perfect their work outside of class.
Extracurricular Opportunities:
1.) Describe the extracurriculars offered at your school - what did you like most about it?
I so deeply appreciated how much our faculty cared for our extracurricular involvements. Teachers would volunteer to drive vans for our Hiking Club trips at early hours on the weekends, even if only 3 people signed up. It felt so nice to be so supported in and out of the classroom-- and it was great to explore all of Maine's beauty!
Dorm Life:
1.) Describe the dorm life in your school - what did you like most about it?
I LOVED the community in Halford, which was our female residence hall. Because the female student body was marginally smaller, we all supported one another throughout the year. This close bond (and close proximity) made it feel like a home away from home, living with the sisters that I never had.
Dining:
1.) Describe the dining arrangements at your school.
Our dining hall was great and so well staffed. For the most part, meals were come as you please during certain hours of the day. The exception to this was on Thursday evenings during 'Sit Down Dinner' which was formal dress with assigned seating. Dinner at Sit Down was more of an organized event with generally fancier meals.
Social and Town Life:
1.) Describe the school's town and surrounding area.
There isn't much else going on in Hebron-- the town essentially is the school. But this meant that faculty all lived near by and were so welcoming. My favorite part, though, was the running/biking trails around campus. We had access to miles and miles of trails at the foot of our campus; not all schools can say that.
2.) Describe the social life at your school - what did you like most about it?
Some of the friends I made at Hebron are the best people I've ever met. Getting to live down the hall from my best friends made our bonds even closer. We could study today, hangout together, and go on weekend trips together whenever we wanted. Some of my best weekend memories include going to the outlets in Freeport with my two closest friends and grabbing lunch and going shopping together. Bad for my wallet, great for my friendships.
Daily Schedule:
Weekday
Weekend
5:30 PM
Dinner (on campus)
7:00 PM
Hang out in the student union
9:00 PM
Watch movies with friends
Hebron's location is a great setting to enjoy the outdoors. There are a variety of outdoor activities to take part in. The campus also has its own hiking trails, and in the fall and winter. . .
Hebron encouraged us to serve the surrounding community with designated community service days throughout the school year, as well as celebrating the diversity of our school by themed dinners and cultural events. . .
Hebron was so transformative for me. The main things that I can accredit this to are the the population of international students on campus and the community among women. In the upper school (the high. . .
Show more reviews (

6 reviews

)
Mastering the Boarding School Selection Process: A 5-Step Guide
Discover the ultimate 5-step guide to choosing the perfect boarding school for your child. Explore essential factors, such as academics, campus facilities, extracurricular activities, and more. Make an informed decision to provide your child with an enriching and transformative educational experience. Read now!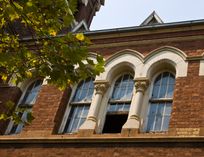 5 Founders and Their Boarding Schools
What prompts somebody to start a boarding school? The motives range from idealism to munificence right on through to capitalism. The common thread seems to be ample capital and a vision of what education can do.