Reflections and Advice:
1.) What do you think makes your school unique relative to other boarding schools?
I significantly enjoyed the small class sizes and harkness table discussion style for all humanities courses. The river campus provided scenic views from dorm rooms and a refreshing place to swim in the warm weather. The river campus also made all the buildings close together so time between classes, dorms, and dining hall were very brief and made the community closer.
2.) What was the best thing that happened to you in boarding school?
I think the best thing to happen to me at Kent was joining the rowing team. The community around rowing at Kent is so amazing and the sport taught me a lot of discipline, grit, and sportsmanship. Rowing at Henley Royal Regatta in England with Kent my senior year was a memory I'll never forget.
3.) What might you have done differently during your boarding school experience?
Try to meet as many new people as possible right off the bat because it will make for easier interactions later on in your Kent career. Everyone will know everyone's name in a few month's time anyway so might as well get to know them on a personal level right away! These are the people you'll keep in touch with for the rest of your life because boarding school is much an impressionable experience and you want your social circle to be as big as possible going into the future.
4.) What did you like most about your school?
I loved the beauty of the campus. It made everyone wake up everyday in a good mood and make everyone friendly to each other. If you were stressed, a short walk by the river listening to the birds or overlooking the fog on club fields would immediately mist away any negative emotions you may be having. The people were of course amazing and certainly fed off of how lucky we were to be in such a great environment.
5.) Do you have any final words of wisdom for visiting or incoming students to your school?
Bacon, Egg, and Cheese Sandwiches from the snack bar will make you melt into happiness and try your best to live in Hoerle Hall! It has an amazing community of students living in it.
Academics:
1.) Describe the academics at your school - what did you like most about it?
I loved the personal relationships with the teachers as they were more than just your teachers. Seeing teachers in the dining hall, coaching sports teams, and playing with their kids and dogs around campus really made the entire campus a comfortable learning environment, not just in the classroom.I also really enjoyed the breadth of classes offered by Kent. I took many AP courses my junior and senior years in a variety of topics and that really put me ahead in college.
Athletics:
1.) Describe the athletics at your school - what did you like most about it?
The sport that I was most into was rowing. Rowing at Kent has a fabled history and the tradition of the program was what appealed to me so much. The swimming and cross country teams also had great historical records and that really motivated me to do my best and lead my teams to continue on that legacy and create more impressive pedigree.
Art, Music, and Theatre:
1.) Describe the arts program at your school - what did you like most about it?
I sang in the choir for 2 years and I liked that it was accepting of all levels of talent and the faculty were willing to work with students that were not as skilled as others. The group was certainly brought up together and many extra opportunities were given to showcase music talents at all-school meetings allowing students to get out of their comfort zone and grow as performing artists.
Extracurricular Opportunities:
1.) Describe the extracurriculars offered at your school - what did you like most about it?
I really enjoyed how many clubs were offered at Kent. The club fair day was always one to look forward to and being that their were so many clubs, membership in each one was smaller. This gave more students the opportunity to take on leadership roles and really work at improving their club.
Dorm Life:
1.) Describe the dorm life in your school - what did you like most about it?
I absolutely loved living in the dorms at Kent because of the self-moderating system of the dorm prefects. Having seniors responsible for check-in allowed upperclassmen to take on leadership roles and create communities within each dorm and even each floor.I also loved how nice the dorms were. The dorm I lived in senior year was built the year before and included heated floors, key-card accessed room doors, and extremely well-kept bathrooms.
Dining:
1.) Describe the dining arrangements at your school.
The dining hall at Kent was very good and their were always staples available on a regular basis like sandwiches, pizza, etc. and always something entirely new which got kids to try new things and expose them to food from many difference cultures.There were always snacks out in between meals for students to snack on and were always stocked up.
Social and Town Life:
1.) Describe the school's town and surrounding area.
I really liked how quaint and small the town of Kent was. Being that it is so small, it means fewer distractions from school and athletics and the stores in town were everything you needed and more. J.P. Giffords lunch counter was probably the most delicious restaurant I have ever been to and my mouth is watering writing this review. Celebrities and politicians were often seen at J.P.'s like Anderson Cooper and Henry Kissinger.
2.) Describe the social life at your school - what did you like most about it?
I liked that everyone at the school knew each other and could wave hello to just about every person you passed on the sidewalk. I also really enjoyed the school dances and partnering up with other schools to socialize with them and expand your social circle. It is nice at Kent that everyone is friends with everyone by nature of the size of the school.
The freedom Kent offers its students is truly unparalleled, and with freedom comes responsibility: Students quickly learn how to look after themselves and one another. If you're looking for a place to learn independence, and. . .
Kent's emphasis on individualized education is one of the elements that sets it apart from other boarding schools. The Studies Office allows students to choose classes that interest them the most, when they have completed. . .
Campus is beautiful and landscape around it. It was very relaxing walking around campus and looking at the beautiful mountain algo and Housatonic river.Teachers and advisors were available 24/7 and always happy to give advice. . .
Show more reviews (

25 reviews

)
Mastering the Boarding School Selection Process: A 5-Step Guide
Discover the ultimate 5-step guide to choosing the perfect boarding school for your child. Explore essential factors, such as academics, campus facilities, extracurricular activities, and more. Make an informed decision to provide your child with an enriching and transformative educational experience. Read now!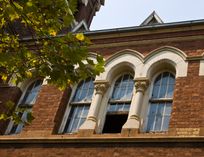 5 Founders and Their Boarding Schools
What prompts somebody to start a boarding school? The motives range from idealism to munificence right on through to capitalism. The common thread seems to be ample capital and a vision of what education can do.