Reflections and Advice:
1.) What do you think makes your school unique relative to other boarding schools?
Situated in a small town just outside of Orlando, Montverde is home to an athletic training Mecca, developing the world's best athletes. Additionally, it facilitates a quality academic and social environment to go along with it's top athletic programs.
2.) What was the best thing that happened to you in boarding school?
I grew both as a person and was pushed to pursue my athletic goals. Committed to a D1 school for soccer out of high school after not having any offers at the start of my senior year.
3.) What might you have done differently during your boarding school experience?
Focused more on soccer and less on my social life. Understand why you're going to Montverde and making sure you make the most out of the experience.
4.) What did you like most about your school?
The athletic program.
5.) Do you have any final words of wisdom for visiting or incoming students to your school?
It is tough to transition as the school has strict policies, however, if you remember your purpose, it will be a great experience. Enjoy the time you have there as it will be over before you know it!
Academics:
1.) Describe the academics at your school - what did you like most about it?
What I enjoyed most about the academics was that I could still challenge myself with high level courses along with focusing on my soccer training. We went to school from 8-12 and trained from 1-3. Even though the school day was shorter than normal, it actually allowed me to become more focused on my academics and helped me excel in AP and Honor level courses.
Athletics:
1.) Describe the athletics at your school - what did you like most about it?
#1 soccer program in the country #1 basketball program in the countryAll sports have fantastic facilities that are improving every year and the coaches are world class. If anyone has dreams of going pro and want to challenge themselves academically, Montverde is the way to go! All the other sports are getting better and better and it wouldn't surprise me if all sports aren't ranked in the top 10 nationally year after year sometime soon.
Art, Music, and Theatre:
1.) Describe the arts program at your school - what did you like most about it?
The best equipment and offer great programs. Have a full-time arts and music program for students to join if they want to pursue a career in the field.
Extracurricular Opportunities:
1.) Describe the extracurriculars offered at your school - what did you like most about it?
Always have opportunities for students to sign up for community service. Requires all students to work a certain number of community service hours to graduate.
Dorm Life:
1.) Describe the dorm life in your school - what did you like most about it?
Good dorm life, they are strict with rules and facilities could use an update. However, the friendships I made are going to last a lifetime.
Dining:
1.) Describe the dining arrangements at your school.
Good options from hot food to a salad bar. Weekends were not the greatest but overall it was satisfactory.
Social and Town Life:
1.) Describe the school's town and surrounding area.
Small town but we took trips to Orlando malls and amusement parks every weekend. Always something new to do for students!
2.) Describe the social life at your school - what did you like most about it?
Decent social life, but are strict about students leaving dorms especially if you're an athlete.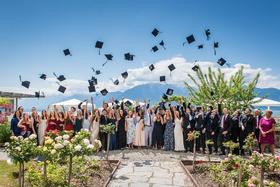 Nurturing Futures: A Journey through Boarding at Haut-Lac School in Switzerland
Nestled in the hills overlooking Lake Geneva in the French-speaking part of Switzerland lies an educational gem that embodies a unique blend of academic excellence, cultural richness and a profound sense of community. Founded over 30 years ago, Haut-Lac International Bilingual Day and Boarding School is now home to both 600 day students and a maximum of 30 boarders from around the world.
What To Wear at Your Job Interview
Navigating job interviews can be stressful, but knowing what to wear shouldn't be. Our comprehensive guide covers the essential dress code tips for men and women interviewing at boarding schools. Make your first impression count with style and professionalism.
Navigating the Modern Maze: Emerging Challenges for Boarding Schools
Explore the pressing challenges facing boarding schools, from marketing difficulties and rising insurance costs to facility maintenance and recruitment of competent trustees and teachers. This article delves into these complex issues and proposes innovative strategies to overcome them.